Europe Travel Tips
A Potpourri Of Travel Ideas To Share

COVID slowed us down for a couple of years, and now a few health issues challenge us.  We're still traveling if not writing about it quite so much. Our goal in 2022 was get to all seven continents in one year... and we did it.

Going forward health issues may not allow us to travel.  No one can take away those memories though.  We hope all of you are well and staying safe... and that you find some inspiration here for YOUR future travels. 

We have fun sharing all of our travel tips. 
Europe Travel Tips is will give you destination highlights to countries and cities we've visited.
We love to travel everywhere, so it's hard to concentrate on any one area of the world.

MouseTours Travels started as a way for us to share our international travel tips and write about our travels.
It's a fun way to share our adventures.  I love writing...
It creates great memories for us...
And it it's all easy to share them with you thanks to SBI.

Europe Travel Tips Takes You To More Ideas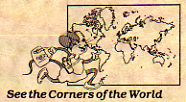 We've been lucky enough to travel all over the world.  I guess you could say we've been scattered in our travels...
And in the same spirit, we haven't concentrated on any one travel topic in this website. 
This page is to try and help you find ideas for European trips by reading about some of the fun things we've seen and done.

We'll try to keep them grouped in categories here, so you can find the international travel tip for the destination that you need at the moment.
Europe travel tips are grouped by country.
Check Your First Trip to Europe and World Travel Tips for tips on trip planning, flights, airports and security, eco-travel and budget travel tips.
You'll find information on travel health, hotels, and all kinds of miscellaneous topics.
Or even Europe Travel Tips on Shopping like European Christmas Markets - Visit Europe In Winter!
Destination Highlights by country
Belgium
Brussels Belgium - A Grander Capital Than You Might Expect
Belgian Beers - A Brew For Every Taste
Trappist Monastery Beers - A Reason To Visit Belgium
Bruges Belgium - A Well Preserved Medieval City
Ghent, Belgium - A Charming, Overlooked City

Czech Republic
Prague, Czech Republic - A City You Must See
Music In Prague - It's Everywhere For You To Enjoy
Czech Beer - Where Pilsen Lagers Were Born

England
London - What You Should See
What You Can See In London For Free
The Mystery Of Stonehenge Calls
Ancient Megaliths - Ancient Stones Lure Modern Travelers
Henge Monuments and Stone Circles - Where to Find Them
Avebury - And Impressive Henge Monument
Airshows in England - Duxford and Shuttleworth

France
Carnac France - Ancient Standing Stones
Drive Through Brittany -- A Different France
Drive Through Normandy -- Drive Through History
Normandy Beaches - Lessons In History
Giverny and Monet's Garden
Mont Saint-Michel - Unforgettable Floating Abbey

Germany
Frankfurt - More Than An Airport Gateway
The Rhine River - Castles and River Cruises
Mosel River - Wine, Swans and Castles
Bavaria - Castles, A Romantic Road, Lederhosen and Oopah Bands
Germany's Romantic Road - For A Romantic Holiday
Romantic Road Towns You Shouldn't Miss
Munich - Lively Capital of Bavaria
Oktoberfest - A German Festival You Shouldn't Miss
Munich Beer Halls - For A Taste Of Bavaria
German Beers - Part of the Fun In Germany
Neuschwanstein - Mad Ludwig's Most Famous Castle
Castles of Ludwig - Five Fairy-tale Castles in Bavaria
Oberammergau Passion Play - And What Else To Find In Town
Seiffen Germany - Christmas Decorations Large and Small
German Christmas Markets - Shopping, Food, Lights... Fun!
Aachen Germany - Gingerbread, Colorful Markets and Charlemagne

Hungary
Budapest Hungary - Easy Travel in Eastern Europe
Buda is Budapest
Pest is Budapest
Budapest's Thermal Baths - Relax After Sightseeing!
Budapest Aviation Museum - Planes You Won't See At Home
Hydrofoil the Danube

Ireland
What Is There To See In Ireland? Lots!
Top Sights In Ireland - Let's Explore the Best
Ring of Kerry Ireland - Tips to Avoid the Crowds
The Dingle Peninsula Ireland - Step Back In Irish Time
Driving In Ireland - You Can Do It!
Irish Pubs, Part of the Fun on Your Irish Holiday
Bru na Boinne Ireland - What Makes It So Special?
Ancient Irish Monuments - Our Take On Academic Definitions
Keys To The Castle

The Netherlands
Amsterdam - Canals, Bridges and Surprises
Amsterdam Coffeeshops and Brown Cafes - You're In For A Surprise!
Amsterdam Redlight District - For A Dutch Perspective on Tolerance

Norway
Oslo Norway - Don't Skip the Northern Capitals
Affordable Oslo - Tips To Help Make That True
Norway In A Nutshell - Cities, Mountains AND Fjords
Bergen - Gateway to the Fjords
Norway Fjord Drive - A Great Way To See The Country
Poland
Gdansk Poland - Jewel On The Baltic
Driving In Poland - Easy If You Can Read The Roadsigns!
Malbork and Elblag - A Big Castle and A Colorful Canal
Elblag Canal - A Canal On Rails!
Warsaw Poland - A Beautiful Old Town Rebuilt
Krakow Poland - It's A Jewel, The Cliché Is Right!
Exploring Krakow - How To Get Around
Krakow Legends - Dragons and Heros and More
Krakow Salt Mine - Mine History and Salt Sculptures
Krakow Neighborhoods - Jewish History and Communist Architecture
Polish Air Museum Krakow - Something Different for Airplane Buffs
Tipping in Poland - What Not To Say
Portugal
Lisbon, Portugal - A European Travel Bargain
Belem District of Lisbon
Alfama District of Lisbon
Sintra, Portugal

Slovakia
Bratislava, Slovakia

Spain
Madrid, the Grand Spanish Capital
Tapas and Raciones, Spanish Fun Food
Drive From Madrid, See Segovia, Avila, Toledo
Galicia, Northwest Spain and Portugal

Sweden
Stockholm Sweden - On Land or Water, You'll Love It
Stockholm By Boat - Beautiful From Land AND Sea

Choose one and explore a little more about a country that interests you.  As always, we hope some of these Europe travel tips and destination highlights will help you plan your dream trip.

Happy travels... even if you don't travel the world... just remember that life is a journey... embrace and enjoy it! Judy and Mark
Curious about what else we've written about?  Search our site for a destination or travel tip.

But... We'd love to have you share this page or comment on it…
Thanks, Judy and Mark

Go from Europe Travel Tips to World Travel Tips
Go from Europe Travel Tips to MouseToursTravels Home Page