Hobbies for Trip Ideas
Do What You Love For Special Trips
COVID slowed us down for a couple of years, and now a few health issues challenge us.  We're still traveling if not writing about it quite so much. Our goal in 2022 was get to all seven continents in one year... and we did it.

Going forward health issues may not allow us to travel.  No one can take away those memories though.  We hope all of you are well and staying safe... and that you find some inspiration here for YOUR future travels. 

Do you have a hobby? Why not use your hobbies for trip ideas?
If there is something you're passionate about or something you love doing...
That's a great focus for a trip that will be special for you.

We have lots of hobbies, and each one can get us to places we might not go to otherwise.
If there is something you're passionate about or something you love doing...
That's a great focus for a trip that will be special for you.
Forget the standard tour idea.
Sure, you're traveling to new places, and you want to see all the major sights that those tours have on their itineraries...

..But use your hobbies for trip ideas, and you'll go to places you might overlook otherwise.
What Do You Love Doing?

OK... maybe if you're a stamp collector, you'll end up in museums that house collections or haunting post offices, but there are lots of hobbies that make a great basis for a trip.
We Love Wine...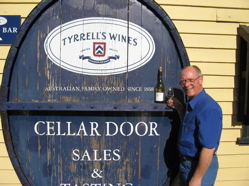 We even have a little vineyard in our backyard.
Just one of our hobbies for trip ideas.... and we HAVE visited vineyards and tasted wine all over the world.
Australia was really great for that, but we had fun in France, Germany, Italy, Spain… even Hungary. The wine list goes on and on.
Do You Love Golf?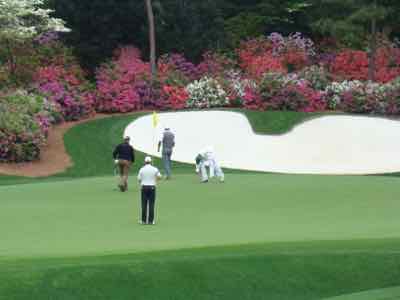 I'm not really a good golfer, but my brother is. We went to the practice rounds of the Masters Golf Tournament a couple of years ago and had a great time.
We had time to explore Atlanta, the area around Augusta, and we made it up to the Biltmore Estate before we came home.
There are plenty of great areas for golfing vacations around the U.S. Scotland, England and Ireland are naturals for visiting and playing at world famous golf courses.
I bet you can even find interesting golf courses in countries that don't make you think of golf at all. I remember a funny little course in Bamako, Mali... but.... another time.
Like Riding Trains?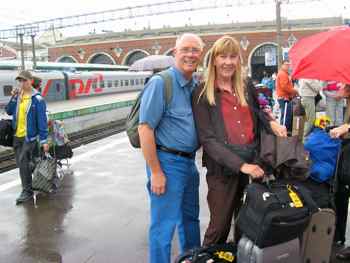 You could splurge on one of the Orient Express type trains that are popping up all over the world.
Or just use trains in Europe to get from city to city. Those high speed trains are amazing.
We took a trip on the Trans-Siberian Railway.  That was a friend's idea... but we had a great time.
If you prefer old steam trains, there are lots of small historic rail lines to ride. One time we went to Wales just to learn to "drive" a train for a day. (In the U.S. you would be the engineer.)
How About Antique Airplanes?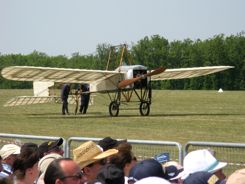 We've also been known to look for air shows and air museums around the world. 
We love 'em so much we have another whole website just about antique airplanes.

We've seen great air shows in England and France. 
There are interesting aviation museums all over the world.

In Budapest one trip, that got us out to Varosliget (the city park) where we were looking for the Transport Museum. There was some sort of a festival going on that day.
We would never have known about the festival if we hadn't been looking for that air museum.... and that local festival was lots of fun. The bonus was, the museum was free because of the festival!
Gardening?
Do you love gardening? There are lots of garden tours all over the world.
And you don't even need to join a tour.... there are many stately homes that are famous for their gardens that are open to tourists.
Bird watching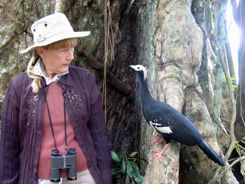 Bird watching can take you all over the world, either with organized tours, or just going on your own.
Some fanatic birders plan whole trips just to see one rare bird.
We take binoculars with us on almost every trip.  Sometimes you don't even need them... meet my new best friend in Peru... A Blue-throated Piping Guan. 
We never knew why he was so curious.  The staff couldn't believe this one!

And What About Cars?

How about cars? If you love cars, you can go see where they are manufactured in Europe... see museums with old Porches, Fiats and Ferraris.
There are rallies for great old cars in the U.S. and Europe.
Visit Italy when they are running the Mille Miglia and see old Maseratis, Bugattis, Cisitalias and Lamborghinis racing through the streets of cities and countryside starting in Brescia.
We watched them zoom past the Duomo in Florence one time... Great fun.

Hobbies For Trip Ideas Will Keep You Going

Those hobbies that get you outside and get you excited will keep you loving your trip and keep you fresh for that next museum, so use your hobbies for trip ideas and enjoy your travel even more.
Happy travels... even if you don't travel the world... just remember that life is a journey... embrace and enjoy it! Judy and Mark
Curious about what else we've written about?  Search our site for a destination or travel tip.

But... We'd love to have you share this page or comment on it…
Thanks, Judy and Mark

International Travel Tips l Europe Travel Tips
Hotel and B&B Tips l Packing Lists
Go from Hobbies for Trip Ideas to MouseToursTravels Home Page