Mark's Scotland Castle
Castle MacEwen on Loch Fyne
COVID slowed us down for a couple of years, and now a few health issues challenge us.  We're still traveling if not writing about it quite so much. Our goal in 2022 was get to all seven continents in one year... and we did it.

Going forward health issues may not allow us to travel.  No one can take away those memories though.  We hope all of you are well and staying safe... and that you find some inspiration here for YOUR future travels. 

A Scotland Castle?
We always look for a "hook" for our trips... a reason to go.  For this trip to Scotland, our hook was finding the family roots...
...and if we were lucky, the family castle.
We are not into genealogy, and Mark is just as much a mixture of other nationalities as Scottish...
But Scotland and OUR Scotland castle called.
We had read in a clan book that the Clan McEwen had been centered around Loch Fyne west of Glasgow...
...in an area called Otter Ferry. 
OK...
That seemed like a good place to start for a low key, out in the countryside type of adventure.

This was pretty much a MouseTour the way our friends and family have come to expect that we travel.

We Started With A Map and A Rental Car
We reserved a rental car in Glasgow and flew on over with no other reservations and not too much more research than that.
Previous trips to Scotland and England had taught us that it's easy to find places to stay when you have a car, and we knew that Mark could handle driving on the left. You just need to be armed with a good map....


More On Scotland
And MacEwens

Our National Geographic map wasn't specific enough, so we bought a good road map of Scotland at the airport Tourist Office.
Armed with this map of the Loch Fyne area and knowing that about 2/3 of the way down the loch there was a dot labeled Otter, we figured we had a good place to start.
We drove around the end of Loch Lomond, through a little village called Cairndow and started down the east side of Loch Fyne.
We passed a smaller village called St. Catherine's, completely missed what was supposed to be the village of Creggnans, then we saw few dwellings of any kind.

Our Scotland Castle? Rural Road Causes Doubts
We were on a one lane road with a few wide spots for passing if you happened to meet another car.
I began to have doubts that we would find much down this road, but it was still early in the day so we pressed on....

After all, we had only traveled about an hour from Glasgow.

The road hugged the edge of the loch, and Scotland's highland scenery was beautiful. Finally we came to a little shop right on the loch, so we decided to ask the proprietor if she had ever heard of a site where the Clan McEwen had come from.
Oops, she had never heard of the Clan McEwen. This wasn't too encouraging, but as we walked back to the car, another car pulled up. It was a local Scot who had just stopped at this wide spot in the road to sit and enjoy the view. We asked him if there was a town down at Otter. He said not a town... there was a pub, and he thought there was a B&B, but he didn't know about Clan McEwen either.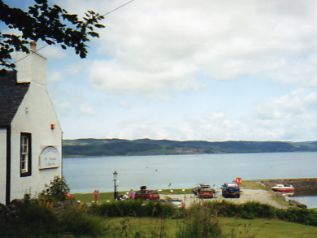 Well, we thought, at least we can get something to eat.
We soon arrived at the Oystercatcher Pub. There were a couple of other houses in the area and a small harbor with a tourist information sign about....
...Otter Ferry!
Now we finally felt we were making progress.


We went into the pub for lunch, and saw that they were serving McEwan's Ale... one of our favorite beers in Scotland. I wonder why? After some small talk with the publican, Mark said something like, "I'll have to have a half pint of that McEwan's because that's my name."
"Too bad you weren't here last month, Laddy," says the publican. "There was a clan gathering just up the road at Kilfinan."
A Clan gathering?  Of the Clan MacEwen?  How cool is that!

Over a lunch of locally made venison sausage and chips, we learned that there was, as we had read, a site where there had been a small castle. The proprietors of a hotel about 5 miles up the road could tell us how to find it.
A Little About Otter Ferry
The locals in the pub told us a little about the area....
How right here at Otter there was a long land spit exposed at low tide and that we should not try to walk out there because when the tide came in you couldn't run fast enough to get back in time.
Later we read that Otter came from the gaelic word of "oitrich" which meant land spit, and that there had been a ferry here at one time.
That bit of history made sense... things seemed to be coming together.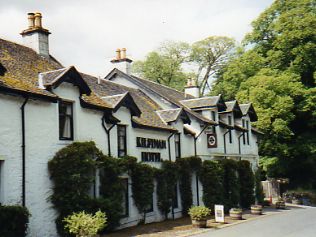 We drove on up the road buoyed by our new information and fueled by the lunch.
Kilfinan was a proper Scottish town in that it had a church,
a few houses,
the lovely Kilfinan Hotel...
And all of 18 permanent residents.

Our proprietors at the Kilfinan Hotel said yes there had been a clan gathering here last month...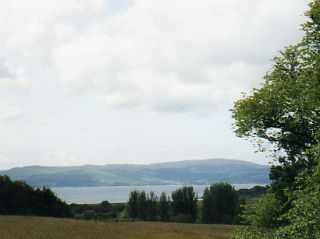 And yes they could help us find the castle site.
We asked to see a room.
Room number one had a view out over the loch in the distance, and if you knew where to look......
over behind a big oak tree, you could see where the castle once stood.

Of course we had to stay in Room One.


Off To Find OUR Scotland Castle....
After explaining that the hotel had no official connection with the castle site, and that in Scotland people were free to walk through fields at their own risk, they gave us directions to find the Castle MacEwen ruins.
With written directions in hand, we walked back down the road then turned left and hiked past the smitty, wandered through sheep and cows in the fields, climbed over rock walls and fences, passed through gates, leaped over streams and scaled styes.
Finally, we walked down the beach on the shore of Loch Fyne, then up a wee hill and found the castle....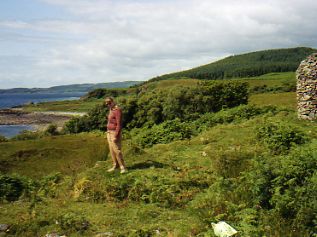 Well, we found a pile of rocks that HAD been a castle...
...a small one...
...four hundred or so years ago.
And to make it official, there was a rock cairn that had been erected a few years ago to verify that we were in the right spot.

It didn't matter that there wasn't much there or that we weren't even sure how closely we were connected. It was a castle ruin with our name on it, and it was exciting to find the castle we had been looking for.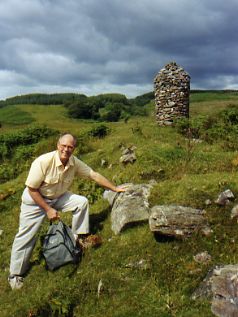 Celebrating With A McEwan's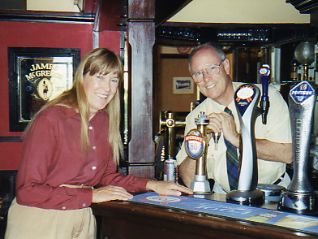 We floated more than walked back to the hotel.
They had a cute little pub tucked in a corner, and we had dinner with a full pint of McEwan's Ale to celebrate.
We had found our Scotland castle....
Our Scotland adventure had started well. This is what travel is all about.


Clan McEwen? MacEwen? MacEwan? What Is It??
Think we've misspelled the Clan name a few times here? There's a reason for that. We have an explanation and more stories on our page for Clan MacEwan -- MacEwen Stories. We'd love to have you share a Clan story there and read what others have written. Or maybe write a story about YOUR clan's Scotland castle.
One of the Clan McEwen stories has developed into a whole page on Jim's Clan McEwen Research. Check it out.

Are There Travel Tips Here?
Every story has some... Here you can see you don't need to plan everything out for a trip....
Exploring can be fun, and the joy of finding something like YOUR Scotland castle is exhilarating. Trust that you can find places to stay and people to help....
When we wander like this, we look at the room and hotel before we commit. No one minds, and you can get exactly what you want in your budget....
Rental cars can give you freedom to travel to small, out of the way places. The sites you find will be smaller, more intimate and perhaps, as our Scotland castle was for us... more personal. You will most likely find fewer tourists in areas like this....
The airport is your friend.... Don't rush out of the airport even though you are probably anxious to start your adventure. Take your time and collect yourself on arrival, and then collect things that will help make your journey of discovery easier..... money, information, directions, maps, even food.
Most of all.... find a hook. Then just go for it. Who knows what you'll find?
More of Scotland's West Coast
There is much more to explore around Loch Fyne and this southwest corner of Scotland's Highlands. More Scotland castles, more pubs and scenery.
This is where wandering kept us going.  We picked up some tourist brochures and talked to the locals and went off to tour Argyll and Scotland's west coast as well.
We found mysterious ancient standing stones to explore, the sleepy Isle of Bute to idle around, and the picturesque town of Inveraray with the Duke of Argyll's castle to visit. Now THERE is a Scotland castle worth seeing!
We even found castle hotels to stay in... but it was the Castle McEwen that was our hook for this trip, and finding it will always be one of our highlights.
Happy travels... even if you don't travel the world... just remember that life is a journey... embrace and enjoy it! Judy and Mark
Curious about what else we've written about?  Search our site for a destination or travel tip.

But... We'd love to have you share this page or comment on it…
Thanks, Judy and Mark

Return from Scotland Castle to Home Page