No Way You'd Sleep in a Tented Camp?
Read on and Think Again
COVID slowed us down for a couple of years, and now a few health issues challenge us.  We're still traveling if not writing about it quite so much. Our goal in 2022 was get to all seven continents in one year... and we did it.

Going forward health issues may not allow us to travel.  No one can take away those memories though.  We hope all of you are well and staying safe... and that you find some inspiration here for YOUR future travels. 

Tented camp memories.... let's start with that.
We're native Californians. Camping in the Sierra Nevada was something we grew up with.

We remember vacationing in Yosemite Valley and tented camps were part of the experience. 
We stayed in great walk-in tents with cots and warm bedding for those cold Sierra nights and a cozy wood burning stove at one end.
Yes, you had to walk to a central tent for toilets and showers, but that was OK.

They still have those camps on the Yosemite Valley floor, and driving up the the Tioga Road, you can find drive-in "high Sierra" camps at White Wolfe and Tuolumne Meadows.
As adults we hiked the "High Sierra Loop" in Yosemite, going from one tented camp to another.
It was like backpacking without the backpacks...
but with showers and toilets...
and with meals provided.
What more could you ask for in the back country? If you want to find out more about these go to Accommodation in Yosemite.
Camping adventures like this might not be your cup of tea, but if you are traveling and looking for birds and wildlife in Africa or India or the Caribbean.... and you're offered stays in a tented camp...
You should consider it... It will probably be more fun than you think!
A Tented Camp Is Easy On The Environment
Semi-permanent camps like this are easier on the environment than permanent lodges in most cases.
Some of these sprang up because of requirements that the facilities could be taken down without a trace in African national parks.
Others have come about because people are just more aware of the environment today.
There are tented resorts being set up in some places today that are downright glamorous tents. There's even been a term coined for that.... glamping!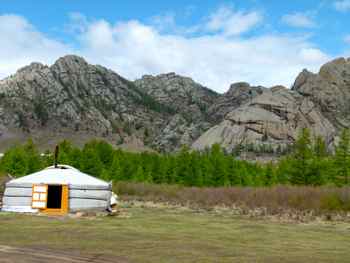 There's one great place we still want to get to on the Big Sur Highway in California.  The tents have great views of the Pacific. 
Well, you stay in yurts not tents, but that just shows you don't have to go to Mongolia for the experience. 
That's where we first stayed in yurts or gers as they call them... Mongolia that is.


Find Them All Over Africa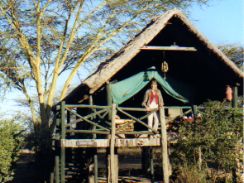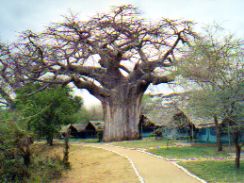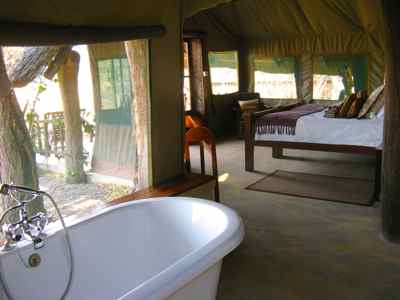 These camps can range from basic to luxurious.
Does this one look like a tent to you? 
There was canvas involved...
And wildlife outside the bath...

We fell in love with them in Africa because most of these camps there are smaller than the lodges.
You really get the feel of being connected with Africa. Why, they almost make you feel like an explorer. We'll tell you more at our African Tented Camps page.
There Are A Few In India
We've also stayed in tented camps in India when we were looking for tigers in the national parks of India.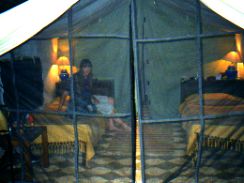 The ones we stayed in were a little more rustic than most camps in Africa, but they are very comfortable... again with attached showers and toilets, and attractive central dining and lounge areas.
 

Tented Accommodations Around The World
We mentioned the ger in Mongolia.  (We did have to wander to the main lodge for toilets, but it was exciting wandering through herds of yaks... they're really docile... most of the time.)
We're reading about tents springing up as accommodations in eco-travel locations all over the world...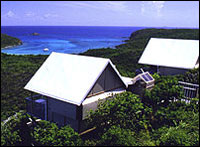 ...in Southeast Asia and the Caribbean.... places for people interested in sustainable tourism.
And what we're read makes them sound like heavenly destinations either on a beach or in a rain forest. We haven't personally stayed in any, but we have friends who have. Hope we can find the time to get to one soon.

Go For It - You'll Probably Enjoy It!

So don't think you just couldn't stay in a tent at this stage in your life.  Some may suit you better than others, so read the details.

DO check to see if they have the toilets and showers attached or not.... Yaks are OK, but you really don't want to wander too far when there are lions out there!
Those camps in Yosemite might just bring back good memories..... and the camps around the world will set you up for comfortable adventures.
Happy travels... even if you don't travel the world... just remember that life is a journey... embrace and enjoy it! Judy and Mark
Curious about what else we've written about?  Search our site for a destination or travel tip.

But... We'd love to have you share this page or comment on it…
Thanks, Judy and Mark

African Camps  Africa Dream List
Custom Tour Planning List
Malaria Pills?  Do I need SHOTS?  Is the Water Safe?
MouseToursTravels Home Page