Madagascar
Island of Lemurs, Chameleons
Friendly People and Amazing Scenery
COVID slowed us down for a couple of years, and now a few health issues challenge us.  We're still traveling if not writing about it quite so much. Our goal in 2022 was get to all seven continents in one year... and we did it.

Going forward health issues may not allow us to travel.  No one can take away those memories though.  We hope all of you are well and staying safe... and that you find some inspiration here for YOUR future travels. 

The real Madagascar is way better than the movie as far as we're concerned.  If you think you might want to see it… we say go for it. Below are some of the things we thought about when we were planning and what we found once we got there.

I wasn't really sure what to expect from Madagascar other than lemurs and chameleons.
What we encountered was amazing landscapes and friendly people.
It's an island that is definitely worth the effort it takes to get there, but it isn't for the casual traveler.

There are beaches to sit on here and there...
But there are easier beaches to get to elsewhere in the world....
It's the wonderful endemic wildlife and plants that you should go for.  Just look at these...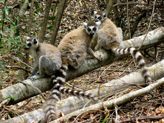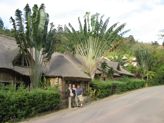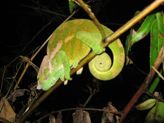 Planning Our Trip To Madagascar

When To Go?

We went to Madagascar at the end of the dry season.
It was the best time to see baby lemurs, there were really no leeches... (Have I mentioned I hate leeches?) ...Yep, the dry season meant no leeches to worry about in the rain forests.
And the roads... well, as bad as they are at least they were passable.
Plan Well In Advance

We did have to set this trip up further in advance than we usually do to make sure of getting the accommodations we wanted and the internal flight reservations, but in this case it was worth it.
We Used A Local Travel Agency

We set our custom tour up with a local Malagasy agency. That cut out several "middlemen" and let us keep the costs down.
We e-mailed them and told them what our interests were; they sent us a proposed itinerary; we reviewed it and "fine tuned it", and then we went, still not knowing exactly what we were in for...
Place Names Can Be Confusing - Is That Malagasy or French?

One thing you might find confusing in trying to research an itinerary is that some towns and national parks in Madagascar have both French names and Malagasy names... which are sometimes used interchangeably!
The French names are still widely used, but I'll try to include both where that is most apt to occur to try and help you out.
A Few Words Of French and Malagasy Can Help

The vast majority of Malagasy people speak French as well as Malagasy.
English is becoming more widely spoken, but don't count on it.
The people really respond enthusiastically if you try a few words in Malagasy. We never got beyond hello, good-bye and thank you, but it was enough. Remember I've told you not to worry about this foreign language stuff. Learn a few words, smile a lot and go for it.
Where We Went

So let me tell you about the areas we visited. I'm going to put destinations on separate linked pages for organizational purposes, and you can even check our real itinerary so you can see what worked pretty well for us. So follow along to...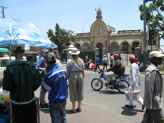 Tana
Antananarivo, the capital, but everyone calls it Tana. It was Tananarive under French rule. You'll arrive here, but you don't need to spend much time.
Parc National de Ranomafana

(Ranomafana National Park in English, but you get that, don't you?)

For lemurs and chameleons.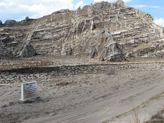 Parka Nasionaly Isalo (Malagasy)

Parc National de l'Isalo

For hikes in the sandstone massif and swims in natural swimming pools.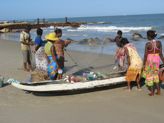 Names of Transit Cities...
Some transit cities that we flew in and out of...

Toliara (M) or Tulear (Fr)
Taolagnaro (M) or Ft. Dauphin (Fr)
Morondava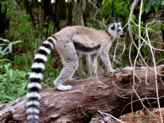 Réserve Privée de Berenty

Berenty Private Reserve

For lemurs you can actually take pictures of and the wonderful spiny forest.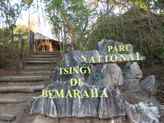 Parc National des Tsingy de Bemahara

For hikes in the most fantastic limstone pinnacles you may ever see. It takes your breath away...
...literally in the Big Tsingy!
Parc National d'Andasibe-Mantadia (M)

Perinet (Fr) and still often called Perinet.

For primary and second growth rainforest and hearing the wonderful call of the Indri.
The Roads!
And some day I should include a whole page on road conditions so you know what you're getting into with transportation!  For now, let's just say they're part of the adventure.

Allow Enough Time

Remember, getting there is going to take a day or two... and getting around is NOT always fast.
Our itinerary was 18 days. That gave us time to see this southern part of the island pretty well.
We didn't have the time to get to the northern part where there are completely different species of lemurs and a little more beach activity.
We hope this will help you plan your own trip to Madagascar. It's a beautiful island that can use the help and money that good ecotourism brings in... so go for it!
Happy travels... even if you don't travel the world... just remember that life is a journey... embrace and enjoy it! Judy and Mark
Curious about what else we've written about?  Search our site for a destination or travel tip.

But... We'd love to have you share this page or comment on it…
Thanks, Judy and Mark

Return from Madagascar - Land of Endemics to MouseToursTravels Home Page