Get A Good Travel Guidebook
You'll Travel Better and Save Money
COVID slowed us down for a couple of years, and now a few health issues challenge us.  We're still traveling if not writing about it quite so much. Our goal in 2022 was get to all seven continents in one year... and we did it.

Going forward health issues may not allow us to travel.  No one can take away those memories though.  We hope all of you are well and staying safe... and that you find some inspiration here for YOUR future travels. 

Why travel with a guidebook?
Isn't that one more thing to carry around?
Can't you get all the information you need now on the internet?
Yes, you probably can...
...but once you're on the road, are you going to carry a laptop or tablet around with you?
How much time to you want to spend surfing on your phone...
...and how much is THAT going to cost you?
I know smart phones are getting better and better at providing information, but we just don't think you can beat a good guidebook.


Research On The Internet, But Carry A Real Book
Check the internet, surf, do your research, watch TV shows, but get a good book. You should research guidebooks just like you do your travel.
Check to see that it fits your travel style.  Some are good for backpackers.  Some are good about bus and train info.  Mark likes books with lots of pictures.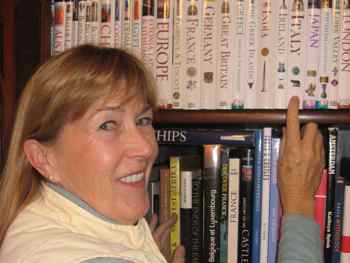 Make sure it's a current edition so the information is as up-to-date as possible.
Things change so fast that even the current edition could be a little out of date.... and that's if they update it yearly.
Many are only updated every two or three years.
So, you ask, doesn't that mean that the internet is better... more up to date?
Well, we do suggest doing research on the internet, but the answer is still... take a good guidebook.
Guidebooks Are Handy

We think it's easier to flip through the pages than it is to try and find that last screen on your smart phone.
It's just so handy to have with you when you're in a museum or church, and you want to read the explanations.
If you're driving along, and you want to see what there is in that cute little town you're driving through... you have that book in hand.
Old Guides Can Help Too, But...

You can borrow an old one from a friend or get one at the used book store... they will be good for museums and historic sites that have been around forever.
I mean, the descriptions for those castles probably haven't changed in a century or two. But sometimes opening hours change, or the days that they're closed, or they could be closed for renovation.
With an old book, you might find yourself searching for a hotel or restaurant that has been closed since the last edition!
In Papua New Guinea an old edition had us trying to find a hotel that had been torn down! 

Find One That Fits Your Travel Style

Travel guides differ in whom they cater to, so check through several to see which one has the information that YOU need.
A good one will help you find accommodations and restaurants in your price range.
You can get some that break accommodations into categories for budget, middle, and high end travel. Having that kind of information will help you quickly find the lodging or restaurant that you will be happy with.
When you travel to a place that you've never been to before, a good guidebook will give you the information you need to travel like an old pro in the area.... and isn't that better than trying to remember what you read on the internet?
Where And How To Choose One

Do yourself a favor and get a current edition of a book whose author you enjoy reading.
You can even check a few out of your local library so you can really study them before you buy one.
Go to a bookstore that specializes in travel or one that has a large travel section so you can look at several different books.
Get the one that seems to best fit your travel style.
Your trip will go more smoothly when you have the right information at your fingertips.... that's why you should travel with a guidebook.
Happy travels... even if you don't travel the world... just remember that life is a journey... embrace and enjoy it! Judy and Mark
Curious about what else we've written about?  Search our site for a destination or travel tip.

But... We'd love to have you share this page or comment on it…
Thanks, Judy and Mark

Return to International Travel Tips l Europe Travel Tips
Hotel and B&B Tips l Packing Lists
Go to MouseToursTravels Home Page