Green Travel Tips
Eco-Tourism Helps The Environment
And YOU Get To Travel!
COVID slowed us down for a couple of years, and now a few health issues challenge us.  We're still traveling if not writing about it quite so much. Our goal in 2022 was get to all seven continents in one year... and we did it.

Going forward health issues may not allow us to travel.  No one can take away those memories though.  We hope all of you are well and staying safe... and that you find some inspiration here for YOUR future travels. 

We love wildlife and wild land adventures... so we try to make our travel green travel.
We try to conserve whether we are on safari looking for the "Big 5" or visiting a city looking for museums.
No matter where you are, you can practice eco-tourism.
Green travel doesn't mean you need to be a backpacker or stay only in tents.

Shoot, some backpackers really aren't all that eco-friendly.
It's the little everyday things we learn to do that can make any trip more eco-friendly.
Do what you can to protect all of our resources... plants and wildlife...
...but electricity and water too.


Green travel becomes a mind set... once you get used to looking for these little things, it all becomes easy.
With so many of us traveling, it's more important than ever to think about how travelers impact the environment.
We're always trying to watch our budget... so we can tell you that you don't necessarily have to pay more to travel this way. You might even find that your travel will be more rewarding, more authentic... let you get closer to the people and places you travel to.... and cheaper!
So let's list some green travel tips....
Try To Chose A Green Hotel

Great tip... This one isn't ours...
We've read this one in many travel articles, but how can you know if a hotel is eco-friendly? How do you find out?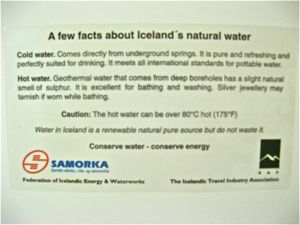 You could just trust them... take a look at their website and see if they mention energy and resource saving measures.
Ask them if you just drop in like we do. We look at the room before we take it.

Notice if they use energy efficient lighting.

Low flow toilets?

Water saving shower heads?

Are there recycling bins around?
You can talk to someone who's been there... or
You can read a review Trip Advisor.... Find Hotels That Travelers Trust. Over 40 Million Unbiased Reviews!
Hotels in natural areas tend to put more emphasis on this, but some big city hotels are trying too. All you can do is be aware that it could help and try to find a hotel that thinks green travel is good too.
Green Travel Tips Once You're IN Your Hotel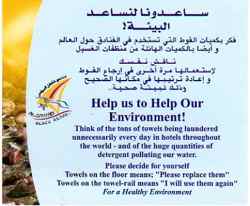 1) Re-use your towels...  and have the hotel change sheets less often.
If this is an option... hang up those towels!
You see these cards all over the world now...
These are photos of cards we found in our rooms in Oman and Germany.


Even if the room cleaners replace them when you've left the towels on the rack... keep trying... it's catching on more and more.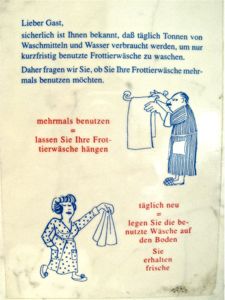 Even if the room cleaners replace them when you've left the towels on the rack... keep trying... it's catching on more and more.
2) Keep your showers short.
That's a pretty easy one, we think... even if water is abundant where you're visiting.... That card above from Iceland says water is a "renewable natural pure source but do not waste it."
3) Turn off air-conditioning, lights, heat, television etc. when you leave the room.
Many more hotels use key cards that you have to put in a slot at the door to get the power to come on in the room, but it they don't... you should try to turn everything off.
4) You bring your own toiletries so use them rather than the prepackaged ones at the hotel.
Remember we tell you to pack light... we do, so we use the hotel shampoo.... but only when we need to. Leave theirs behind if you don't use them. All those little bottles can add up to lots of plastic in land fills.
Green Travel Tips To Use Less and Educate

1) Pack a water bottle that you can reuse or re-use a small one you buy.
In many countries you really CAN drink the tap water.
Where you can't or don't want to... buy a large size and refill a smaller one as you go.
The sad fact is in many places, most of those little plastic water bottles don't get recycle yet.
Certainly buy bottled water in countries where that's necessary, but see if you can find a way to recycle them.
2) Try to educate the locals about recycling
On a trek in Bhutan, our camp crew was just tossing metal cans into the bushes. We went and retrieved them and explained how important we thought it was to pack them out.
Alas, I'm sure they got tossed into the bushes again when we weren't looking... but just maybe that lesson will stick some day.
3) In cities, stay at a centrally located hotel.
Walk around to see the sights. Take public transportation when you can.
4) If you're walking a beach, consider picking up trash along the way.
If we all did this, all of our beaches would be so much cleaner.
We were on a dive trip to Little Cayman Island one year right after a hurricane. Gladys, the owner of our resort encouraged us all to go out and collect a bag full of trash...
We did, felt good about it, AND got the t-shirt.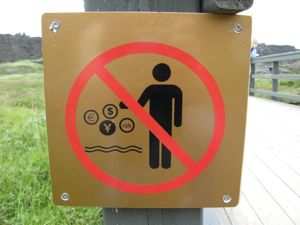 5) Obey signs - They're just trying to get you to use common sense.
We came across this sign asking people not to throw coins from the bridge...
Don't throw coins in natural streams...
It is NOT good luck...
...it pollutes the stream.

Or how about this "don't walk on the mounds" sign...
We were at the archeological site of Kernave in Lithuania.
The mounds are what is left of hill forts and unfortified settlements from the Paleolithic Period to the Middle Ages...
It would be a shame to scramble down one of those hills and destroy some archeological evidence yet to be uncovered.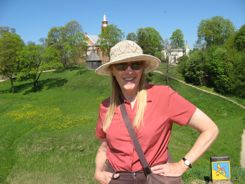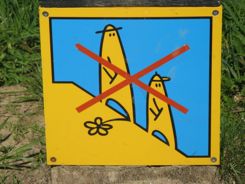 Green Travel Tips If You Rent A Car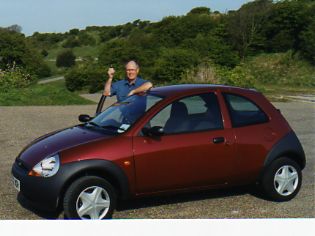 1) When renting a car get the smallest most fuel-efficient car that you can be comfortable with
2) Rent a hybrid (We've seen more of these lately. They're more expensive, but remember how expensive gas is in Europe!)
3) And try driving slower. If you go 60 mph (100 Kilometers per hour-km/h) or less, you'll use less fuel... and just maybe you'll see more.
Green Travel Tips For Your Flight Or Tour

Buy carbon footprint offsets...

If you're taking a tour... see if your tour company is green....
We gave friends who run Cheeseman's Ecology Safaris around the world. They acknowledge that air travel emits large quantities of greenhouse gases.
They encourage their tour participants to buy carbon offsets AND they match the offset donations dollar for dollar.
You can buy carbon offsets if you travel on your own too.
That will add to the cost of your trip... but it makes your travel more green travel.
A couple of companies that we know about are CarbonTree.net and NativeEnergy.com.
Did I sound like I was lecturing you? I didn't mean to... well, maybe I did, but you don't need to follow ALL of these suggestions for green travel.
If you just choose one or two during your trip, the earth will thank you.
Happy travels... even if you don't travel the world... just remember that life is a journey... embrace and enjoy it! Judy and Mark
Curious about what else we've written about?  Search our site for a destination or travel tip.

But... We'd love to have you share this page or comment on it…
Thanks, Judy and Mark

International Travel Tips l Europe Travel Tips
Hotel and B&B Tips l Packing Lists
Go to MouseToursTravels Home Page