Ideas for Your Pre-Departure Checklist
COVID slowed us down for a couple of years, and now a few health issues challenge us.  We're still traveling if not writing about it quite so much. Our goal in 2022 was get to all seven continents in one year... and we did it.

Going forward health issues may not allow us to travel.  No one can take away those memories though.  We hope all of you are well and staying safe... and that you find some inspiration here for YOUR future travels. 

Why do you need a pre-departure checklist for your vacation?
Because you want to go on your trip and not have to worry that you forgot something...
...or worry about your house.
Some of these things will be done close to travel time, but you need to think about some of them weeks in advance. 

Getting shots and passports and visas can take time. 
Make a pre-departure checklist when you start planning your trip if you haven't traveled all that much. 
We have a checklist that we go through every time.

Let's deal with what you need to think about before you pack for that trip.

Well Ahead Of Your Trip

Check Your Passport and Visas (If Necessary)

The first thing we're going to tell you is to check your passport if you're traveling internationally. That seems obvious, doesn't it?
Yes.... but....
Is it current?  And is it valid for 3 or 6 months after your return?  Some countries require that!
Do you have enough blank pages? 
Do you have the proper visas if the countries you're visiting require them? 

Do you have extra passport photos if you'll be getting visas abroad?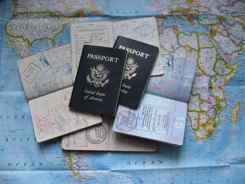 I can't tell you how many times Mark has had passengers come up in a panic because they left their passport on the dresser at home...
...or because they just realized that their passport isn't current... or... here's one I love...
They shredded their NEW passport, and came with the old one.
So check your passport. Make sure it's current. Check to see if you have all the proper visas, if necessary, for the countries you will be visiting.
Shots, Medications and Eye Glasses

Get any required or recommended vaccinations and medications.
Check well ahead to see if you need international travel vaccinations.  Some of these are a series and require time to become effective.
Do you need to get a prescription for malaria pills?
Make sure you have plenty of any prescription medications you take.  It's a good idea to pack more than you will need in case you're return is delayed.
Pack an extra pair of glasses or extra contacts.
Get copies of prescriptions for eye glasses and prescription medications. This could help you if they're broken or lost... and prescriptions take up no room in your luggage.

Tickets and Documents

Paper airline tickets are pretty much a thing of the past... but... we've still come across them from time to time!
Check to make sure you know whether you have paper tickets or e-tickets. Again... how tough is this? Mark has passengers all the time that show up thinking they have e-tickets when they really have paper tickets that are home on the dresser....
Make sure to check which kind of airline tickets you have. If they are paper tickets.... take them with you.
AND
If they are e-tickets, print out the confirmation and take THAT with you, so you have proof of what you purchased and where you're going.
What else should be on your pre-departure checklist?
OK - Pre-Departure Checklist Last Minute Stuff
Think About Your Money

How much money will you need for the trip, and how will you carry it?  (See money belts below... )

Make sure your ATM will work abroad.  You need a 4 digit PIN.  (And we take a second ATM card ever since our primary bank had a computer glitch and we couldn't use the ATM in Jordon.  Good thing we were traveling with a friend!)

Find out what your daily ATM withdrawal is.  If you ask for £300 and your limit is $300, you're gonna be denied. 

Carry enough cash to get by if you need to, but not TOO much.  We don't convert currency ahead, but you could if that makes you feel more comfortable.
We don't carry traveler's checks any more... too hard to cash them, but... If you're carrying traveler's checks, make sure the documentation is safely stored in a separate place.
Call Your Credit Card Companies

Tell your credit card companies and the bank that issues your ATM that you'll be traveling. 
It's good for them to know where you'll be traveling and the dates so they won't think there is fraud going on.

Thin Out Your Wallet

And speaking of credit cards... choose one or two and leave the rest at home.
Leave cards you won't use (like library cards) at home too, but...
Do take cards that might help you get a discount like...
Student IDs,

Auto Club Cards, or

Senior Cards.

We take our AAA Card and (I hate to admit it) our AARP Card.
For Rental Cars

You know, we often travels with no reservations and only loose plans to ramble, but the one thing we do usually reserve ahead is a rental car if we're going to use one.  It's usually cheaper, you know you'll get a car... and in the size you want.  (We like small cars for the small roads we often drive on!)
If you'll be renting a car...
Take your Driver's License.
Get and International Driver's License if necessary.  Some countries require it, so check ahead.  It's not hard.  Here in the U.S. the AAA issues them.
Take your auto insurance card with you.
Check your credit card... many of them include insurance for car rentals for a couple of weeks if you use them for the car rental.

Check Your Camera, Phone and Electronics

Do you have plenty of memory for your camera?  We had friends who took 11,000 (!!) photos on a safari.  That's a lot of memory!
Pack extra batteries or the charger
Make sure you have the adaptor plugs you need so you can plug anything in.

Do you need an international plan for your phone?  Be sure you understand what it will cost... and how to avoid big roaming charges.

Leave An Itinerary For Friends

Along with any emergency contact numbers you might have.  Not just so they can follow along with you, but so they can contact you if need be.
Plan For Your Safety

When it comes to your travel safety, there are some things you might want to add to your pre-departure checklist.
Check Travel Advisories - If you're planning to travel to areas where there has been some unrest or health issues, you might want to check on travel advisories.
Get The Embassy's Number - Find out the address and phone number of your country's embassy in the country you are visiting.

Register With The Embassy - Some governments suggest that you register with the embassy so they know you are in the country. The U.S. State Dept. calls it a STEP program. 
     We don't always do this, but it makes things easier for your embassy if there is a natural disaster or general emergency.
Health Insurance - Does your health insurance cover you abroad?  Should you by travel insurance?
Money Belts - Keep cash, credit cards and valuable documents in a money belt when you're on the road for safety.
There is a lot to think about when you're getting ready for a trip. These are only suggestions.
Make your own pre-departure checklist. Make a pre-departure checklist for making your home secure during your trip too. If you take a little time for this, you'll leave on your trip knowing you've got things under control... then the other little travel surprises that might crop up will be easy to deal with.
Happy travels... even if you don't travel the world... just remember that life is a journey... embrace and enjoy it! Judy and Mark
Curious about what else we've written about?  Search our site for a destination or travel tip.

But... We'd love to have you share this page or comment on it…
Thanks, Judy and Mark

Go from Pre-departure Checklist to Basic Packing List  International Travel Health Tips
Go from Pre-Departure Checklist to MouseToursTravels Home Page