Trusted Traveler Programs
And TSA PreCheck
Ways To Get Through Security and Customs Faster
COVID slowed us down for a couple of years, and now a few health issues challenge us.  We're still traveling if not writing about it quite so much. Our goal in 2022 was get to all seven continents in one year... and we did it.

Going forward health issues may not allow us to travel.  No one can take away those memories though.  We hope all of you are well and staying safe... and that you find some inspiration here for YOUR future travels. 

Do Trusted Traveler Programs pique your interest.  If you travel often, they should.  Most travelers feel they should be trusted…

But who decides if you can be trusted, and how can you make it happen?
In the United States, over the last few years, various programs have been instituted by the U.S. Department of Homeland Security, Customs and Border Patrol (CBP), and by the Transportation Security Administration (TSA). 
All are attempts to make things easier and save you time getting through security at airports or getting through customs. 

These programs provide expedited travel procedures for pre-approved, low risk travelers. 
If approved, they allow you to pass through special lanes and kiosks at certain airports and border crossings. 

They're great when you can use them, but they are not available at all airports.

The three that are for speeding through customs are
Global Entry Program
NEXUS
SENTRI

And the program to get you through security faster?  That's  TSA Pre✓™

Let's take a look at what they are....

Fast Security Lines?  TSA Pre✓™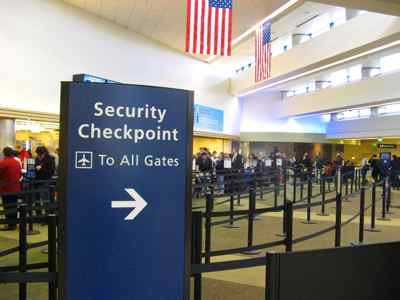 TSA Pre-Check is the one you will encounter at the beginning of your trip… and the only one if you are traveling domestically in the USA. 
This one is not for customs, but it will get you through security faster and with fewer hassles at many airports in the US. 
What You Get With TSA PreCheck
You get to use a special faster line in security.
You can leave your shoes, belt and light jacket on.
You can leave your computer and plastic bag containing liquids in your carry on… and…
You usually go through the magnetometer instead of the body scan.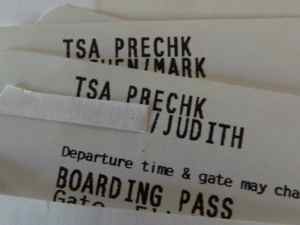 We've been randomly selected a few times, and I can tell you, it really is nicer to breeze through like this…  
You may be randomly selected too.  Look at your boarding pass... just above or below your name.  If you see something that looks like TSA Precheck... or some variation... lucky you!

Who Gets To Participate?
--Some members of airline frequent flyer programs are included by the airlines. 
--Some passengers are randomly assigned to TSA Pre✓™.
--If you are a member of one of the Trusted Traveler Programs listed below, you can sometimes be included.
--And you can apply to participate in the program.  There is an $85 application fee.  See the TSA site for details…

Trusted Traveler Programs for Customs
Global Entry Program
Kiosks Instead Of Immigration Officers
The Global Entry Program is a Trusted Traveler Program that is your express pass to get quickly through the United States' international arrival areas.  Automated kiosks are designed to process pre-approved, low risk international travelers who qualify. 

This U.S. Customs and Border Protection program is still designated as a pilot program.  They hope it allows them to get trusted travelers through the airports faster and concentrate their resources on higher risk travelers.  The plus for you is that it allows you to bypass the regular passport processing lines.

What Happens and What Global Entry Costs

If you apply, you will be fingerprinted, photographed, and questioned about your past, and there will be an FBI background check. 
You will pay US$100 for this, and that fee is non-refundable should you be denied Trusted Traveler status.  Check The Customs and Border Patrol site for details.

How It Works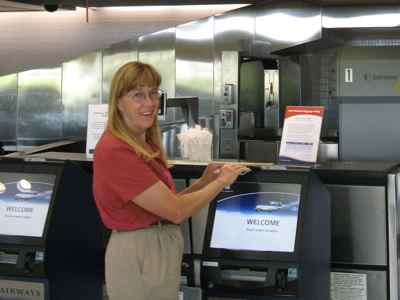 No, this is not a real Global Entry Kiosk. You know you can't take photos in the Customs area! This is an airline kiosk... But they look similar.
In most participating airports there is a special kiosk in the Customs area....
Global Entry members insert their passport into a document reader and provide digital fingerprints for comparison with fingerprints on file (biometric verification).  They snap a picture of you; you then answer customs declaration questions on the touch screen and get a transaction receipt. 

Your through! 

You will be directed to baggage claim and the exit unless chosen for a selective or random secondary inspection.  Just present the receipt to the Customs officers before leaving the inspection area.

The Global Entry Program is currently only open to citizens and permanent residents of the United States.  The Netherlands has a reciprocal arrangement, so citizens of the Netherlands may also apply (through their Privium program in Amsterdam).

Get Both Global Entry and PSA PreCheck

One more thing about this program is that you are also enrolled in TSA Pre✓™ once you are enrolled in Global Entry.  That makes it a bargain because the PreCheck fee is $85 by itself as of this writing.
NEXUS Program
For Travel Between the U.S. and Canada
The NEXUS Program expedites travel between the United States and Canada.  NEXUS cards are WHTI (Western Hemisphere Travel Initiative) compliant documents. 
These cards are used for land and sea travel, as well as air travel when traveling to and from airports using the NEXUS programs. 
Note: Airports must be among the ones who are using the NEXUS program. 
The application fee for this card is US$50.

SENTRI Program
For Travel Between the U.S. and Mexico
SENTRI stands of Secure Electronic Network for Travelers Rapid Inspection.  (Do you think they stay up nights trying to think these names up?) 
SENTRI cards are also WHTI compliant.  This is a United States-Mexico border crossing program.  It serves the largest points of entries into the U.S. 
There are several fees involved because there is a FRID (radio frequency identification)card issued for vehicles.

FAST
For Commercial Trucks
There is one other  program which mostly applies to truck drivers.  FAST stands for Free And Secure Trade.  It allows expedited release to approved commercial truck drivers making fully qualified FAST trips between the US and Canada or the US and Mexico.

If You Want To Keep Up

For details on all of these Trusted Traveler Programs, check the U.S. Department of Homeland Security, Customs and Border Patrol websites.

All of these programs will be most useful to frequent and business travelers, but anyone can apply for them.  It may be that in the future Trusted Traveler Programs will be expanded to include reciprocal agreements with more countries.  Already, we are being encouraged to enroll in programs like this.
Happy travels... even if you don't travel the world... just remember that life is a journey... embrace and enjoy it! Judy and Mark
Curious about what else we've written about?  Search our site for a destination or travel tip.

But... We'd love to have you share this page or comment on it…
Thanks, Judy and Mark

Go from Trusted Traveler Programs to Airport Help
Passports and Visas l Home