2021 Travels
A Domestic Travel Year!
COVID slowed us down for a couple of years, and now a few health issues challenge us.  We're still traveling if not writing about it quite so much. Our goal in 2022 was get to all seven continents in one year... and we did it.

Going forward health issues may not allow us to travel.  No one can take away those memories though.  We hope all of you are well and staying safe... and that you find some inspiration here for YOUR future travels. 

Our 2021 travels did see us getting away from home, but only domestically.  No international travel.  Mostly because other countries didn't want us any more than our government wanted them.
We didn't even make big plans.  We wanted to, but as the months stretched on it just didn't happen. 
What we did manage kept us happy, and research for future trips kept us dreaming.

We also used the time at home to clean out and declutter.  It is amazing how many boarding passes and outdated travel brochures we saved!

So What Did 2021 Travels Look Like?

Not too much early in the year as we were all still in the grips of COVID lockdowns.  Once we got vaccinated, we ventured forth in the ol' family car.

Road Trips Were A Beginning

San Diego And The Colorado Desert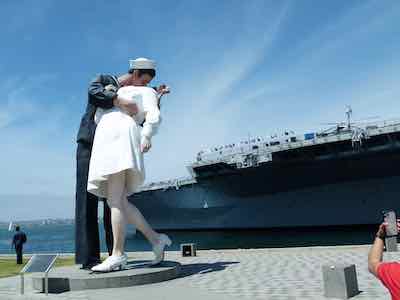 In early spring we made our escape and drove to San Diego to visit friends.  

In all of our visits through the years, we had never gotten onto the Midway Museum.  Airplanes of all sorts always call to us for Antique-Airplanes.com. 
We strolled the waterfront and restaurants along the Bay. 

Anza Borrego State Park
The wildflowers weren't spectacular this year, but spring is a great time to visit the Colorado Desert. 
Leaving San Diego, we drove through the cute little town of Julian, then on to Anza Borrego.  It was very quiet around there… things were still pretty closed up due to COVID.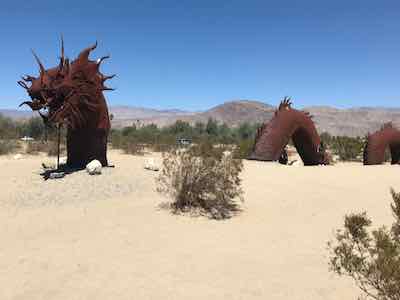 We did drive around and find many of the metal sculptures. 
There are 130 or so of these scattered all around town. 
Dinosaurs, Mammoths, saber-toothed cats, wild horses….
….and dragons!
Salton Sea, Palm Desert and Palm Springs

It's hot and windy as you drive out of Anza Borrego, but the landscape is fascinating.  There is not much to see at the Salton Sea, so we kept on going.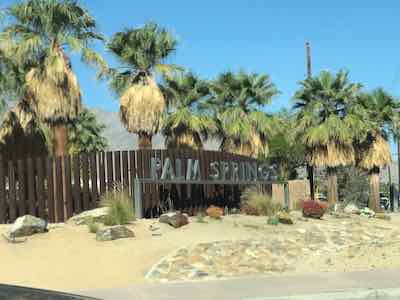 We explored around the mid-century modern houses in Palm Springs and checked out their Palm Springs Air Museum.
 
We stayed in Palm Desert.  One city runs into the next.  Palm Desert is a popular vacation destination especially if you love golf.

Joshua Trees National Park

Joshua Tree National Park actually straddles the Colorado Desert and the Mojave Desert.  It's named after the regions unique twisted trees.

The park entrance is only about 40 miles from Palm Springs.  

There is an interesting driving route through the park.  Camping is available.  Camp sites tend to fill up early.  There are no hotels in the park, but there are hotels in Twentynine Palms and other small towns nearby.

In case you're wondering, it's only about 130 miles from Los Angeles.  It takes about two hours to get there depending on traffic so you could make it a day trip if you wanted to.

Lake Tahoe and The Sierra
International trips we actually had been bold enough to plan got cancelled, so then we headed to Lake Tahoe for visits with more friends and some hiking.

We took time to drive south on back roads through the Sierra, with a stop at the Lincoln Airport so Mark could fly in an old Navy bi-plane.. an N3N.  We'll post those photos over on Antique-Airplanes. 
We felt like we needed to add some airplanes to our 2021 travels!  Not too many so far.

2021 Travels Takes Off!

In mid-summer, Mark found out about an airplane flying that he just couldn't sit still for… so we finally flew somewhere!  Ohio.  A couple of really rare antique airplanes had stopped there on their way to Oshkosh.

After the planes flew off, we poked around Ohio.  We found a couple of "the world's largest"... as in world's largest loaf of bread and world's largest picnic basket.  Not together mind you, but in the same state.
We explored ancient mounds at the Mound Builder Newark Earthworks.   

And the National Museum of the United States Air Force… don't forget that!

Kauai, Hawaii
This was the biggest of our 2021 travels.  We filled out all the appropriate COVID vaccination forms and flew to Kauai for a week.  It felt good to be on the road again.

We hadn't been back to for 40 years, so we hit all the tourist spots.  Waimea Canyon, Koke'e State park, Ha'ena and Ke'e Beaches, Princeville, Wailua Falls, even the Fern Grotto!  Visited friends at Po'ipu Beach.

Ready For Adventures!
We plan to get back out into the world next year, and hope that more of the world opens up and stays open.  We are making plans and filling out COVID passport forms for countries we hope to visit. 

If the last couple of years has taught us all one thing, it's that we can't take travel for granted.  We hope our wish list gets fulfilled and that next year's summary will be a kaleidoscope of international wonders.
 
If you need some ideas and encouragement, look around our website.  Stay safe and well… and Happy Travels!

Happy travels... even if you don't travel the world... just remember that life is a journey... embrace and enjoy it! Judy and Mark
Curious about what else we've written about?  Search our site for a destination or travel tip.

But... We'd love to have you share this page or comment on it…
Thanks, Judy and Mark