What IS Carry-on Size?
"Can anyone tell me what carry-on size really is?
The rules seem so confusing!"
COVID slowed us down for a couple of years, and now a few health issues challenge us.  We're still traveling if not writing about it quite so much. Our goal in 2022 was get to all seven continents in one year... and we did it.

Going forward health issues may not allow us to travel.  No one can take away those memories though.  We hope all of you are well and staying safe... and that you find some inspiration here for YOUR future travels. 

Can we tell you exactly how big your carry-on size bag can be so that it is allowed on each plane?
Unfortunately... no.
TIPS are all we can give you... rough guidelines because they are different for each carrier.
I know that's not what you came here for.
You came for answers.
We've got figures for you below to help a little.
We've ALWAYS traveled only with carry-on luggage,
...but these days everyone wants to carry more onto planes than ever before...
...especially with most U.S. airlines charging to check bags.

The problem with answering this question is...
Each airline has their own baggage fees as well as their own rules as to what qualifies as a carry-on size bag.
Add to that... Foreign carriers are sometimes stricter as to what you can carry on. Your carry on bag may be the right dimensions, but it may weigh too much.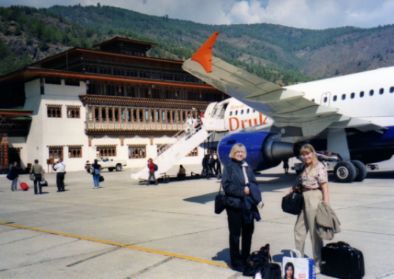 So How Big Can A Carry-on Bag Be?
When we're talking about what carry-on size is, a basic, safe guideline is that your bag should have a total dimension of 45 inches (115 cm).... that's height + width + depth.
So, for instance, it could be...
20" x 15" x 10"
...or...
22" x 14" x 9"
...or some other combination up to 45 inches.
(Again in centimeters that's 51 x 38 x 25 ...or... 56 x 36 x 23).
Why That Carry-on Size Limit?
This is generally the size that will fit in the overhead bin... and with those airline luggage fees to check bags, we all know by now that space is limited.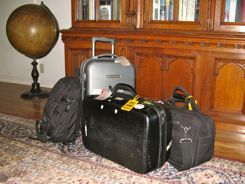 If there is no room in any of the overheads, and you can't fit your bag under the seat in front of you... you may have to check it anyway.
This will happen at the gate, and the only good news here is that you won't have to pay to check it at this point!
(I say that because we hate relinquishing our bag for any reason.)


What Carry-on Size Fits Under the Seat?
If your bag needs to go under your seat, it will have to be smaller. The space under the seat is definitely tighter. A bag that is only 18 inches (46 cm) tall and 9 inches ( 23 cm) deep is safest for this... though even those may not fit under all seats.
(Our black suitcase fits under most seats, but our gray carry-on is a little too big.)
A personal sidebar here...

Airlines request that you put your carry-on luggage into the overhead bins and put your "Personal Item" under the seat in front of you. We respectfully request this too!

Too often we see people cramming every little thing they've carried on into the overhead bins... leaving no room for those who board later. Please, let's all try to help each other out here!
A Few Airlines Have Larger Limits
Some airlines have larger size limits.... up to a total of 51 inches 130 cm)... but to be safe, call YOUR carrier or stick with the smaller size. This is especially true if you're going to be traveling on a variety of international carriers.
And a caveat here...

(from an experienced airline agent with stories to tell about people trying to carry too much onto the plane)...

You may get away with taking larger bags on... BUT just because you get away with carrying something on one time doesn't mean that you will be able to get it on the plane on the way home. Some airline agents don't bother to check how much you're carrying... others do. Some will bend the rules and some will not. You're better off just going with the proper carry-on size.
Are There Weight Limits for Carry-on Luggage?
YES!  There may also be weight limitations for carry-on luggage that vary by airline, but in general, most U.S. airlines don't weigh your carry-ons.
International weight limits can be more stringent!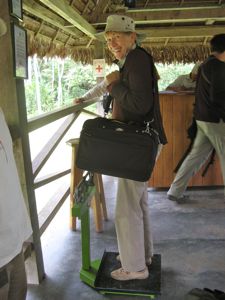 We've found that some international carriers in Africa, Asia and Europe are strict about how much cabin baggage can weigh.
We've been on foreign carriers where the carry-on weight limit is 8 kilos... that's only 17.5 lbs.
They weigh ALL of your luggage, and they may tell you which bags you can and cannot take on the plane.
Distribute your camera and laptop wisely... they're heavy!
You might find that your carry-on must be checked because of the weight... we're had that happen.
(OK on this flight out of Manu National Park in Peru, there was more to it... For a giggle, read about this Airline Weigh-in.)
What is a Personal Item?
In the United States, you're allowed one personal item in addition to your carry on luggage. For details see So what is a "personal item"?
Quickly here...
Your personal item can be a briefcase, a camera, a handbag or purse, your laptop in a carrying bag, or small daypack. In general the total outside dimension should be no larger than 36" (91 cm).
You can also get by with carrying your coat and an umbrella, but with today's sticker rules, you probably won't get by with anything more than that... and how much more can you carry anyway?
Do These Carry-on Size Rules Work For All Planes?
The short answer is no....
If you're flying on a regional jet, the carry-on size is smaller still... BUT...
Most regional jets are associated with the big airlines, so generally, you can keep your bag with you and "gate check" it. They will tag it and put it on the plane, but when you get off you will pick it up on the tarmac just outside the plane or in the jetway.
Be sure to ask the agent who checks your bag if this is what will happen. At smaller destination airports, they may take your bags to baggage claim... but you don't want to walk all the way to the baggage claim only to find that you could have picked up your luggage at plane side.
Some regional airports are served by even smaller prop planes. Most likely you can carry very little onto those. You really do need to check with your carrier to see what they allow and if there are charges.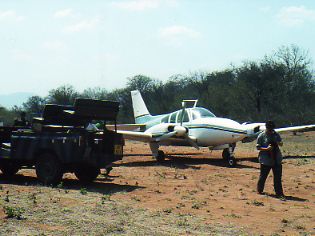 And if you're really getting out into the wilds with a small plane, you should know that ahead and pack accordingly. When you make your arrangements, they will probably give you size and weight restrictions for your luggage.
(Go back up and click on that story about our flight out of the Peruvian jungle if you haven't already!)
What Do We Use?
We use hard sided suitcases... that open in half...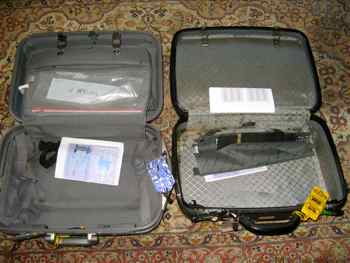 I like these because when you are on the road and never really unpack, things are close to the top, even if they're on the bottom.
The other reason that we like this style is that we pack half of our clothes in each suitcase.
We've never lost a suitcase, but we had one walk off a few miles in India one time.
(Yes, there's a story there... for later.) We got it back, but if we had lost one, both of us would at least have had the basics in the other suitcase.
These used to be hard to find, but it's getting easier.  Shop around for your carry-on size luggage and get what works for you.
Remember.... Luggage stores may advertise a bag as carry on size, but check their measurements to see if it really fits your needs. If there are outside pockets that you will stuff full, it could put you over the limit. So check that size carefully and think about how you'll use it.
Still confused? Just check with your airline, follow our carry-on packing tips, and you'll have the best chance for keeping your bags with you. If you have to check them at the gate, you'll still be traveling light for your trip and you shouldn't have to pay that fee for checked luggage.
So find your perfect carry-on size suitcase, pack light and get on the road!
Happy travels... even if you don't travel the world... just remember that life is a journey... embrace and enjoy it! Judy and Mark
Curious about what else we've written about?  Search our site for a destination or travel tip.

But... We'd love to have you share this page or comment on it…
Thanks, Judy and Mark

Carry-on-Packing Tips
Go from What is Carry-on Size to MouseToursTravels Home Page