Packing Methods

Find One That Works For Your Travel Style
COVID slowed us down for a couple of years, and now a few health issues challenge us.  We're still traveling if not writing about it quite so much. Our goal in 2022 was get to all seven continents in one year... and we did it.

Going forward health issues may not allow us to travel.  No one can take away those memories though.  We hope all of you are well and staying safe... and that you find some inspiration here for YOUR future travels. 

"Do you have any tips on packing methods?"


Why, yes we do!  And we have to tell you, there are as many ways to pack as there are travelers. 
So you need to figure out the best way for you.  The more efficiently you can pack , the more you'll get in those carry-on bags we advocate.

I can hear you asking now...
How do you pack more efficiently?
What packing method should you use?
All experienced travelers develop their own packing style over time.
You begin to see what works for you, and you get better and better at packing as you travel more.



What Methods Are There For Packing?

Well, we don't roll it...
but some people do
We've heard repeatedly that rolling your clothes is the best way to keep them from wrinkling. Hummm… It's never worked for us. Maybe it's the way we roll them.
Our backpacker friends swear by rolling your clothes. For big items like pants, skirts, shirts, blouses, and sweaters, lay your item face down. Fold the sleeves back… get everything pretty flat and then roll the item up from the bottom.
Frankly the times I've used this method, I've managed to roll wrinkles in. But if you're using a deep bag like a backpack, it works, and you can find each item pretty easily as you search through the rolls.

Bundling or Folding Over Each Other

Another packing method is to take two or more garments, say two pairs of slacks, and put half of one pair on top of the other.
     --Fold the one on the bottom over the pair on the top…
     --now take the one that has ended up on the bottom and fold it over. This gives each pair some cushion so it isn't folded as tightly… and the theory is that it's less likely to wrinkle in the folds.
Taking this packing method even further, you can pack all your clothes with a bundle method.
In this scenario, you lay all your garments out flat on top of each other. Place something bulky in the middle as a "core", then fold all of the garments in over each other from the top and sides.
Again, because they're not folded so tightly wrinkles are less likely.
This method works well if you're going to unpack your suitcases, like on a cruise for instance, but it's not so good if you're going to be on the move every day or two.

Packing Systems or Tissue Paper

Some people swear by placing tissue paper or dry-cleaner plastic bags between and around delicate items.
It might help some, but when you're in and out of your suitcase often, as we are, it's a bit of a pain. The plastic bags became wadded up, and I ended up just throwing them out.
There are also packing systems where you can put stacks of garments in mesh bags or even plastic bags where you can force the air out to make things more compact.

What Packing Method Do We Use?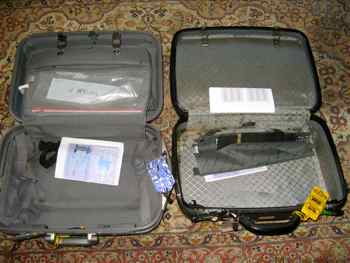 We've always just used the fold it and pack it method.
It works well for us.
We take carry-on luggage, and we move around a lot.
We can find the shirts and slacks we need with a minimum of unpacking.
And as for wrinkles?

We try to take "non-wrinkle" fabrics, but you know how those work.
Our clothes may have a few creases, but we're traveling…. Everyone we meet knows we're traveling….
And you know what? A few wrinkles really don't matter.
So find your own packing method… something that makes it easy for you, and don't worry about it. You'll look fine.
Happy travels... even if you don't travel the world... just remember that life is a journey... embrace and enjoy it! Judy and Mark
Curious about what else we've written about?  Search our site for a destination or travel tip.

But... We'd love to have you share this page or comment on it…
Thanks, Judy and Mark