Keeping in Touch When You Travel
Send The Postcards Anyway

COVID slowed us down for a couple of years, and now a few health issues challenge us.  We're still traveling if not writing about it quite so much. Our goal in 2022 was get to all seven continents in one year... and we did it.

Going forward health issues may not allow us to travel.  No one can take away those memories though.  We hope all of you are well and staying safe... and that you find some inspiration here for YOUR future travels. 

I don't know about you, but I remember when we didn't worry about keeping in touch when we traveled.
It was just too difficult and costly.

When we first started traveling, you had to find a post office, when one was open...
...and you could place long distance calls from there.
Then came phone cards...
...you had to buy a phone card and find a pay phone.... then figure out how to use it.
Then of course there were the post cards.
Everybody wanted one, and we always sent them.... but they weren't really keeping in touch... they always arrived days or weeks after we got home.

Keeping In Touch Is Easy Now

Contacting friends and family when you travel is easier than it ever used to be....
Gone are the days of being mostly incommunicado...
Unless you want to travel that way...
...or circumstances make it that way for a time as they did for us at this Mongolian ger.



Keeping Up With The Gadgets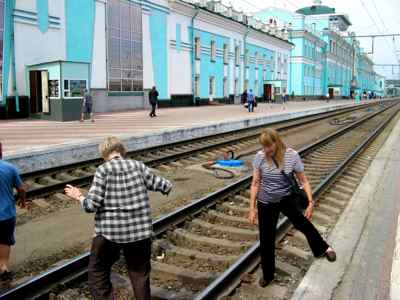 With all the modern electronics, there is seldom a problem keeping in touch today....
Our biggest problem is keeping up with the new electronics!

There is e-mail and the internet for almost instantaneous communication. 
...As long as you can find an internet connection.

When we took the Trans-Siberian, we would dash into the station hoping for an internet connection... sometimes that worked, sometimes it didn't.

When we first wrote this page, I said "Make sure you have an internet based e-mail account so you can send and collect your mail from any computer."  Well now you probably will carry your smart phone or tablet or laptop with you and not have to use a hotel computer. 

No need to go looking for internet cafes anymore.  You just need to find a spot where you can get internet... preferably for free.

Most Hotels Have Internet, But Not All

Most hotels will let you hook up to the internet.... though some will charge you for the privilege.
Oddly enough, we've found that it's the smaller, less expensive places that tend to have free WiFi. Big international hotels seem to think we are all businessmen on expense accounts... and they charge accordingly.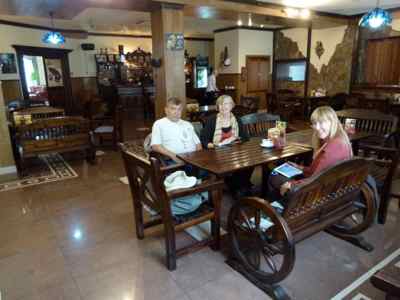 In more remote areas you might have to get creative. 
Our little hotel in Lake Baikal, Russia didn't have internet...
They told us to go buy lunch at a local restaurant where we could get connected. 
Why not? 
(Lunch was good by the way.)

And Then There's FaceTime and Skype, Etc

You can use VoIP services like Skype. We use FaceTime when we need to.  With one of these services, you can talk to anyone with a similar service and a computer.... keeping in touch for free!
Get A Cheap Phone There?

Mobile phones have different formats in the U.S than almost everywhere else in the world. Phones have gotten so inexpensive that it might be worth it to buy a cheap phone in the country you're visiting. Try to get one that is "unlocked" so you can change SIM cards if you travel into other counties.
We recently had some European friends tell us they had a US$13.00 phone charge at a hotel when they called home. The next day they went out and bought an inexpensive mobile phone for $20.00, put in a few more dollars for extra minutes, and now they can keep in touch with us and their friends back home much more easily... either calling or text messaging.

Be Sensible About Too Much Information

If you want all of your friends, and sometimes anyone else, to see where you've been and what you're up to, you can also consider blogging. There are several websites that host travel bloggers. 
You can post photos on several social media sites too...
...BUT...
Use common sense here!

We do let our friends know what we're up to, but we do not post on social media or here when we're on the road.  We just don't think it's safe to let everyone know you're away from home.
We Still Send Post Cards!

We do still send post cards and receive post cards.
We won't give up e-mail... it's great for keeping in touch, but there's just something about getting a handwritten postcard in the mail that brings a smile....
Especially if it says, "Wish You Were Here".
Happy travels... even if you don't travel the world... just remember that life is a journey... embrace and enjoy it! Judy and Mark
Curious about what else we've written about?  Search our site for a destination or travel tip.

But... We'd love to have you share this page or comment on it…
Thanks, Judy and Mark

Return to International Travel Tips l Europe Travel Tips
Hotel and B&B Tips l Packing Lists
Go to MouseToursTravels Home Page