Rental Car Tips For A Memorable Trip
COVID slowed us down for a couple of years, and now a few health issues challenge us.  We're still traveling if not writing about it quite so much. Our goal in 2022 was get to all seven continents in one year... and we did it.

Going forward health issues may not allow us to travel.  No one can take away those memories though.  We hope all of you are well and staying safe... and that you find some inspiration here for YOUR future travels. 

Have you ever considered a rental car when you travel internationally?

We don't think you should dismiss the idea of driving in a foreign country.
There are pros and cons of course, but being able to go where you want gives you so much freedom.  Let's discuss some things you should think about.


We love renting cars and rambling around countries of the world...
It does add to the cost of your trip...
...But it gives you great flexibility to see the backroads, small towns and all the countryside.
If you travel with friends and can split the cost, all the better.

Just be sure you realize what you're in for...

Driving on the left sometimes

Unfamiliar road signs

Long tunnels

Maybe ferries that can be small or large, crowded or infrequent

The roads may be narrow or dirt

And always think about the price of gas.

Forget A Rental Car In Cities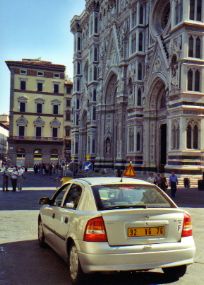 Plan your trip and think about where you want to go.  Are you going to be out in the countryside?
If you're planning to go just to big cities.... skip the car.
You don't want to be driving a car in the cities, and you don't want the expense or liability of parking one.
If you're spending time in Rome and Florence, for instance, take the train between them. If you want to spend time in Tuscany after that, rent the car in Florence.
Renting a car can give you great independence to go places that no bus or train can get you to...
Or at least it will get you there faster and easier.

Reserve Your Rental Car Ahead
We most often leave on our trips with no hotel reservations, but the one reservation we have if we want to drive is for our rental car.
Call around to the rental car companies to see who can give you the best rate. This will vary from country to country. Some rental car tips to ask and think about:
Big Or Small Rental Agency?
The more remote the area you're going to, the more you'll probably want to go with a well known company so you will have more options and protection if something happens... and easier contact once you're home.

We've rented cars in Papua New Guinea, Namibia, and on the border of Botswana to get to South Africa... and the well known companies we used made it easy.
Compare Prices - "Apples to Apples"

When you compare prices between companies be sure to compare "apples to apples". Make sure they quote all the charges....

...airport fees, taxes, drop off fees, any compulsory insurance...

...and that you are comparing the cost for the same size car.
To Rent In Town Or At The Airport?

It is usually cheaper to rent the car in town rather than the airport where there are often extra fees.  Having said that, sometimes we go back to the airport to rent just for the ease of not having to drive in the city.
Is One Country Cheaper Than Another?

If you're going to more than one country... research which country has cheaper rental car fees (especially taxes), and plan your itinerary accordingly.
We have friends who lease a car in France for their trip to Norway every year because it is so much cheaper.

Where To Drop Off?  Is There A Drop Off Fee?

Do you want to do a one way rental... and pay the drop off fee?
Or do you want to get back over the border to avoid a drop off fee? In some countries, there is no drop off fee within the country... check on that.

Or do you want to drop off where you rented?
Can You Take It There?

Can you take the car over borders to the countries you want to visit?
Ask each agency you check with if it will be OK to take the car over a border. Some agencies will let you, others won't.
You might have to declare the countries you plan to drive in when you rent the car. We often change our minds about destinations when we're on a trip, but this will definitely be a factor.
The first time we went to the Czech Republic, we couldn't take the car in from Germany... so we just took a day trip on a bus.
Rules Can Change

The rules change all the time. Check all of this each time you rent. Write down the details and your confirmation number, so when you arrive you make sure you get the deal you reserved for.
Picking Up Your Rental Car
What Kind of Insurance?  Will you take their insurance or will your credit card cover you?
Driving in Africa we were advised to take "animal collision insurance".  That was something our credit card insurance wouldn't cover!  And if you'll be driving on dirt roads, you'll probably need to take their insurance too.

What kinds of driver's license do you need?  We've rarely been asked for it, but some countries do require an International Driver's License.

How many drivers will you have? Will there be an extra charge for that?

Inspect the car.  Do this at the rental car lot to make sure all damage is recorded... even little scratches and dents count in some countries.  If you find something... have them mark it down.

All things you need to think about just as you've gotten off the plane with jet lag.
Rental Car Safety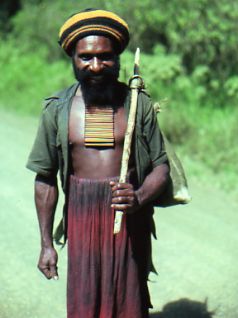 When you're driving an unfamiliar car in an unfamiliar country you have to think about safety for the car and for yourself.
Will you be comfortable driving on the left?
Should you drive in the dark?
Should you stop to help a stranded motorist?
Where should you park the car for the night?
Should you pick up a hitchhiker? We did, but that's another story... With Pidgon English (Tok Pisin) he was able to help us get to our destination... and get a ride home on top of it.  The only hitchhiker we've ever picked up!

Can You Read the Road Signs?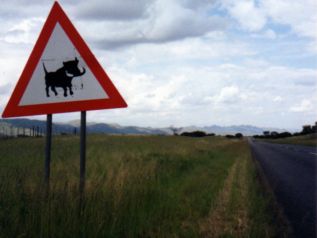 International Road Signs may be different than you're used to at home...
...And they may be not only in a different language, but in a different alphabet!
If it's a circle with a slash, does that mean mean...
...no entry,
...no parking
...or what?


Some make you laugh, like this warthog sign, but you need to know what road signs mean to drive your rental car safely and get where you want to go.

Know What The Roads Are Like
Are you going to drive on the right or on the left?
Will you be on super highways with tolls or on narrow country roads?
Will there be tunnels, ferries and roundabout?
Will there be domestic animals or wildlife to contend with? Elephants really do have the right of way.
You'll be more comfortable if you do some research and know what to expect on the road.
Consider the Problems That Might Occur
If it can happen to your car at home, it could happen with your rental car.
--Locking your keys in,
--flat tire,
--break down,
--or even an accident.
You could get lost and drive into pedestrian zones...
The car could overheat...
...or you could get stuck waiting for that elephant to get off the road.
Expect it, plan what you might do, then don't worry. The problems will probably never happen, but if they do, deal with them... then laugh your troubles away and get on with your trip!
You Want A Rental Car But...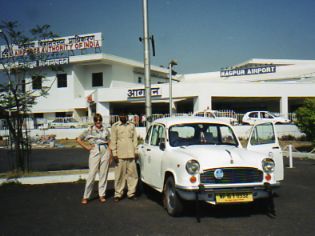 There are some countries where you don't want to rent a car (or can't) and you might have to hire a car and driver... as we did in India and Mali.
Make sure the driver is safe and knows what you need.
In countries where the traffic is just too confusing or the road too hard to find, this can give you great peace of mind.
How Will You Get Directions?
Mark has always said that the navigator is THE critical component…. and I'll admit, I'm good.  Through most of our travels, we relied on good old paper maps.  These days, our phone works as a GPS in many countries.  How you navigate is up to you.

And we've never been shy about stopping to ask directions.  Sometimes local knowledge is important… and it's fun talking to locals.

When we have friends along, we tell everyone to be  back seat drivers. If they see a road sign we missed or something dangerous happening… call not out.  The more eyes the better.

Common Sense and Calm Nerves Help
If you decide you do want a rental car, just stay calm, use good common sense, and drive defensively... you'll have a great adventure!
Happy travels... even if you don't travel the world... just remember that life is a journey... embrace and enjoy it! Judy and Mark
Curious about what else we've written about?  Search our site for a destination or travel tip.

But... We'd love to have you share this page or comment on it…
Thanks, Judy and Mark