US Highways
A Major Part Of Any Trip To The USA
COVID slowed us down for a couple of years, and now a few health issues challenge us.  We're still traveling if not writing about it quite so much. Our goal in 2022 was get to all seven continents in one year... and we did it.

Going forward health issues may not allow us to travel.  No one can take away those memories though.  We hope all of you are well and staying safe... and that you find some inspiration here for YOUR future travels. 

If you're going to visit the US outside of the major cities, the US highways will be a major part of your experience.
There are Interstate Highways...
...US Highways... and State Highways.

Anywhere in the world that you're driving, you have to get used to the system.

The Interstate highways keep thing consistent, but in the case of State Highways, numbers or names that may change at the border.

So let's try to make sense of American Highways.
US Highways Have Different Names

Ask an American for directions, and it might get a little confusing for visitors.
"Get on the freeway to San Francisco."
"Take 101 North."
"Catch the Bayshore Freeway."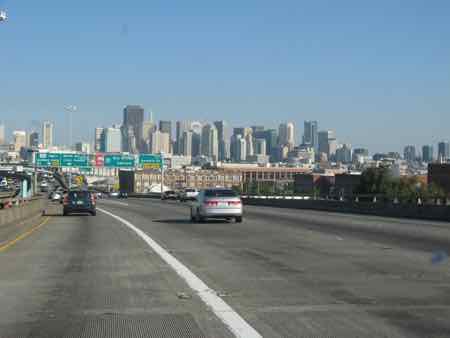 US Hwy 101 - The Bayshore Freeway Into San Francisco
There you have three different answers to the same questions... AND... They all mean the same thing!
So what is a tourist to do?
Well, for one thing, make sure to ask another question if you're confused.

Go With The Highway Numbers

Refer to your map. And it's probably best to go with the number of a highway as identification.
You may or may not see directions for the Bayshore Freeway on road signs, but you will see 101 North or South.
Many highways have local names that aren't well known to others.
Most Highways Are Freeways

Most major highways in the U.S. are free... freeways.
Some may charge a toll... tollways. If you look on a map, you will find toll roads marked so you can be forewarned.
Some Cities Have Beltways

Major cities with lots of traffic congestion often have circular freeways surrounding them... Beltways.
These beltways get you more quickly from one highway to another if you are not interested in visiting the city...
I mean, if you're not staying in a city, there is no reason to go through the hassle of driving through it.
Making Sense Of The Highway Numbers

To try and bring some order to this vast tangle of highways, they are numbered.
North-south highways have odd numbers.
East-west highways have even numbers.
Interstate Highways are shown on maps with their numbers on a red and blue shield.
US Highways have a their numbers on a white shield.
State Highways are also numbered.... They are usually shown with a number on a white oval. They may overlap U.S. Interstates or Highways in places... with a different number!
Go With The Interstate Numbers

If you're traveling on a highway that has more than one number designated on the map, go with the number of the national highway you want to follow.
Road signs will most often give you all the options, but how many numbers can you really keep in your head when you're navigating in a strange place?
Scenic Highways Are Also Marked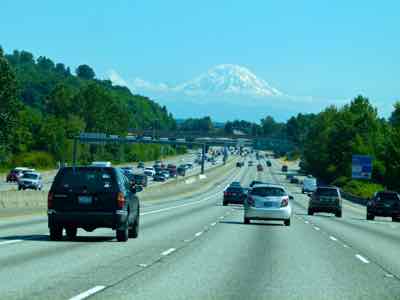 Tourists might want to look for Scenic or Regional Highways. These may incorporate parts of other highways, but they will be marked with distinctive markers and take you on historic or scenic routes...
Things like the Blue Ridge Parkway through The Great Smokey Mountains, The Great River Road along the length of the mighty Mississippi River, or the Daniel Boone Heritage Trail that follows the travels of this legendary frontiersman.
Whether you're using the US highways to get from one region to another or traveling a scenic highway, make sure you know your numbers and direction, and you'll have a great time joining in a great American tradition.... the road trip.
Happy travels... even if you don't travel the world... just remember that life is a journey... embrace and enjoy it! Judy and Mark
Curious about what else we've written about?  Search our site for a destination or travel tip.

But... We'd love to have you share this page or comment on it…
Thanks, Judy and Mark

International Travel Tips l Europe Travel Tips l Travel In America
Hotel and B&B Tips l Packing Lists
Go to MouseToursTravels Home Page