Share Your Clan MacEwan Stories
Or Clan MacEwen or.....
COVID slowed us down for a couple of years, and now a few health issues challenge us.  We're still traveling if not writing about it quite so much. Our goal in 2022 was get to all seven continents in one year... and we did it.

Going forward health issues may not allow us to travel.  No one can take away those memories though.  We hope all of you are well and staying safe... and that you find some inspiration here for YOUR future travels. 

I loved reading the Clan MacEwan stories and about your Scottish escapade at the Castle McEwen. 
I am a Scot and a McEwan...
Thank you for bringing back some happy memories.... John"

Do you have Clan MacEwan stories? Stories about Scotland?
"Cousin" John and others have shared stories.
You can read them below the submission box...
But hey "Cousins"...

Once you've read those stories, use our handy submission box to tell us YOUR story.
It's easy. Read on for ideas.
Want to tell us your story before you read those others?
Jump right to it...
Click here to tell us your story right now!

Do you have a story about your branch of the family?
Have you been to a "Clan Gathering" or Scottish Games near your home?
Have you seen them in Scotland?
Have you been to Loch Fyne? The Castle?
If you share your information, we'll all know a little more!
We Have Told Clan MacEwan Stories...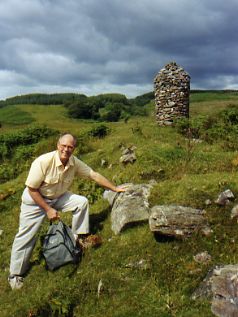 See... Here's Mark finding the Castle MacEwen?
What's left of it anyway.
Don't be shy.... Do you have a clan story you love to tell?
We'll take you straight below again to that submission box where you can write your story and share it.
We don't claim to be experts on Clan history or lore. There are plenty of web sites that go into that.
We just want to hear what you have to say.


We have another story we call our "Welcome Home". It's not about McEwens directly, but it is about the Isle of Skye in Scotland.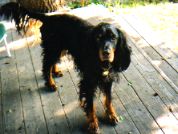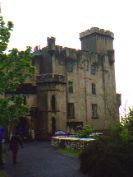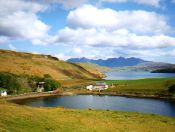 In the wee book we bought about Scottish Clans, we found the clan spelled MacEwan and MacEwen....
The sign on the castle cairn is spelled MacEwen.
The beer we love in Scotland is spelled McEwan's.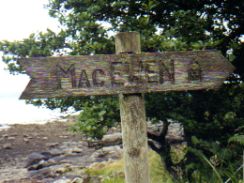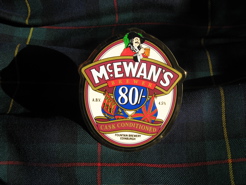 Tell Us How You Spell The Clan Name

So is it Mac or Mc.... and followed by what? We've seen MacEwan and McEwen -- also McEuen, McKeown, Ewing and the list goes on and on.
Near as we can tell, the clan name comes from the Gaelic MacEoghainn for goodness sake... no wonder clerks and scribes had trouble figuring out how to write it. The variety is due to the fact that long ago most people were illiterate, so when names were recorded, they would be spelled phonetically.
Our spelling is one of the "different" ones; yours may be too, but we're sure we're all related. Our family lore is that our different spelling was due to a "black sheep" in the family, but it's probably because of that phonetic spelling when our ancestor came through Ellis Island.
Have You Been Traveling?  Have Some History?  Questions?

So do you have stories about Loch Fyne, or Otter Ferry or Kilfinan?
      Or the Cowal Peninsula or Argyll?
      Or clan gatherings or bits of history?
      Or stories about related Clans?
      Or just stories to share about Scotland?

We think it would be fun to gather Clan MacEwan stories for all of us to read. We'd love to hear them and create pages for sharing. We have another page for other travel stories if you have a story from somewhere else in the world you'd like to share. Keep reading and you'll see how easy this can be.
Dedicated Clan MacEwen websites have come and gone... we can't keep track of them.  Wish there was a place we could send you.  For a bit of research by a Clan member, go to Jim's Clan McEwen Research.
We've put up a new page you might want to try if you're looking for family connection.... Find Other McEwens. I've actually moved a few submissions from here to there.
Some of these Clan MacEwan Stories were short, so we are going to consolidate those short comments.

Visiting the family Castle from Mobile, AL
by Sue (RAF Lakenheath England)

I am here with a friend from Mobile, AL. We are leaving at 3:20 and will write again if we make it back to Kilfinan Hotel before dinner.

We wished them luck and then…

Well, it took us until 7:00 to get there and back. I didn't make it to even see the castle, but Leanne got close enough to take pictures.

It was very muddy and wet, but also sunny and warm. We sank in the mud up to our ankles/knees. The road up to the castle was also muddy. I picked up shells and went back.

We made it, and it was a great adventure.

Seam MacEoghainn wrote that he was "just chilling with the clan @ the castle". 

Good to hear, but THAT"s as short as Clan MacEwan stories get!  We DID like the spelling of the name.  Looks like it goes way back to the Gaelic roots.

Castle Visit? Clan Gathering? Clan history?
Tell Your Story!
Have you visited the Castle MacEwen? Been to a Clan McEwan Gathering in Scotland... or elsewhere? Do you have information you'd like to share? Well.... Here's your chance... Share it!
Clan McEwen Stories Others Have Shared
Click below to see stories about the Clan McEwen from other visitors to this page...

Now wasn't that simple? We all thank you! 

Clan MacEwen Western North America
We got this from Mike years ago.  The link no longer works, and he has not kept in touch, but we leave it here because maybe it will inspire you to look for them or help organizing a Clan gathering. JM

The Clan MacEwen is organized in the Western region of the U.S.

I wanted to announce that and get the word out. I wrote to you sometime back to let you know that we were in the process of organizing a Clan MacEwen here in the Western region.

I am happy to report that we have completed the process and have attended our first highland games of 2008. We hosted the Clan MacEwen tent at the Queen Mary Games in Long Beach, California this weekend. I am including a pic from the games but other pics should be available later in the week on our web site ClanMacEwen.org

(I'm going to leave this info up here, but I've taken down the link as it no longer exists. I'm afraid this website has gone away, and I'm sorry about that. JM)

We would like to invite you and other MacEwen's to join us as we seek to form this group here in the Western Region.

From one Clan member to another... Thank you for your time.

Mike Ewing (Portland Oregon)
President, Clan MacEwen Western North America

Reviresco!

Happy travels... even if you don't travel the world... just remember that life is a journey... embrace and enjoy it! Judy and Mark
Curious about what else we've written about?  Search our site for a destination or travel tip.

But... We'd love to have you share this page or comment on it…
Thanks, Judy and Mark

Go to Mouse Travel Stories
Go from Clan MacEwan Stories to MouseToursTravels Home Page