They Speak A Foreign Language Here!

How Do You Communicate?
COVID slowed us down for a couple of years, and now a few health issues challenge us.  We're still traveling if not writing about it quite so much. Our goal in 2022 was get to all seven continents in one year... and we did it.

Going forward health issues may not allow us to travel.  No one can take away those memories though.  We hope all of you are well and staying safe... and that you find some inspiration here for YOUR future travels. 

What's that funny sound? It's a foreign language!
Don't worry....
Don't worry??
But you don't understand a word!
How are you going to get around?
How are you going to get directions...
...Eat...
....Communicate?
Relax. Dealing with that foreign language is part of the adventure.

If you are an English speaker, you've got it pretty easy....
In most places in the world you can find someone who speaks at least a little English.
We can't write in anything but English, but in case you'd like to read these pages in a (to us) foreign language, you can translate here, just check in the right column.

O.K. English Can Work... BUT...
That doesn't mean you should assume you can use English, and it doesn't mean you should start your conversations in English expecting someone to understand you. You at least need to TRY using the language of the country you're visiting.
Learn A Few Words
We always start a trip by learning how to say "Hello", "Good-bye", "Please" and "Thank You" in the foreign language spoken in the country we're visiting. Even just those few words will be an ice breaker and earn you some good will. It's always greatly appreciated when you try even that much.
If we need to ask for help or directions, we start by trying to use a phrase we may have learned, or by reading a phrase from our language phrase book. Many times this leads to someone asking if we would like to speak English.
But if not, they are always willing to try and help or find someone who can. We get into some pretty "off the beaten track" places, so we're gotten pretty good at using this technique along with sign language, perhaps a word or two in Spanish or French, and just being pretty humble because we can't speak their language.
Try A Translator App
We just downloaded the Google Translate app to our iPad. Typing your word or phrase into it is one thing. You can be pretty clear with that.
You can also speak to it, and have it translate out loud. I tried that. It's pretty funny to hear it translate to Russian. Just make sure that you speak clearly and that the app has heard you properly before you hit the mic button. The first couple of times I tried, it really didn't hear what I said!
We've read that translations can be "clunky", but anything is better than not trying. And we figure if nothing else, it could be worth a giggle with the people we're trying to talk to.
Really Learn That Foreign Language...
We haven't concentrated on one foreign language yet because we travel to so many different places, but my sister really got into learning Italian before their last trip. There are lots of language learning programs out there.
One free app we've tried is DuoLingo... it's fun.  Several languages to choose from.

You'll Understand More Than You Think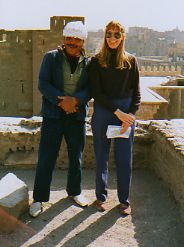 Once we had an impromptu tour of a fort in Cairo...
Our guide spoke no English, and Egyptian is not in our command....
He did the whole tour with sign language and sound affects.
We figured out pretty quickly that attacking soldiers screamed pretty loud when they got boiling oil poured on them!
By the time we were done with our tour, we were best friends in any language.
We've had people in Japan stop what they were doing and take us to our subway stop when we showed them a map. If you're studying a map and ask politely, more often than not, people will stop and give directions or at least point the direction you should go.

Some Words Will Look Familiar...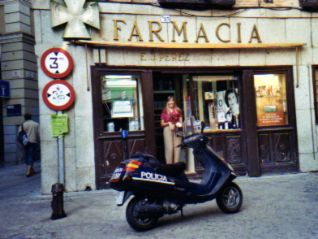 Stop and think about it...
Some of those words might not be as foreign as you think.
Look at the signs that are in that foreign language....
As often as not, they'll make sense if you think about it...


A pharmacy may be Farmacia or Pharmac or Apotheke but all those make sense don't they? It may not look like a pharmacy, but the sign and symbol tell you what it is. Take a look at those signs and try to figure them out!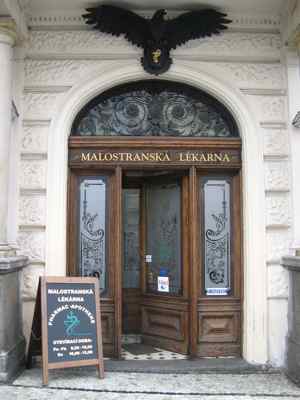 Entrance is entrada in Portuguese and Spanish, Eingang in German, entrée in French and ingang in Dutch. You're going in or entering a door... looks kind of like that doesn't it?
Exit is a little tougher... salida, Ausgang, sortie, and uitgang. But if it's not the entrance, then it must be the exit.. right?
Or maybe you won't understand a word of the sign... but the picture tells you just what you need to know.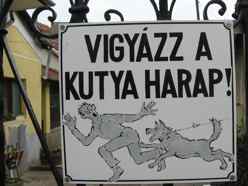 OK... if it's Greek or Russian or Japanese, Chinese or Arabic, you will have more trouble. But you can find someone to help if you have the right attitude.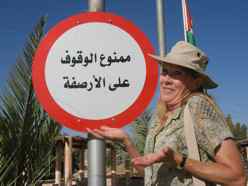 I guess what I'm trying to tell you is don't be afraid to travel where you don't speak that foreign language.
People in hotels and restaurants want your business so they have real motivation to try and help you.
If you approach travel with a sense of adventure and fun, and a willingness to try and find your way around...

...Most of the people you run into will be more helpful than you can imagine.
So go for it, learn a few crucial words in that foreign language. Travel with a guide book, a sense of humor and a willingness to make mistakes. The locals WILL love you for trying, and you'll have lots of fun and a real travel adventure.
Happy travels... even if you don't travel the world... just remember that life is a journey... embrace and enjoy it! Judy and Mark
Curious about what else we've written about?  Search our site for a destination or travel tip.

But... We'd love to have you share this page or comment on it…
Thanks, Judy and Mark

Airport Arrivals  Airport Help
Tips on Dealing With Foreign Money Matters
Tips for Travel With A Rental Car
return from Foreign Language to MouseToursTravels Home Page