Australian Wine Tasting
A Road Trip Worth Toasting
COVID slowed us down for a couple of years, and now a few health issues challenge us.  We're still traveling if not writing about it quite so much. Our goal in 2022 was get to all seven continents in one year... and we did it.

Going forward health issues may not allow us to travel.  No one can take away those memories though.  We hope all of you are well and staying safe... and that you find some inspiration here for YOUR future travels. 

Do you like wine?  Have you ever wanted to go to Australia?
An Australian wine tasting road trip could be a great travel hook.

Australia is a big exciting country.
There is so much to do that a tourist could be overwhelmed... you need a focus.
Other visits we concentrated on seeing Australia's cities or natural wonders.
We've been birding and snorkeling and diving, but for this visit wine tasting was the hook.



Australian Wine Tasting Is Easy and Fun!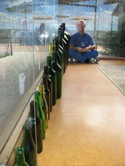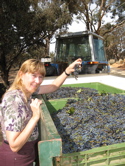 Wine tasting in Australia couldn't be easier, the biggest problem is choosing an area to concentrate on. There are about 60 wine producing regions throughout Australia.
More  on Australia
We concentrated in the southwest part of Australia where the wineries are likewise the most concentrated. We made it a long road trip... something you'll need about a month for, but it's a great way to see the country.
Be warned, some of the Australian road signs will tempt you to linger and watch for all that great Australian wildlife... and that will make you're trip longer and even more fun!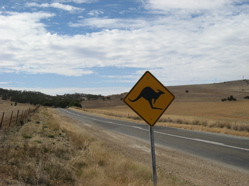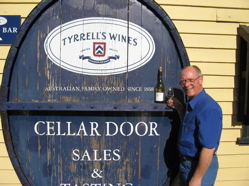 Drive The Wine Route and Look For
Cellar Doors
In California, we look for Tasting Rooms when we visit wineries.
In Australia, wine tasting rooms are called Cellar Doors...
They are open and welcoming in all of the wine regions we visited.
Our Australian Wine Tasting Road Trip
We started in South Australia and drove in a semi-circle around Adelaide visiting the most famous wine regions around there....the Clare Valley, the Barossa Valley, Adelaide Hills, McClaren Vale, Langhorne Creek and Coonawarra.
We tasted and toured our way through Victoria and Tasmania....
...Visiting old travel friends and friends at Taltarni Winery in the little town of Moonambel in the Pyrenees.
We ended our wine tasting road trip in the Hunter Valley of New South Wales.
There are wine producing regions all over Australia.
A friend we visited in Canberra served us some wine from her home state of Queensland... a very nice Rimfire Shiraz. Wine in the tropics? Yep... And we hope to get there on our next Australian wine tasting trip.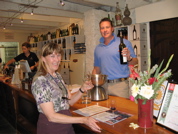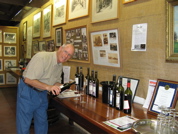 Things to Know for YOUR Australian Wine Tasting Trip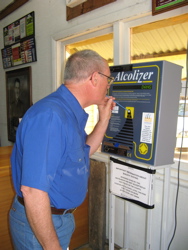 Remember that you'll be driving on the left.
You also need to remember that In Australia the legal limit for blood alcohol level is 0.05.

Some of the bigger wineries have breathalyzers on hand so you can make sure you're legal to drive.

Many have dining rooms or delis attached so you can get something to eat... and they all will encourage you to drink lots of water.
When we were there, most tastings were free... 

AND they open almost everything they produce, so you have to be judicious and careful!

More than Australian Wine Tasting
We tasted at 45 wineries in 10 wine producing regions, but we didn't spend all of our time at wineries.
In Victor Harbor we enjoyed the great sea views from our funky historic hotel, visited a penguin colony, and rode on a horse drawn tram over the bay.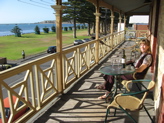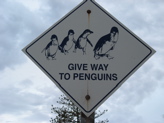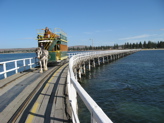 We did some birdwatching in Coorong National Park then after driving through a sea of grapes in Padthaway, we stopped in Naracoorte.
There we visited caves with the remains of giant prehistoric kangaroos and saw a few modern day skippies along side the road.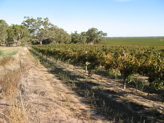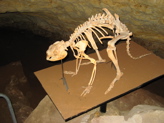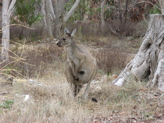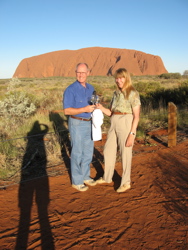 We hiked in the Grampians, and explored Tasmania.
We ended the whole trip with three days at Uluru (or Ayers Rock)...
...and celebrated with some Australian sparkling wine.
It's a great trip...
See Australia your own way, by all means...
...But whether you're real wine aficionados like we are, or you just would like to try one or two...
Wine tasting in Australia is fun and easy.
Happy travels... even if you don't travel the world... just remember that life is a journey... embrace and enjoy it! Judy and Mark
Curious about what else we've written about?  Search our site for a destination or travel tip.

But... We'd love to have you share this page or comment on it…
Thanks, Judy and Mark

Tips for Travel With A Rental Car  Custom Tour Planning List
Share Amusing or Confusing Roadsigns You Have Seen
Go to MouseToursTravels Home Page