Friendly Gray Whales In Baja California
COVID slowed us down for a couple of years, and now a few health issues challenge us.  We're still traveling if not writing about it quite so much. Our goal in 2022 was get to all seven continents in one year... and we did it.

Going forward health issues may not allow us to travel.  No one can take away those memories though.  We hope all of you are well and staying safe... and that you find some inspiration here for YOUR future travels. 

The friendly gray whales in Baja California are what drew us.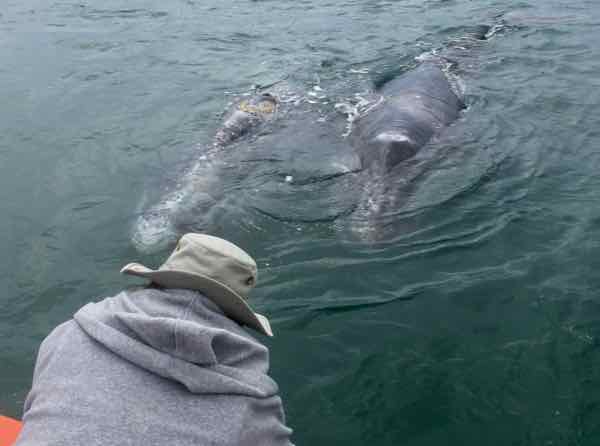 Friendly Mom and Baby In San Ignacio Lagoon

When most of our friends say they're going to Mexico...
...they usually mean Cancun or Mazatlán or Puerto Vallarta. 
If they say they're going to Baja California...
...they mean they're going to Cabo San Lucas or someplace near there….


But we were going to see those whales, not for beach or pool time…
There weren't any good beaches where we went….

…but there were plenty of gray whales.

We've always watched Gray Whales migrate south past the California coast in fall and return north in the Spring.

We had heard about those friendly whales in Baja for years. 



Travel Tip: 
Take Advantage Of Friends As Tour Guides

We had friends who had moved to Baja California, and they went down every year to see those whales in the San Ignacio Lagoon. 
When they invited us… I couldn't resist, and we started making plans.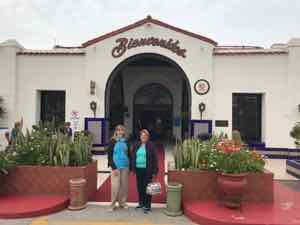 First stop - Rosarito Beach Hotel for Lunch
Well, we didn't have to do much planning… we just had to say yes. 

They did the planning… that is, they knew where to stay and where to eat. 
As we found out that is important if you're driving in Baja California. 

They met us at the border and off we went.



Driving Through Baja California

Driving through Baja California isn't quite the adventure I thought it would be, but it isn't for the faint of heart either.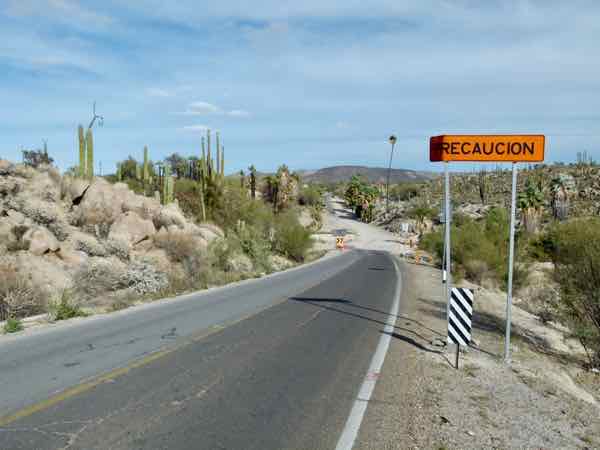 Good roads... then suddenly road hazards
Most of the road is in fairly good condition, but it is a two lane road and there are lots of trucks on it. 
The portion of the road that ISN'T in good condition is really pretty challenging. 
Plenty of potholes and dirt sections...
Be sure to have a good spare tire and repair equipment.



We Felt Safe

There were routine military checkpoints to go through.  None were intimidating… in fact, here's a story for you….

Even with experience and careful driving, we did blow a tire on one of those potholes.  We limped along to a military checkpoint where they actually helped us and changed the tire for us.  Several miles down the road in Guerrero Negro, we found a tire dealer and got a new tire.


But What About the Whales In Baja...
That's what this is all about, right?

It took us two days to drive to the town of San Ignacio.  We stayed at a terrific B&B there. 
It was another hour to get to the San Ignacio lagoon… one of the lagoons where the gray whales come to give birth in the winter.  The moms stay in the protected lagoons with their babies until they are big enough and strong enough to make the long migration back north.
Through the years, they have become friendly… they feel safe and will approach the boats that go out to see them.
Here a mother whale was looking us over.  This is probably my imagination, but I think she liked it when I took off my hat... she came right up to the boat.

The operators in the San Ignacio area take measures to protect the whales and make sure they are not stressed or harassed.  A limited number of boats are allowed on the lagoon at any one time, and once you are out, you can only stay in the area where the whales are for 90 minutes.

Still that is plenty of time to see them up close and get to watch some amazing behaviors.


How To Get There - Where We Stayed

There are tours you can sign up for of course, but you can drive to see the whales in baja on your own… or with the help of friends.

It's about 530 miles (851 km) and takes about 11 hours from Tijuana to San Ignacio.  You do have to research and know where the gas stations, hotels, and restaurants are.  There are enough available, but there is a lot of open land in between.
We drove 6 hours the first day and stayed at a nice little hotel in Cataviña….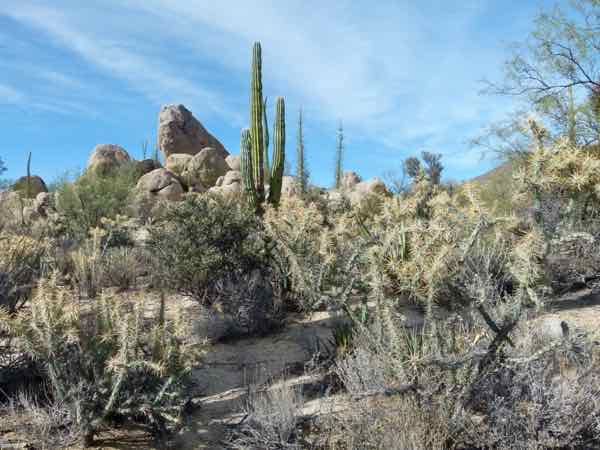 Boulders with Cardon and Boojum cacti
That nice little hotel is about all there is in Cataviña. 
The Hotel Mision Cataviña had a good restaurant. And it is in a pretty desert setting with interesting rocks and cactus.
There was a new mini market across the way, but no gas in the vicinity. (This hotel may previously been called the Desert Inn... not sure.)

On the way back we went past Cataviña and stayed at the Hotel Jardines Baja in San Quintin, Baja California. It was in a lovely garden setting and had a restaurant adjacent for dinner, but no breakfast.
In San Ignacio, we stayed at what our friends affectionately called "the yurts."


To See The Whales In Baja
There are a couple of hotels in the little town of San Ignacio.  The yurts we stayed in are officially called the Ignacio Springs B&B.  It was delightful with a wonderful dinner and breakfast. It really is an oasis. We called them "yurt mcmansions".

They can give you information on seeing those whales in Baja too.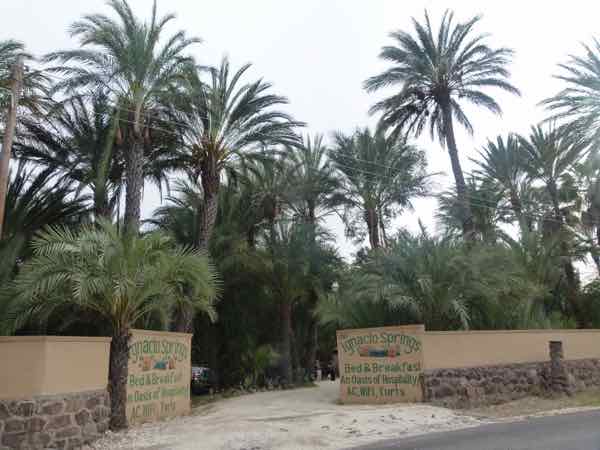 Ignacio Springs B&B A Welcome Sight
From the sleepy little town, it is another hour drive to the lagoon.  There are a number of camps at the lagoon where you can stay in tents.  The facilities look nice but very basic.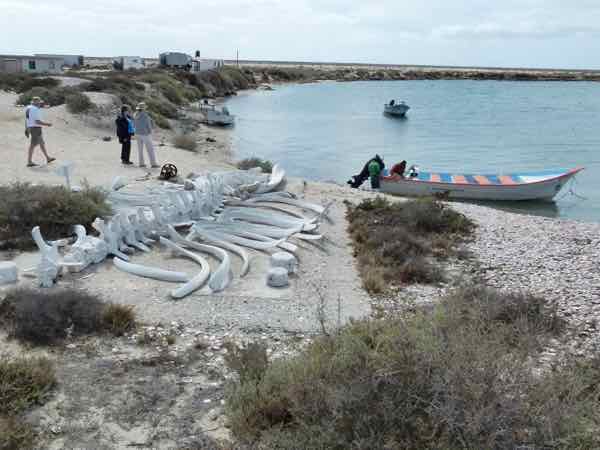 Antonio's EcoTours at San Ignacio Lagoon
The local operators depart from these camp areas.  We opted to go out on the pangas (that's what they call the little boats they take out) for two days, but drive back to our B&B because it was so comfortable.

More To Do In Baja California

There is more to see if you opt for a do-it-yourself drive through Baja California. 
There are ancient cave paintings in some of those fantastic rock formations.
There is a whole up and coming wine region in the Valle De Guadalupe. 
And there are miles and miles of cactus covered desert to explore. 
There are beaches too… and fishing. 
And the whales… We loved the friendly gray whales in Baja, and we encourage you to go and meet them.  It's sure to make a conservationist of you!

Happy travels... even if you don't travel the world... just remember that life is a journey... embrace and enjoy it! Judy and Mark
Curious about what else we've written about?  Search our site for a destination or travel tip.

But... We'd love to have you share this page or comment on it…
Thanks, Judy and Mark