Airport Arrival
Immigrations, Passport Stamps... Customs and How To Get Going!

COVID slowed us down for a couple of years, and now a few health issues challenge us.  We're still traveling if not writing about it quite so much. Our goal in 2022 was get to all seven continents in one year... and we did it.

Going forward health issues may not allow us to travel.  No one can take away those memories though.  We hope all of you are well and staying safe... and that you find some inspiration here for YOUR future travels. 

Airport Arrival! You've planned and dreamed and now your trip has started.

You've landed in a foreign country... now what?
If you're an experienced traveler, you have a good idea of what to do next...
...but if you're new at this, here are some tips on what to expect at your airport arrival.
We have tips on Airport Departure too.
Honestly... some people say they don't like airports, but... we think the Airport is Your Friend.

On arrival... you may have jet lag.
...You don't know the language...
...and you have to get through immigrations and customs.


The first thing you have to do is FIND Immigrations and Customs...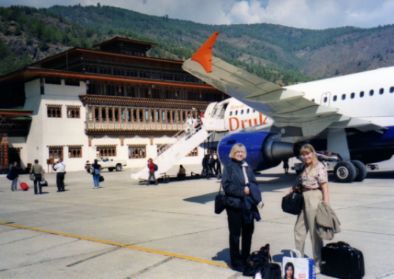 If you're at a less visited destination, you may climb down stairs and cross the tarmac to a cute little airport like this one in Paro, Bhutan.
Most likely, you'll be visiting a destination with a large airport.  At a large airport, your airport arrival will be via jetway or down stairs to a bus or to a "mobile lounge" that will take you to the arrivals entrance...
...Then you have to walk down those (usually) long concourses to the Immigration Hall where you have to get through Immigration.
The signs in the airport will almost always be in English (or French or German and they will look familiar) as well as the local language...
Look for signs that say "Airport Arrivals" or "Immigrations and Customs"...
...But if you've never done this before, no matter how you get off the plane, let's just say...
All you need to do is to follow the crowds.
Security Concerns and Military Presence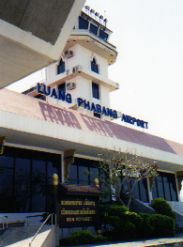 Leave Your Camera Packed Away

...unless you ask permission to take a photo...

Think twice about using a cell phone too.

In some countries it can get you in trouble to take any pictures.
In other countries, signs will tell you no cameras or cell phones are allowed in the Immigrations area.
Concentrate on getting through immigrations and customs, if you think you must have a picture of your airport arrival, ask first.

Maybe... In many counties you may encounter military security guards toting machine guns.
Don't let this alarm you... it's standard operating procedure and has been for years... since long before all of today's security concerns changed the way you pack.
There Are Guys Walking Around With Guns!

Yep, maybe there are... In many counties you may encounter military security guards toting machine guns.
Don't let this alarm you... it's standard operating procedure and has been for years... since long before all of today's security concerns changed the way you pack.
Have Passport and Paperwork Ready

Have your passport out and make sure all of your arrival paper work is filled out.
Fill out Immigration Forms as soon as you get them.
You may be handed immigration forms when you check in at the airport or your flight attendants will hand out the appropriate documents before you land.
Whenever you get this paper work, don't just shove it in your carry-on... fill it out right then. If you need help, the flight attendants can answer questions and should be able to help you fill them out correctly.
Know if you need a visa and if you do, when you need to get it.

You should have your visa before you leave home if you need one, or be prepared with the proper currency and forms if the country you are entering gives visas on arrival.
If the country you are visiting says you can get a visa on arrival, but it is recommended to get it ahead of time.... do get it ahead of time. It will save you time and probably some jostling to get your visa ahead of your airport arrival.
Find the right line...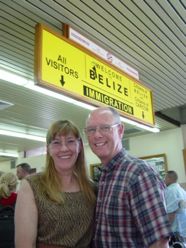 Once you reach the Immigrations area, you'll find some airports will have orderly lines with ropes to keep the line or queue moving in a fair and controlled fashion. At these there will usually be lines for "Citizens and Residents" and another line for "Visitors" or "All Other" something like that.
Other airports have a few desks with over worked immigrations agents, and the crowds of passengers rush forward in a semi-controlled, or totally uncontrolled free-for-all.
Sometimes the lines are long, but that's just part of travel and airport arrivals... always has been.
Don't Get Upset If There Is Confusion

In some countries the chaos theory seems to rule... there may be some shoving and jostling. Just make sure you stay alert and guard your valuables and look at it as part of the experience.
I remember going through immigrations in Mali... being nearly the first off the plane, but the last through Immigrations because we just didn't want to shove and push our way to the front. We were a little later getting to the hotel for the night, but who cares?
Whatever you encounter at your airport arrival, just take a deep breath, make sure you are in control of all your carry-ons and make your way to the front without getting too frustrated.... that's just how things are in some countries.... and you're traveling to experience a different culture aren't you?
When Do You Get Your Luggage?

You'll go through Immigration before you can get to baggage claim to pick up luggage you might have checked.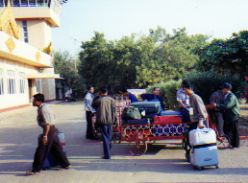 And Then There Is Customs...

In most countries, if you're a tourist with normal "tourist stuff" in your luggage, you can go through the "green lane" marked "Nothing to Declare" or something like that... You've arrived!!!...
The Arrivals Hall

And then you pass through sliding glass doors into the arrivals hall where there are usually big crowds...
--hundreds of relatives waiting for loved ones,
--tour guides waiting for private or group clients,
--and tons of taxi drivers and others wanting to "help you".
This may seem a little overwhelming, but if you know what to expect, it won't be a problem.....
Our advice is to smile, keep saying no thank you and walk to a quiet corner of the airport for the next step or meet up with your group or tour guide.
What's the next step?
Don't be in a rush to leave. Get help, money, information. We tell you about that... remember, we think The Airport Is Your Friend! And don't forget Airport Departure.
Happy travels... even if you don't travel the world... just remember that life is a journey... embrace and enjoy it! Judy and Mark
Curious about what else we've written about?  Search our site for a destination or travel tip.

But... We'd love to have you share this page or comment on it…
Thanks, Judy and Mark

Travel Security Alert Packing Guide  What Can You Fit In That Plastic Bag?
Foreign Money Matters   Foreign Language
Go from Airport Arrival to MouseToursTravels Home Page
Privacy and Legal Policy