Booking A Flight
Think About More Than The Cheapest Airfare
COVID slowed us down for a couple of years, and now a few health issues challenge us.  We're still traveling if not writing about it quite so much. Our goal in 2022 was get to all seven continents in one year... and we did it.

Going forward health issues may not allow us to travel.  No one can take away those memories though.  We hope all of you are well and staying safe... and that you find some inspiration here for YOUR future travels. 

For all the travel we do, we are not experts in booking a flight.
Does that surprise you?  Remember, Mark worked for an airline....
We probably know more about what you shouldn't do when booking a flight than what you should do.
 I often wish I had written down all the stories he's brought home.

The usual tips you read for booking online are...
--use comparison sites, any of the search engines like Kayak or Hipmunk
--watch for days of the week when fares go down
--check airline sites for flash sales

And you should do all of that, but let's look at a different perspective...
Things To Look For...
Things To Avoid When Booking A Flight
Let us give you some tips and warnings about booking a flight online from the perspective of an airline agent... 

Look For Non-Stop Or Direct Flights
It's best to avoid itineraries that involve several connections or several airlines.
Every stop and connection is a possible problem for missed connections.
Even short departure delays can turn a short connection time into an impossible connection.

Know Your Connection Time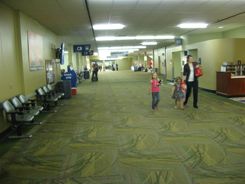 If you can't avoid a connection, make sure it is a reasonable length of time.
Even worse than a long layover or connection time at an airport is a connection that is too short.
Different airports have different "allowable or legal connection times"...
We've found... just because they are published, doesn't mean you can always make it to the next gate.  
(And that's especially true if your flight is delayed even a few minutes... or you're sitting at the back of a full plane.)

Large airports can take longer than you think to get from one gate to another.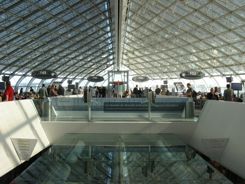 We think you should allow a couple of hours to connect at large, busy airports.

Connection times become even more crucial if you are making an international connection at large international airports.
There may be secondary security to go through or buses or trams to take to your next gate.
Delayed Flights May "Bust" Connections
Your first flight could be delayed...
If that happens, you might not be able to make your connection.
The airlines may not be able to rebook you on the same day... this can happen especially if you're departing from a smaller airport with fewer fights.
You won't be compensated if the delay is a mechanical problem or a weather delay...
And those weather delays aren't winter storms only... thunderstorms happen in the summer too.
Booking a flight with a little longer connection or layover time might just "get you to the church on time" as the song says. 
Multiple Connections May Not Save Money
Those flights with two or three stops might look like a bargain, but before booking a flight consider this...
You might save a couple of dollars if every thing goes right, but you'll have a real headache if things go wrong....
And the more connections and/or the more airlines that are involved...
the more change there is for something to go wrong.
If you miss your connection completely, you may end up paying for a hotel in a city you didn't even want to visit.
So, if you've "got to be there", a couple of extra bucks for a non-stop or direct flight is well worth the peace of mind! 
Think Early Morning When Booking A Flight
That's right... what with having to get to the airport an hour or two before your flight, that means you have to get up really early... but...
That first flight of the morning is the one that is least likely to be delayed.

Allow Yourself Extra Time To Get There
Not just getting to the the airport early, but to your DESTINATION.
Get there a day early and relax...
I know, especially for Americans, vacation time is short... and none of us want to waste days, but...
If you MUST be there for that holiday
     --or wedding
     --or cruise
     --or tour...
We suggest booking a flight that arrives at least 24 hours before you need to be there.
Mark hears it all the time... "But I HAVE to be there today..."
You just never know when bad weather or a mechanical problem will ground a plane...
Booking a flight a day early is insurance so you don't miss the boat... or that wedding or whatever.
This goes back to our point above about allowing plenty of connection time if you must connect on flights.
Allow an extra day at the end of your trip too.
Same thing apply for coming home as for starting on your trip... you don't want to miss a connection and not get home in time to get back to work.
Follow Standard Shopping Tips
DO also remember to use all those tips you read about in travel magazines or on travel blogs....
Start shopping early if you're planning to fly at a busy, popular time

Use a flight comparison site

Check the airline's sites too... they may have better deals

Watch for days of the weeks when fares go down

Consider alternative airports for better fares.
You've Got The Dates and Times You Want... Now...
Double Check The Details
Now you're booking a flight... I mean, now you're ready to commit... Last minute things to think about...
Double check the date and time...
     Is it the right day?
     The the right MONTH?
     Is it the right time of day... AM or PM?

Mark gets passengers all the time who made reservations for the wrong month, or the wrong day... or for an evening flight when they really wanted to go in the morning.
Are you looking at the right city?

This might seem obvious, but on several occasions, we've heard about people who wanted to go to San Jose del Cabo in Mexico, or San Jose in Costa Rica...

But they bought tickets to San Jose, California.

Now THAT could ruin your vacation!
Be sure you hit the "Sell" or "Buy Now" or "Purchase" button.

And get your confirmation number.

Yes, there are people who got all the way to the end... or so they thought... but they just never completed the transaction so they do not have a reservation or an airline ticket.
Whether You Use A Travel Agent Or Book Yourself
You could always use a travel agent for booking a flight.
They are experts, but you should always double check on them too... we've had agents set up tours where we crossed the international date line and we were supposed to be catching a second flight before we even arrived from the first!
Be smart when you're booking a flight online, and your holiday will get off to a good start.... and you'll get home on time.
Happy travels... even if you don't travel the world... just remember that life is a journey... embrace and enjoy it! Judy and Mark
Curious about what else we've written about?  Search our site for a destination or travel tip.

But... We'd love to have you share this page or comment on it…
Thanks, Judy and Mark