The Island of Borneo
Where Is It? What Is It?
COVID slowed us down for a couple of years, and now a few health issues challenge us.  We're still traveling if not writing about it quite so much. Our goal in 2022 was get to all seven continents in one year... and we did it.

Going forward health issues may not allow us to travel.  No one can take away those memories though.  We hope all of you are well and staying safe... and that you find some inspiration here for YOUR future travels. 

The Island of Borneo...
Just the name sounds exotic, intriguing.

Maybe even dangerous.
The Island of Borneo is actually divided between three Southeast Asian countries. 

It is exotic, but we don't think it's dangerous.

Where is it?
What is it?
Should you travel there?
We have.
We went because just the name beckoned.

We went to the Island of Borneo because we wanted to see the Orangutans.
More Than Orangutans
What we read hinted at elephants.... rhinos.... gibbons... proboscis monkeys.
And beyond wildlife.... giant rafflesia flowers....
Headhunters!... and... leeches? Yea, that too.
When we got there we discovered so much more....
          Turtle Islands of Borneo,
          caves,
          the Kinabatangan River,
          snorkeling and diving
          wonderful people and interesting little cities.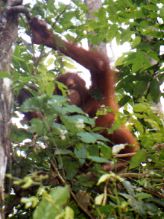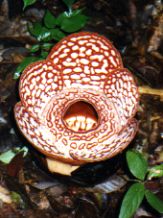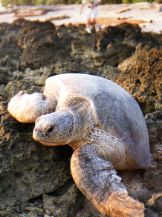 Where is the Island of Borneo?
Let's start with the geography.
The island of Borneo is located along the equator in South East Asia. It's south of the Philippines, north of Australia.
Borneo is not a country; the island is shared by Malaysia, Indonesia and the independent country of Brunei.



The Malaysian States of Sabah and Sarawak



We went to the Malaysian states of Sabah and Sarawak, so we'll tell you about those.
We flew "straight" from San Francisco to Kuala Lumpur to Kota Kinabalu to Sandikan..... three flights in a row...
That's a long time flying and in transit... you might want to break it up.

What Can You See on the Island of Borneo?
We had no pre-arranged plans... We've had lots of practice, but it's not always the best way to see some of these more remote locations in the world.
We would suggest having plans in place when you arrive.
We Started In Sandikan, Sabah
But... we did not have plans in place... we made arrangements on arrival, and that worked out just fine.

Green Sea Turtles

In Sandikan we were lucky and hooked up with an eco travel company that whisked us out to the turtle Islands of Borneo or Pelau Seligan.
We spent one night on Palau Seligan, the boated back to Sandikan where we finally paid for our expedition.
Sandikan is a convenient little town to use as a base for the visit to Pelau Seligan and the Sepilok Orangutan Reserve, a wildlife adventure to the Kinabatangan River, or the Danum Valley (we didn't get there, but we wish we had.... next trip!).
Caves and Markets

On the drive to catch the boat to our lodge on the Kinabatangan River, we visited caves to see where they harvest swallow's nests for birds nest soup and shopped in roadside markets for the druians and star fruit.
Monkeys and Orangutans
We boated to the Sakau River Lodge where we DID see one orangutan in the wild and Proboscis Monkeys, Langurs or Leaf Monkeys, and Long Tailed Macaques.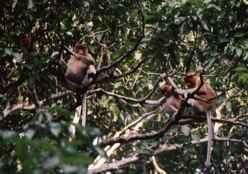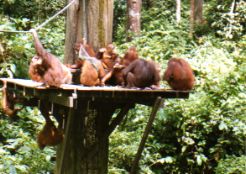 On the way back to Sandikan, we visited Sepilok Orangutan Rehabilitation Center and all of it's Orangutans.
Rafflesia and Head Hunters?

And those head hunters? We flew back to Kota Kinabalu.

Outside of Kota Kinabalu, we hiked with a guide to find one of the world's biggest flowers. He told us his tribe used to be headhunters, but all we hunted for with him was a Rafflesia in bloom.
The species of Rafflesia we saw wasn't the biggest variety, but it felt like an adventure none the less.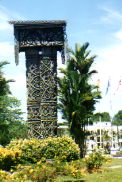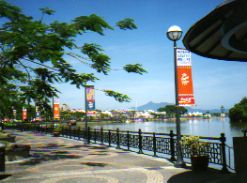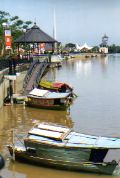 Kuching, Sarawak

In Kuching in the state of Sarawak, we only had time to enjoy the city and do a little shopping. Kuching is a lively city with interesting history and good museums, native masks and art. It's also a great place to start out for a visit to an Iban long house. That's something else we'll have to save for another trip, along with the caves and orangutans here.
Borneo is a big island... and we didn't even begin to explore the Indonesian part or the Sultanate of Brunei.
Just what we saw kept us busy for a couple of weeks. The Island of Borneo really is exotic and intriguing. Give it some thought when you're planning your next adventure.
If you'd like to spend some time in Peninsular Malaysia, see what our friends at About Malaysia have to say. They have an informative website with lots of up-to-date facts. Nothing like hearing it from a local.
Happy travels... even if you don't travel the world... just remember that life is a journey... embrace and enjoy it! Judy and Mark
Curious about what else we've written about?  Search our site for a destination or travel tip.

But... We'd love to have you share this page or comment on it…
Thanks, Judy and Mark

Like primates? Read about Mountain Gorillas in Rwanda
return to MouseToursTravels Home Page