Turtle Islands Borneo
What's There?
COVID slowed us down for a couple of years, and now a few health issues challenge us.  We're still traveling if not writing about it quite so much. Our goal in 2022 was get to all seven continents in one year... and we did it.

Going forward health issues may not allow us to travel.  No one can take away those memories though.  We hope all of you are well and staying safe... and that you find some inspiration here for YOUR future travels. 

Silly question... Turtle Islands Borneo have turtles.
Green turtles
Lots of them coming ashore to lay their eggs.
And lots more little baby turtles hatching and making their way out to sea.
All of that happens mostly at night.
By day, beaches and clear water beckons snorkelers.

Where Are These Turtle Islands... And Borneo?

The big island of Borneo is divided between Malaysia, Indonesia and Brunei.
Malaysia begins on a peninsula in Southeast Asia and spills over onto the Island of Borneo.
When we headed there, we were looking for a place to see Orangutans and rain forests. We found both, but we also found a tropical island with beautiful beaches...
And smaller islands way out in the Sulu Sea where Green Turtles rule....
When we arrived in Sandakan we found an eco tourism company and arranged our overnight trip to Turtle Island and then an expedition to the Kinabatangan River to look for orangutans. It was actually easy to do this without any prior arrangements.



The Boat to Turtle Islands Borneo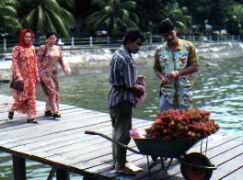 Turtle Islands Borneo National Park was a pleasant surprise.
It's 40 km off the east coast of Sabah, one of the Malaysian states on Borneo.
That translates to a couple of hour boat ride from the town of Sandakan.



Green Turtles are sea turtles, so you don't see them just roaming around the island, but it is a prime breeding location. Turtle Islands Borneo is a national park where three entire islands are reserved just for the turtles.



On Turtle Island or Pulau Seligaan there is a national park headquarters, a visitor's center and some very basic rooms for overnight tourists...
...and the beautiful Sulu Sea where you can while away the day reading on the beach or snorkeling on the reef that surrounds the island...
...until nightfall.
Then the island really does belong to those returning turtles.
At night you are restricted to the grounds of the small research and accommodation area.... You must stay in camp and wait.
Then, with a guide, you can hike down to the beach with flashlights and see one digging her nest about 12 to 18 inches deep and laying 40-190 eggs.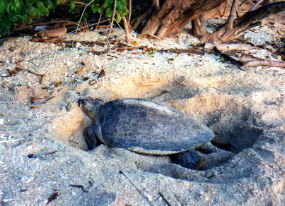 You are allowed to see only one "landing and laying" so that the tourists don't disturb the turtles. But if you get up early the next morning, after sunrise, you might still see some stragglers.
Staff members were on the beach early to make sure the turtles are not disturbed.
These turtles have been doing this for millions of years, so how much help do they really need?
As much as we can give them in the way of protection. All over the world, populations of Green Turtles are threatened or endangered, so this group of protected islands is very important to their survival overall.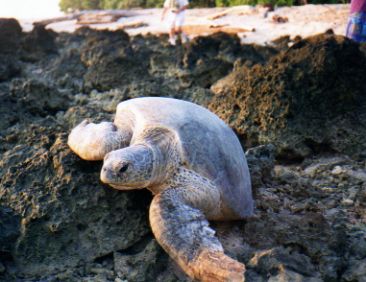 Turtle Islands Borneo Hatches Baby Turtles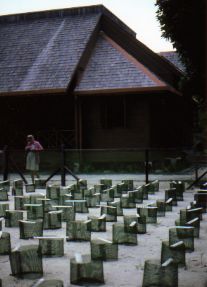 There is a nursery where the baby turtles are hatched.
Once the eggs have been laid, the eggs are removed by the Park Staff for incubation to help insure that more baby turtles make it to the sea.



They miss a few eggs though...
And if you're there approximately 60 days after the eggs were laid, you may be sitting on the beach and suddenly see a baby turtle struggle up out of the sand!
If there are nests ready to hatch in the nursery, the staff will let you help the baby turtles on their path to the sea.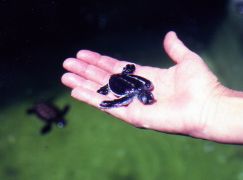 Hard to believe something so small will grow so big.
Adult Green Turtles are huge!
They are the largest hard shelled sea turtles. 1-1.5 m in length and can weigh 200 kg (440 lbs.!)

And they are so awkward on land. It's amazing to watch how hard they work to lumber ashore and get their eggs laid.
It's tempting to want to stay on Turtle Island, but a boat ride away more of Malaysia awaits.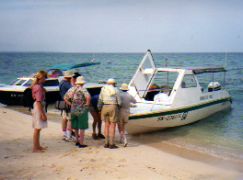 Malaysia Beyond Turtle Islands Borneo
Malaysia has much to offer. We had a wonderful experience on Turtle Islands Borneo, but even after we found orangutans, we felt we only explored a small bit of the states of Sabah and Sarawak on Borneo.
There are wonderful national parks on Peninsular Malaysia. One park that is on our wish list is Taman Negara National Park. It protects one of the world's oldest rainforests... older than the Amazon or the Congo.  We hope to go some day.
If you want a touch of the exotic and would like to see wildlife. Give serious consideration to Malaysia. We found it very easy to travel there.
Happy travels... even if you don't travel the world... just remember that life is a journey... embrace and enjoy it! Judy and Mark
Curious about what else we've written about?  Search our site for a destination or travel tip.

But... We'd love to have you share this page or comment on it…
Thanks, Judy and Mark

Go to Island of Borneo
Like Primates? See Mountain Gorillas
For More Animal Adventures - Africa Dream List
return from Turtle Islands Borneo to MouseToursTravels Home Page