Travel Documents

Have Your Proof With You
COVID slowed us down for a couple of years, and now a few health issues challenge us.  We're still traveling if not writing about it quite so much. Our goal in 2022 was get to all seven continents in one year... and we did it.

Going forward health issues may not allow us to travel.  No one can take away those memories though.  We hope all of you are well and staying safe... and that you find some inspiration here for YOUR future travels. 

Take your travel documents with you at all times.

Your passports and other documents can travel with you in a money belt.


Take your travel documents with you when you leave on your trip.
They are worthless at home!
This is a theme we often harp on....
And even if it's repetitious, we'll say it again....
Different stories... same theme.
You need them.

Take All Travel Documents With You

You know you need those documents to get on the plane and get through immigrations, but don't think that once you get to your destination that you're home free.
If you've made any arrangements in advance of your trip, take proof.
This applies whether you are taking a tour or have made arrangements as an independent traveler.
Take any paper tickets or vouchers or even copies of e-mail communications that confirm what you signed up for. 
You'll need some proof of purchase for catching your flights... flights for your departure from home, flights during your trip, and for your flight home. Take a confirmation number with you for electronic tickets.
Those flights during your trip may be on local carriers. There are still some instances where you might be issued paper tickets if more than one carrier is involved... if so... no paper ticket, no flight.

Passports and Visas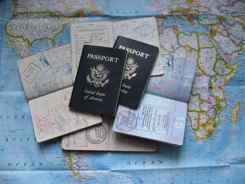 You know that on arrival in a foreign country you'll need to present your passport...
And that you should have a visa if necessary.
You might have received a visa clearance from your travel agent. You will need proof of that.
When we entered Bhutan, the actual visa was issued at the airport in Paro...
But we had to have the visa clearance with us to present to the immigrations officials.
Sometimes you'll need your travel documents if you are crossing borders on your own.
OK... in the European Union, you can breeze across borders and never even notice it anymore, but that's not the case in much of the world.
Even going from Canada and Mexico to the U.S. you need passports these days.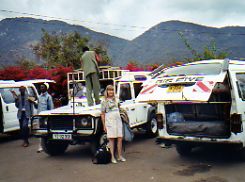 A better example is when we were on safari and went from Kenya to Tanzania by road.
One safari company had set up that whole portion of the trip, but we were essentially handed off at the border.
Our Kenyan driver transferred our luggage to the Tanzanian driver, but we had to walk through the border on our own...
And we had to have the appropriate documents and vouchers.
We encountered a similar situation when we went from Tibet to Nepal by road, only then we carried our own luggage across the border as we went through immigration.
Let's just say there was no last chance visa service at that border crossing!

If You've Paid For Special Fees

If you've paid for entrance fees, you want proof of that. You don't want to pay twice.
This might include entrances to something like special archeological zones that you fly into on your own before meeting your guide.
We had to argue a bit over that when we were in Myanmar (Burma).


Remember Travel Documents Like:
Passport or Acceptable Identification Document

Visa if necessary (or visa clearances)

Paper Tickets

Confirmation numbers for flights, rental cars, hotels and tours

A copy of your itinerary with details of what you've paid for

Vouchers for tours, hotels or cruises if they are mailed to you - or emailed to you

Local phone numbers for contacts or travel agents, even e-mail addresses

Photocopies of your passport

Extra passport size photos and

Emergency phone numbers

Take Proof Of Everything You've Paid For

Think of everything you've planned and signed up for...
And then take along those travel documents as proof.
Whether you're on a tour or an independent traveler, ultimately, you are responsible for yourself!
Happy travels... even if you don't travel the world... just remember that life is a journey... embrace and enjoy it! Judy and Mark
Curious about what else we've written about?  Search our site for a destination or travel tip.

But... We'd love to have you share this page or comment on it…
Thanks, Judy and Mark

International Travel Tips l Europe Travel Tips
Hotel and B&B Tips l Packing Lists
Go from Travel Documents to MouseToursTravels Home Page