China

Full of Great Little Corners of the World
COVID slowed us down for a couple of years, and now a few health issues challenge us.  We're still traveling if not writing about it quite so much. Our goal in 2022 was get to all seven continents in one year... and we did it.

Going forward health issues may not allow us to travel.  No one can take away those memories though.  We hope all of you are well and staying safe... and that you find some inspiration here for YOUR future travels. 

China is a huge country.... so much to see! 
How do you decide where to go?
That question kept us from visiting China for years...

Well, that and the fact that there were so many other places we were going.
If you've never been, you've got to start in Beijing...

Then choose the sites or cities that most fit your interests.
You can just choose a package tour. There's nothing wrong with that...
...but we prefer to travel on our own...
...just four of us this time, and we wanted to arrange our own itinerary.
Not only did a custom tour give us what we wanted, but it gave us the flexibility to change things if we wanted, and a little extra time to strike out on our own when we found something that interested us. We talked about our preparations on our custom tour planning page.

So here are our travel tips and how our custom tour of China worked on the road.

We Started In Beijing - A Good Starting Point

Tiananmen Square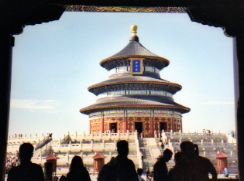 Temple of Heaven
We had been to Hong Kong on our honeymoon a long time ago,
And we visited the Tibetan plateau a few years ago...
..but we had never been to Eastern or Central China....
So we did all the tourist musts. Yes, we started in Beijing and saw the top sites:
          Tian'an Men Square,
          The Forbidden City, and
          The Temple of Heaven.
We spent a day seeing the Great Wall and the Ming Tombs.
Build Free Time Into Your Custom Tour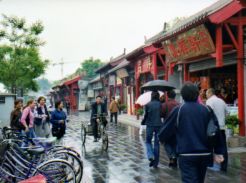 Free time lets you explore things you find out about once you're on the road.
On one of those free mornings that we had built into the itinerary, we rode the subway and explored the Tibetan Lama Temple and the Confucius Temple on our own. 
We also made a small foray into the Hutongs (the old neighborhoods).
Later our guide picked us up and took us back into the Hutongs and to the Summer Palace before dropping us at the train depot for an overnight train to Xian.
China IS Big -- Think How You'll Get Around
Weigh your options when you plan your custom tour. Will it be better for you to fly or train it?
The train was great, and by sleeping overnight on the train, we gained a day for sightseeing.... something we're always up for.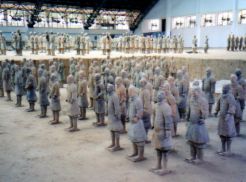 Our reason for visiting Xian was the famous Terracotta Army in the tomb of Emperor Qin Shi Huang...
Our guide took us there first thing.
It was just as impressive as we imagined.
The surprise was everything else we found to enjoy in Xian.
Xian Has More Than Terracotta Warriors


We enjoyed the dumpling dinner that you must have in this area.
Xian has the most complete city wall in China. Our guide took us up on the wall and later drove us past the Bell Tower and Drum Tower in the center of town. With some free time the next morning we rented bikes and rode the whole 12 km around the city walls.
We also had enough free time to find the Muslim Quarter and the Great Mosque.
In the afternoon, we rejoined our guide to visit the Small Goose Pagoda and the Great Goose Pagoda... THEN....


Sometimes You Feel Like You've Discovered Something
       .... even if you haven't!

Did you know that there are more warrior armies guarding tombs?  We didn't before we left home... but our guide told us about them, and we asked him to take us there.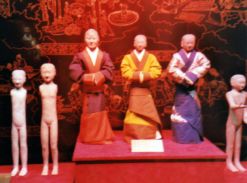 Look at these little guys... with their robes and all, they're AMAZING.  This is the Han Yang Ling Museum.  It had just opened when we were there.  It housed another army!  One for a Han Dynasty Emperor.
This army may be more diminutive than that at Emperor Qin Tomb, but it is every bit as impressive, and since we had only heard a little about them, we felt like it was our very own discovery.
China Has Both History and Scenery

A cruise on the Yangtze River came next.
We flew to Yichang and boarded our ship.

The Three Gorges Dam is completed, and much of the Three Gorges have been flooded, but we were still impressed with the scenery that was left, though we really wished we could have seem them before they were flooded.
We enjoyed seeing the Lesser Three Gorges and the Ghost City of Fengdu before disembarking in Chongqing.
We Flew to Guilin
The last city we visited in China was Guilin. We had sunny beautiful weather for a day cruise on the Li River to marvel at the karst mountains of the region... the soaring green pinnacle formations that you see in Chinese silk paintings.... only better in real life.
China is a fascinating country... we could have gone on and on exploring its great little corners.
On a grand trip like this it's important to stay healthy, and the food all over the country is great, but it always pays to take precautions. You know.... watch what you eat, watch where you eat, drink bottled water, and if you break these rules as we often do, pack as we do.... take Pepto-Bismol with you!

But don't worry over that... Remember, China is a big country, but you just have to start somewhere.  If you love it, and we think you will, you can go back for more!

Happy travels... even if you don't travel the world... just remember that life is a journey... embrace and enjoy it! Judy and Mark
Curious about what else we've written about?  Search our site for a destination or travel tip.

But... We'd love to have you share this page or comment on it…
Thanks, Judy and Mark

Visiting Xian l  Yangtze River Cruise l Pepto-Bismol on the Great Wall and Beyond
Return to MouseToursTravels Home Page