Yangtze River Cruise
Still Worth It
COVID slowed us down for a couple of years, and now a few health issues challenge us.  We're still traveling if not writing about it quite so much. Our goal in 2022 was get to all seven continents in one year... and we did it.

Going forward health issues may not allow us to travel.  No one can take away those memories though.  We hope all of you are well and staying safe... and that you find some inspiration here for YOUR future travels. 

Is that true? Is a Yangtze River Cruise still worth it?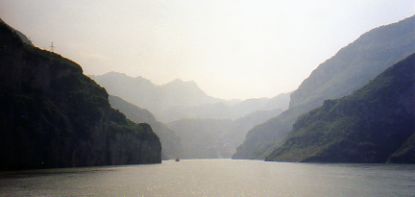 I wish we had gotten to China years before we did....


A Yangtze River Cruise had always been on our wish list...
...and it certainly would have been wonderful to see the Three Gorges before they started filling that dam.

Alas, there is just too much of the world to see...
...and not enough time since we have to work to pay for our travels....
So we didn't get to cruise the Yangtze River until the dam was over three quarters full.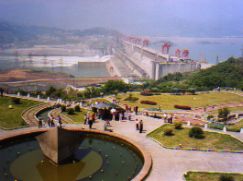 The Chinese declared the Three Gorges Dam completed right after we visited.
Many towns and villages have been flooded and their citizens relocated.
The ecologic, economic, and sociological consequences of all of this have been thoroughly debated.
It makes little difference what we think about these issues.
What I can tell you is that even with the dam mostly filled, a Yangtze River Cruise IS worth it.

Is Planning A Yangtze River Cruise Still Worth It or Not?
When we were planning our trip we didn't know yet what the answer to that question was.
I was convinced that we should take a short 3 day/2 night cruise just in case.
We wouldn't waste an extra day if we didn't like it. The downstream cruise moves faster, and since we like to stay really active, I thought that would be better.
Travel Agent Says Yes

The travel agent who helped us set up our custom small group tour told us that he recommended the 4 day/3 night upstream version.
We took his advice because the flights seemed to work out better for us.
Now that we've been, we're glad we did because the cruise was still worth it, and we enjoyed it even more going upstream for these reasons:
Because we were a small group we could fly into Yichang which deleted a 4 hour bus ride from Wuhan.
We flew in directly from Xian after visiting its terracotta warriors.
The Yichang airport is smaller and the planes serving it tend to be smaller too, so big groups might not be able to do this. All the more reason for trying independent small group tours like we love taking.
The upriver cruise was less crowded.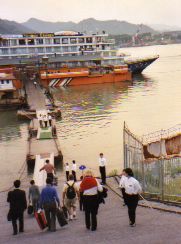 Our crew told us that this is generally the case.
Our ship could hold 200 passengers.
But... On our cruise there were only 60 passengers!
On the downriver return, they were expecting 190.
It was very nice not having so many people to bump into; the dining room was less crowded; getting on and off the boat was faster and easier... and the crew was more relaxed and had more time to spend with us.....


Don't think you'll be alone on the river. 
There will be many other boats.
At some excursions, you'll have to troop through other boats to get ashore.
There may be small and then even smaller boats to catch for excursions up the lesser gorges, and buses to board.
They'll have plenty of buses or boast, no matter how many are on your cruise, but a smaller number of passengers makes this seem like a more custom tour.... and that's what WE like!!!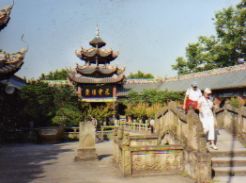 On the upriver cruise, we had more time to see the sights,
...but not so much that we got bored.
We had a great time exploring the Ghost City of Fengdu.  It sits high above the river, but it has been abandoned.
You can walk or take a gondola up and down.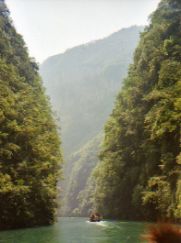 The Lesser Three Gorges are there to explore and...

Now that the water has risen behind the dam, they will also take you up the Mini Three Gorges...
You get on small boats and explore river valleys that were previously unnavigable.
So with the dam, we've lost some things and gained some.
Getting up into those lesser gorges alone makes the Yangtze River Cruise still worth it.

Yangtze River Cruise Still Worth It for A Rounded View of China
We started our China tour in Beijing and took the overnight train to Xian.
We flew to Yichang straight from Xian.
We love to experience it all, so trains, planes.... why not a cruise?
The experience of different modes of transportation could make a Yangtze River Cruise still worth it.
It was early evening when we arrived in Yichang, and we immediately boarded our boat, so we can't give advice on what to explore there.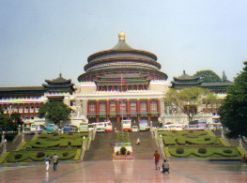 We ended our cruise in Chongqing and spent the day there due to the flight schedules.
It's a very large city.
There were come interesting sights in town...
...the zoo with it's pandas was fun, and there was a museum or two...
But... if we had it to do again, we'd try to get to the caves and grottos of Baoding Shan and Dazu with their Tang Dynasty carvings. It's two hours from Chongqing, and it would be a long drive for a day trip, but we'd try it because that's just the kind of adventure we love.
And organizing your own small group custom tour is all about having the adventure that YOU love.
Our late night flight from Chongqing took us to Guilin so we could explore the amazing karst landscape we had dreamed of seeing there.
Our travel tip here is that even with the Three Gorges Dam finished and filled, a Yangtze River Cruise is worth considering when you're planning your visit to China... whether you join a pre-packaged group tour or organize your own small group custom tour.
Yangtze River Cruise Still Worth It?

TELL US WHAT YOU THINK: If you have been since the dam was full, we'd love to hear what you thought... you can use the comment box at the bottom of the page (whether you use Facebook or not!) Thanks, you'll help us all out.
Happy travels... even if you don't travel the world... just remember that life is a journey... embrace and enjoy it! Judy and Mark
Curious about what else we've written about?  Search our site for a destination or travel tip.

But... We'd love to have you share this page or comment on it…
Thanks, Judy and Mark

Custom Tour Planning List
Custom Tour Planning China Xian Adventure Cruises
Return from Yangtze River Cruise Still Worth It to Home Page