Let Our Botswana Adventure
Inspire Yours
COVID slowed us down for a couple of years, and now a few health issues challenge us.  We're still traveling if not writing about it quite so much. Our goal in 2022 was get to all seven continents in one year... and we did it.

Going forward health issues may not allow us to travel.  No one can take away those memories though.  We hope all of you are well and staying safe... and that you find some inspiration here for YOUR future travels. 

It was the Okavango Delta that called us for our first Botswana adventure.
You've probably seen all those wildlife shows too... showing the herds of elephants, and zebra...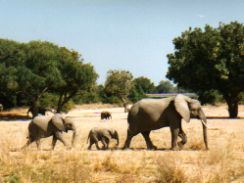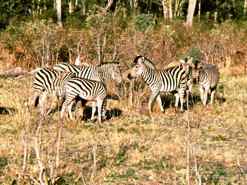 ...You've probably also seen photos of
the giraffe,
the prides of lions
and the warthogs...

WARTHOGS???

I know everyone doesn't everyone go to Africa to see warthogs...
You want to see the Big 5, but...


You'll See The Big 5 In Botswana... And More
I had to include warthogs in these photos; they're so darn ugly that they're cute. I just love 'em. Just look at that face!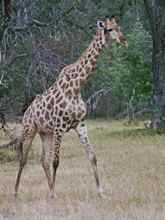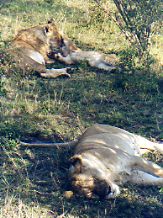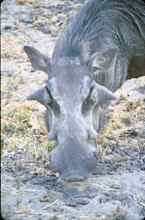 You'll surely see all those animals in Botswana, but how much of an adventure your trip is... is up to you... your attitude and sense of adventure will make (or break) any trip. Go willing to try anything and be flexible. I think sometimes serendipity plays a roll in any trip... so you should always be prepared to make the most of whatever is thrown in your way.
To encourage you to make your Botswana adventure or any Africa Dream trip a reality, I'll tell you some of our stories....
Our First Botswana Adventure
There were three of us traveling together after we left our friends on our visit to Rwanda to see Mountain Gorillas. We didn't know much about the southern part of Africa so we were really up for a Botswana adventure.
Chobe Game Lodge

Our first stop was Chobe Game Lodge. It was a wonderful experience.... I mean Elizabeth Taylor and Richard Burton had honeymooned here... twice!... It's been visited by presidents and princes, so what was not to like?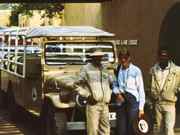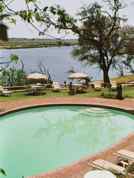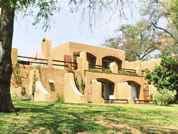 But Chobe Game Lodge a luxury lodge... what were WE doing here?
We had relied on an agent to book us... the whole trip was within our budget, so we didn't worry about it. We had a great guide. It was uncrowded. We saw all the big game there. It was every bit of the Botswana adventure that we'd imagined it would be...
...but just after that is when serendipity stepped in.
Into The Okavango Delta

We flew from Kasane to the original Camp Okavango in a bush plane. Wow!
As our little plane flew from the dry plains to the swampy Okavango Delta we started wondering where we would land.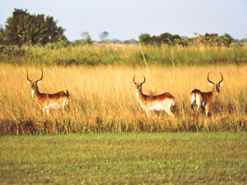 We flew low over a speck of an island... there was a grass runway... covered with Red Lechwe, a swamp loving antelope.
Should we worry about hitting one? Our pilot was obviously used to this... and he wasn't attempting to land on that first pass, just scare the lechwe off the runway!
Now, we thought, we really begin our Botswana adventure!
Our low fly-by also alerted the camp staff that we were about to land. Just a short walk from the plane, we were in camp... tents to be sure, but African tented camps have nothing in common with your childhood camping memories.
It LOOKED like tents and a dining pavilion; it had the feel of adventure with all of the creature comforts... tented camps in Africa are a wonderful experience; they feel exotic... make YOU feel a little more like an explorer. The most amazing thing was that we were the only ones there.... serendiptiy again.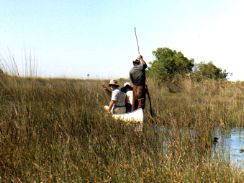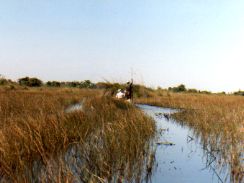 We explored the Okavango Delta and hippo waterways in makoros, catching sight of those lechwe and their smaller cousins sitatungas.
We saw lots of birds, and we enjoyed wonderful food and great South African wines.
On To Moremi Game Reserve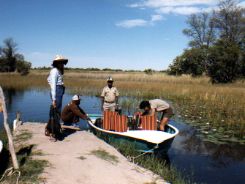 After a couple of days in Camp Okavango, they put us in a boat to make our way to the original sister camp -- Camp Moremi in the Moremi Game Reserve.
We stopped for a picnic lunch on a small island on the way and fished for tiger fish a real Botswana adventure. (We aren't fishermen, and we had no luck.)

We arrive at the dock in Camp Moremi to find that again we were the only three in the camp!
Turns out they were closing down for a month, and we shouldn't have been booked in... but since we had been, they accommodated us. As most of the staff left on vacation... they called in a substitute guide to take care of us... ahh oh...
Was it about to become a disaster...? No...

This Is When Serendipity Kicks Into High Gear
A Piper Tri-pacer landed on the dirt strip near the camp and out jumps a young Ralph Bousfield. Our travel buddy Jamie grabbed me and said "Hold me down girl, I'm about to fall to my knees and bay at the moon."
This was all good... but still we had been in Africa for a couple of weeks, and we wanted more...
And we got it.
We told Ralph that our game drives had been too sedate, and we wanted to see all the little stuff too....
We Saw All The Big Game and Little Ones Too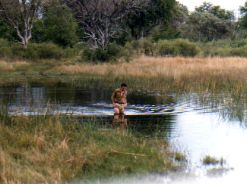 He showed us bushbabies and Africa grey wild cats and the time of our lives.
We bounced over roads deemed "too rough for the clients"....
We weren't clients... we were travelers!
We forded streams with Ralph wading though first to make sure the engine wouldn't flood.
We roamed the edges of camp in the evenings to see it we could spot night birds and little critters.
In camp we were awakened with "bed tea" and with the server wide eyed saying "Elephant in camp!" We had to get used to watching for the baboons... they liked using tent 10 as a trampoline...
And we had to get used to more great food and wine.... Oh yea, we want to encourage you to take a Botswana adventure, but don't think you're going to "rough it"! This was our last stop in Botswana, and we didn't want to leave.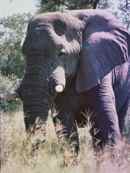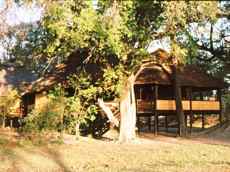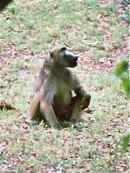 Ralph visited us here in California... he was delivering a paper on Wattled Cranes. He had shown us Moremi Game Reserve and lions and elephants and giraffes. We showed him elephant seals, banana slugs, hummingbirds and redwood trees. (OK--it's not a Botswana adventure, but it's still good.)
What called us back to Botswana was that it seemed like we were back to the old Africa of tented camps and Hemingway.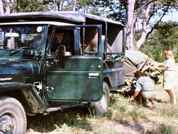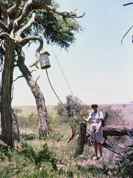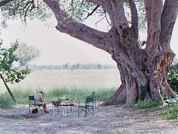 I guess it's way to personal and too long a story to tell of the tragic saga of an aborted visit in 92 when Ralph's Tri-pacer lost power and crashed in the Okavango... when we saw Jack's camp in the Makgadigadi Pan.... before Ralph made it into Jack's Camp in memory of this father. We've been back again to see Ralph well and running Jack's Camp, and, if possible, he's even more enthusiastic about Botswana and its Makgadigadi Pan's history and wildlife.
We encourage you to visit and experience for yourselves the treats and surprises they have in store for you at Jack's Camp... although we have to warn you it's gotten a bit expensive....
Uncharted Africa has become a partner of an African travel company called Natural Selection Travel.  You can see more about Jack's Camp and others on their partner page if you want to check it out.

Are You Ready for Your Botswana Adventure?
There are tons of sites that will give you all the facts and figures and sell you tours. We just want to get you familiar with Botswana, and get you excited about traveling there or anywhere.
So you're ready to go, but exactly where is Botswana you ask.... you know it's in Africa... Southern Africa to be exact. And what does it look like? It's dominated by the Kalahari Desert, the Okavango Delta and the Limpopo River. It's just north of South Africa and sandwiched between Namibia to the west and Zimbabwe to the east.. with Zambia to the north. Well, here let me show you...
View Larger Map
Search For A Way To Visit Botswana
There is a dizzying array of wildlife lodges and camps. Botswana is not an economy destination... but it will be worth it.
Choose the lodge or camp or safari company that best fits your budget... trust that any experience will be wonderful... and be prepared for serendipity. Grab whatever Botswana adventure is thrown your way.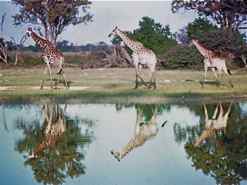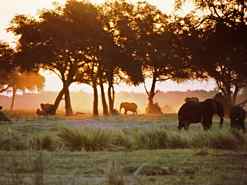 Happy travels... even if you don't travel the world... just remember that life is a journey... embrace and enjoy it! Judy and Mark
Curious about what else we've written about?  Search our site for a destination or travel tip.

But... We'd love to have you share this page or comment on it…
Thanks, Judy and Mark

International Travel Health Tips  International Travel Health Vaccinations
Is the Water Safe?  Do You Need Malaria Pills?  Pepto-Bismol for Travel Health
Carry-on-Packing Tips  Basic Packing List  Custom Tour Planning List
Go from Botswana Adventure to MouseToursTravels Home Page