Timbuktu or Dogon Country?
COVID slowed us down for a couple of years, and now a few health issues challenge us.  We're still traveling if not writing about it quite so much. Our goal in 2022 was get to all seven continents in one year... and we did it.

Going forward health issues may not allow us to travel.  No one can take away those memories though.  We hope all of you are well and staying safe... and that you find some inspiration here for YOUR future travels. 

Yes.... Timbuktu really IS a place... and it's quite an historic one.
We thought we wanted to go to Timbuktu... What traveler hasn't wanted to get there.
I mean it IS something you're heard about forever isn't it?
It's been in the news for all the wrong reasons recently, but this was years ago...

So we went to Mali.... That's where it is... In Mali, West Africa.

But we discovered a dilemma once we arrived.
Call us crazy (lots of our friends DO), but we went to Mali with no firm plans or reservations...
We Went BEFORE The INTERNET!
Yes, it's true; there hasn't always been the World Wide Web. The internet has made travel so much easier. And information on visas and safety is more available... check on everything.  But back then...

We had to call the Embassy of Mali and have them send an application form..., and we had to send our passports through the mail.
Mali has as many visa requirements as anywhere, so checking their Embassy site will give you a good idea what to expect anywhere in the world.
You need:
     A valid passport
     Two (2) recent passport size photos (glued on the application forms)
     Two (2) completed application forms
     A copy of an airline itinerary or a flight ticket
     A copy of the yellow fever certificate
     A copy of hotel reservation
     The appropriate fee ($100 for US citizens)
But as it turned out, the requirements weren't quite so strict back then... We didn't have to have a hotel reservation, and maybe that wasn't so good. We got our visa..., but we went without any real plans, and that was our problem.
We didn't get to Timbuktu because we had to choose between that and Dogon country.
We Chose Dogon Country

When we got to the capital of Bamako, we found the government travel service and talked to them about getting to Timbuktu. We found that the (then) weekly flight to Timbuktu had been canceled. We could drive to Timbuktu up one side of the Niger River, or we could go to Mopti and the Dogon country.
Since there was so much culturally in Djenne, Mopti, and the Dogon region, we went for that, and with much reluctance, we missed Tombouctou as it is known there.
We Got A Good Driver

We arranged for a car and driver. We were very careful to ask for a good driver.
And he was. He was careful and took good care of us....
But he had never been out of the capital city of Bamako. That made for an adventure!
One tip here is to be careful what you ask for and how you phrase it. Our driver was safe and kind, but he was as much of a tourist as we were.
We drove to Djenne, arriving in the early evening to see the Grand Mosque which is the largest mud brick mosque in the world and a World Heritage site.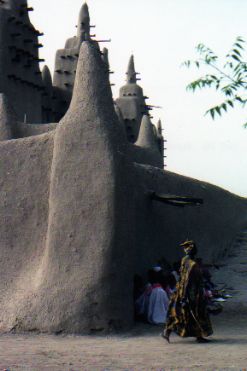 Then we went to Mopti to spend the night. Mopti is known as the "Venice of Mali" because it is located between the Niger and Bani Rivers.
In the market, we saw the Tuaregs, the blue men of the Sahara. Their caravans had brought salt slabs from the Sahara Desert to the Mopti riverside to sell.
The ladies in the market were beautiful in their colorful dresses.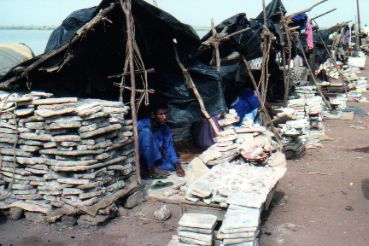 ---
On To Dogon Country

We drove on into Bandiagara and Sangha in Dogon country.
Just outside our hotel in Sangha, we were lucky to see traditional dancers.... they were putting on a show for a visiting dignitary.
The next day we hiked down the Bandiagara escarpment. Villages cling to the cliffs their typical granaries and distinctive houses.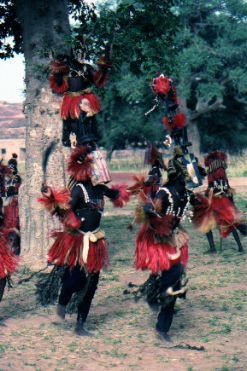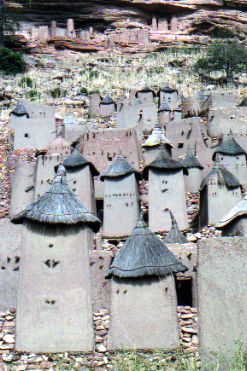 And it was all worth it, but we still regret that we didn't get across the Niger River to Timbuktu.
Travel Tips For Getting To Timbuktu?
First of all we have to say... check travel advisories.  There has been unrest in Mali since we were there, and you want to be sure it will be safe.

This is a destination you need to plan for unless you have lots of time to wait around. There are regular flights from Bamako, the capital, and from Mopti, but they go only once to three times a week. Schedules change often, and flights may be erratic or canceled. You could go by boat from Bamako or Mopti but this will depend on the water level in the Niger River. You can also get a car and driver to take you up the other side of the Niger River from Mopti, but the track is rough. We have heard that there is bus service. Check ahead for any of these options and make your plans before you go. And even then, be flexible.
A government tourist office or travel service is a good place to check if you arrive in a developing country without plans.
And to repeat that tip about our driver.... Be careful what you ask for. We asked for a good driver... and he was... and we've laughed about our adventures with him and the wrong turns we made. Maybe what we should have asked for was an experienced driver, but then we probably wouldn't have had to buy him the t-shirt!
Trust me, we hope things settle down in the region and we can get back to Mali some day and see that fabled city. Timbuktu should be on every travelers brag list!
Happy travels... even if you don't travel the world... just remember that life is a journey... embrace and enjoy it! Judy and Mark
Curious about what else we've written about?  Search our site for a destination or travel tip.

But... We'd love to have you share this page or comment on it…
Thanks, Judy and Mark