Your Travel Tips
Please Share Them and Help Us All!
COVID slowed us down for a couple of years, and now a few health issues challenge us.  We're still traveling if not writing about it quite so much. Our goal in 2022 was get to all seven continents in one year... and we did it.

Going forward health issues may not allow us to travel.  No one can take away those memories though.  We hope all of you are well and staying safe... and that you find some inspiration here for YOUR future travels. 

Your travel tips are welcome!
Reader travel tips add so much.
We all have different travel styles...
What works for us may be different than what works for you.

Browse our site and the reader tips below...
Then please add to them.

We started receiving your travel tips through our Contact Us page, but this is easier...


An Easy Way to Share Your Travel Tips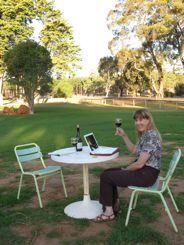 You contacted us saying "You should tell your readers this..."
...or... "This is the credit card I carry..."
...or... "I pack this..."
The truth is, we can't think of everything. Some of your tips are for things we already do, cards we already carry, but we haven't mentioned those tips yet.
So we wanted to make it easier to help us out, we're asking you to sit right down at your computer and Share Your Tips Here. 
That link will get you right to the form to start writing!
We've Collect Tips Anywhere We Can Get Them

Once when we were in Lahore, Pakistan we happened to meet an older traveler having tea with the director of the Kipling Museum. We were invited to join them.
John was driving from England to the south of India. He had been making that trip once every two years since he retired. In the alternate years, he made the trip north from India back to England.
We called him John the Harvard Vagabond. (Yes, he was from England, but he had gone to Harvard.... part of a great story for later.)
He had many words of advice and travel tips....

Travel Tips From John The Harvard Vagabond
Always find your hotel by about 4 or 5 o'clock... but for sure before dark.

The times we've had the most problems finding a hotel were when we didn't heed that advice. We never kept in touch with our teatime friend, but we have quoted him on many occasions when we're driving down a lonely back road hoping a hotel would show up around the next bend.
Always carry some food and water in the car.... you just never know when you won't be able to find a restaurant.
Always keep the gas tank more than half full. It's just easier than worrying that you'll never find another gas station in time... or that your credit card might not work!

Always ask to see the room before you take it.
People are happy to accommodate this request, and we've found they are not offended if you say that the room is not quite right and you would like to keep looking.

We read many travel magazines, and reader travel tips in them often give us the best ideas from the whole magazine.
We have pages where you can write about your travel stories,
...and tell us about your recent travels, but we wanted a place for your travel tips.... and we're serious...
We want you to share them!  Just a small request... 
We can't really publish a tip with only a couple of words, so write a little something about your tip.  If we get many one or two word tips, we may try to combine them... but in the meantime, see what others have written below.

Share Your Travel Tips
Your travel tips are just as important as ours... we can't think of everything. So please do share your travel tips with us and our readers.
What Other Visitors Have Said
Click below to see travel tips from other visitors to this page...

Now wasn't that simple? We all thank you!
Find a few more travel tips at World Travel Options.  We shared a travel story with this Aussie who loves travel as much as we do.

Happy travels... even if you don't travel the world... just remember that life is a journey... embrace and enjoy it! Judy and Mark
Curious about what else we've written about?  Search our site for a destination or travel tip.

But... We'd love to have you share this page or comment on it…
Thanks, Judy and Mark

Go to International Travel Tips l Europe Travel Tips
Hotel and B&B Tips l Packing Lists and Tips
Go from Your Travel Tips to MouseToursTravels Home Page