Our International Travel Tips

A Potpourri of Travel Tips
We've Lived It, Learn From Our Adventures
COVID slowed us down for a couple of years, and now a few health issues challenge us.  We're still traveling if not writing about it quite so much. Our goal in 2022 was get to all seven continents in one year... and we did it.

Going forward health issues may not allow us to travel.  No one can take away those memories though.  We hope all of you are well and staying safe... and that you find some inspiration here for YOUR future travels. 

Don't all travel sites have international travel tips?  Yes they do... and we've read them too...  MouseTours started as a way for us to share... share our international travel tips and write about our travels. 

Well, the name MouseTours really started as a family joke; we've told you about that elsewhere... but the website is serious (mostly), and we think we have good tips for you.  The whole endeavor has grown out of our love of world travels, and it keeps on growing! 

It's a fun way to share our adventures....

....And it helps pay for them to thanks to SBI.

More of you are finding us and reading our travel tips every day...

...and we thank you for that.
We get a kick out of writing all of this...  We relive our trips, look at pictures again.

Updating and Adding Photos to Inspire You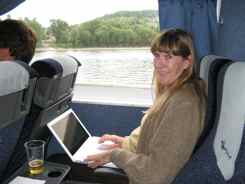 We still haven't gotten around to scanning our photos in from the pre-digital age, so we apologize that not all of the pages have the photos that we hope to get on them...
Still there is good information, so please bear with us as we continue to add more photos and update the pages.

So travel along with us. Laugh at our mistakes and learn from them.
It's like we said on our homepage...
We hope our travel adventures and the international travel tips we share will inspire you to take your dream trip.
Some of these tips will be philosophical too... that goes along with our motto on our footer....
We believe that travel promotes understanding and understanding promotes peace. We feel we are ambassadors when we travel.... and you will be too.
Links To Our Pages By Category
We'll try to keep the tips grouped in categories so you can find the international travel tips that you need at the moment.
If you're looking for a specific topic, it might be faster and easier to use the search function to search our site.  (You'll find that off to the right and at the bottom of the page.) 
Our little site has grown so much that sometimes we need to search our own website for a page! That's a wealth of world travel tips and information for you!!
Trip Planning

We always gather brochures and check websites when we're planning our trips. Here's a good place to get ideas...
Special Interest Vacations Around the World - Order FREE Travel Brochure!

What Kind of Vacation?
Eco-Travel

Passports and Visas and Documents
Our page on Travel Documents - What You Need To Know really will give you all the information on passports and visas. We cover U.S. Passport Cards.
And for our foreign visitors, we also cover what you need to do about getting a U.S. Travel Authorization.
Flight Tips
Packing Tips and Luggage Options
Airports and Airport Security Tips

Budget Travel Tips

Hotels and Other Accommodation Tips

Health Tips

Safety Tips

International Travel Tips for Drivers
International Destination Highlights

U.S. and North American Destination Highlights

Miscellaneous International Travel Tips

We hope you enjoy all of these international travel tips. More than that... we hope you've found several that have helped and inspired you.

Happy travels... even if you don't travel the world... just remember that life is a journey... embrace and enjoy it! Judy and Mark
Curious about what else we've written about?  Search our site for a destination or travel tip.

But... We'd love to have you share this page or comment on it…
Thanks, Judy and Mark

The TravelArticleADay Backstory
Go from International Travel Tips to MouseToursTravels Home Page