Travel Money Savers
Tips To Help Keep Costs Down
COVID slowed us down for a couple of years, and now a few health issues challenge us.  We're still traveling if not writing about it quite so much. Our goal in 2022 was get to all seven continents in one year... and we did it.

Going forward health issues may not allow us to travel.  No one can take away those memories though.  We hope all of you are well and staying safe... and that you find some inspiration here for YOUR future travels. 

You need to think up all kinds of travel money savers if you want to be a frugal traveler.

You could make a game of thinking about all the little things you can do to save money while you're traveling.
Our philosophy is that if you save money on some things that are not so important to you, you can travel more in the future...
We're past backpacking and staying only in hostels, but we don't mind cheap hotels and picnics sometimes!



Travel Money Savers For Meals

Breakfast
We've covered this before, but let's go over it again.
In many places, your breakfast will be included.  No need to think about it if that's the case.  Even some American hotels include breakfast now.
If your hotel doesn't include breakfast, and you'll have to buy it yourself, you have a couple of options...
Have Breakfast In Your Room

You could stop at a store the night before and get some fruit and yogurt, bread or pastries.
A lot of hotels and bed-and-breakfasts have coffee or tea pots in them now, so with a few groceries, you'll be all set for a frugal breakfast. 
We always think it's a fun part of travel to go to a grocery store just to see what's available.
I even take extra instant coffee so I can have some in the room because I just love my coffee in the morning... even if breakfast is included!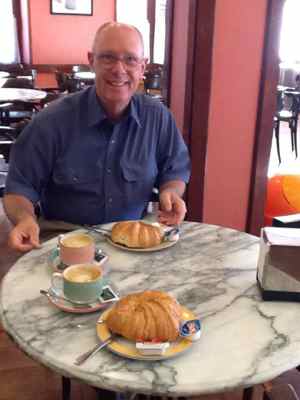 Find A Little Coffee Shop

There is just no way I want to pay for some of those breakfast buffets that hotels offer. 
I can't eat that much in the morning...
So sometimes we venture out on the street and find a little local place for coffee and a croissant.
And besides, it's fun to try cafe con leche, or cafe au lait or cappuccino in the morning...
And rubbing elbows with locals even at breakfast makes you feel like you're traveling.


Lunch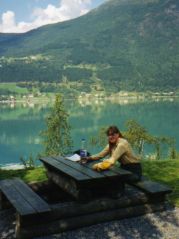 Seems like we're always on the go at lunch time, so we usually just make do with a salad or a sandwich...
Or a picnic. We do this if we've rented a car and we can find a nice spot, but sometimes we picnic in cities too.  You can always find a spot to have some cheese and bread.

But one thing to remember is that if you want a nice meal at a nice restaurant...
...you eat your big meal at lunch when prices are cheaper.  Sometimes you have nearly the same menu. 
In some countries, the mid-day meal IS the big meal.
Dinner
I do have to warn you to remember that we're not foodies... still we like a nice meal.  We forgo the famous restaurants for little local places.  We usually are more than satisfied with our meal.
You can always picnic for dinner too... especially if you've had a big meal in the middle of the day.

Cocktails Anyone?

Buy Your Own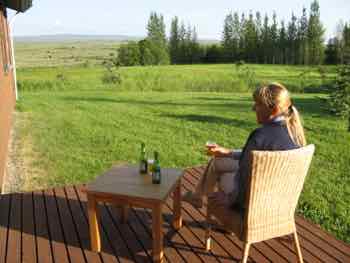 Beer from the store was cheaper on our cabin deck in Iceland. Nice view too.
Iceland was expensive, so we bought beer at the store and enjoyed it on the deck of our cabin... nice view over Geysir Hot Springs area.  Believe me this was a real travel money saver!

Buy beer, wine or alcohol at local stores and have your cocktails on your hotel room balcony, or on a beach, or in a park. You can buy at duty free in some countries as you enter the country. 
Once you're traveling, you may be able to find it at grocery stores...
But in some states in the US and in some counties abroad, you might have to look for your cocktails at state run stores that sell alcohol.

If you're in a public place, remember to check to see if drinking is allowed.
Drink Local Brews or Wines

If you want to have beer or wine with your dinner, ask for local brews or wines. They'll be cheaper than imported and big name items.
We love learning about all the different grapes that wine is made from around the world, and there are many counties that are justifiably proud of their local beers.

Saving On Transportation
Transportation Within Cities

It's almost always cheaper to take public transportation than it is to take a taxi.
Having said that... do the math.  If you are traveling with a small group, you might do OK with a taxi and get there faster.

Metro Passes

Look into metro passes. Many cities have one, three, and seven day passes that could be real money savers if you plan to use the buses, subways, and trams a lot.
Always do the math though to make sure you will use them enough to make this worthwhile.
Do your research ahead of your travels... some international rail and travel cards must be purchased before you arrive in a country.
Local Bus Lines Can Be A Tour

Take a local bus line... some can substitute for an expensive sightseeing tour.
Many cities have buses that pass by all the big tourist sites. Ask about them at the tourist office.
Traveling Cross Country

If you're traveling cross country, consider taking an overnight train or flight.
It could be cheaper than a daytime flight or train, and you will save money by not needing a room for the night.
Sure the "red-eye" flight might be a little uncomfortable, but think of how much that hotel room would cost.
If it's an overnight train you're taking, you can buy a sleeper berth for a lot cheaper than a hotel room.
We've done overnight trains in Russia and China and it was fun AND economical.
We've taking our fair share of red-eye flights too... but mostly because that made the connections we needed.
The downside of this is, of course, you are much more apt to arrive feeling more tired than you would with a good nights sleep in a bed.  Weigh the options on this carefully.

Visitor Center For Travel Money Savers

Stop at a local visitors center.
They can tell you about local travel money savers.... tell you if there are free days at museums and give you information on city passes.
See If They Have Discount Coupons

The visitor's center might have coupons for discounts; they'll at least have brochures and free maps.
Check with these visitors centers online before your trip to see if there are things you should purchase before you leave.
Consider Museum Passes or City Passes

A museum pass can be a travel money saver AND save you time.
You won't have to waste valuable vacation time standing in line, and sometimes, time is money.
If a museum pass won't be a good value for you, you can call or e-mail most popular museums for a reservation. You'll get an appointment for an entry time and walk right past those lines.
Planning for those travel money savers along with all the rest of your travel plans might just let you keep on traveling even in tight economic times.
Happy travels... even if you don't travel the world... just remember that life is a journey... embrace and enjoy it! Judy and Mark
Curious about what else we've written about?  Search our site for a destination or travel tip.

But... We'd love to have you share this page or comment on it…
Thanks, Judy and Mark

International Travel Tips l Europe Travel Tips l Travel In America
Hotel and B&B Tips l Packing Lists
Go from Travel Money Savers to MouseToursTravels Home Page