Choosing Your Destination
Trip Planning Is Part of the Fun
COVID slowed us down for a couple of years, and now a few health issues challenge us.  We're still traveling if not writing about it quite so much. Our goal in 2022 was get to all seven continents in one year... and we did it.

Going forward health issues may not allow us to travel.  No one can take away those memories though.  We hope all of you are well and staying safe... and that you find some inspiration here for YOUR future travels. 

Choosing your destination.... Planning and anticipation are part of the fun of travel.
And of course, you need to know where you want to go before you can do any trip planning.
But wait, you say... I already KNOW where I want to go...
Well maybe you should keep on reading anyway.
You need to make sure where you want to go is really the best trip for you.
If you're already sure of your destination, you might want to just head on over to some of our other trip planning pages...


(I've got a "Navigate Our Site" box up... look for that in the right column.)
Or... maybe you're like us... choosing your destination year after year. You love traveling, and you're looking for someplace new. You could always throw darts at a map...
...take a stab at a spinning globe...
...or you can be a bit more methodical about choosing your destination. We have personally given up on the dart thing... too many holes in the wall.... (Just kidding.)
So...
What do you need to think about?
Let's get serious and list some of the questions you should be asking yourself for choosing your destination.
When is your vacation time?
Is that a set time of year that you can't change?
Summer vacation with the kids…

Do you have to bid weeks of vacation a year ahead as we do?
The time of year will play a role in choosing your destination. You probably don't want to visit Alaska in January or Antarctica in June.
January was the BEST time to visit with these King Penguins... and they were as curious about us as we were about them!

Think about the best time to go to your dream destination.
Check the web or guidebooks to see which destinations fit your vacation time of year.

How long is the vacation time?
Most Americans really don't get enough vacation time. The rest of you are luckier... and we've worked it out so we're pretty lucky with that too. The longer you have, the more options you'll have when choosing your destination. You can go further, plan for more activities... or more relaxing time.
Some people say it takes a week to unwind. Choosing a destination that offers a relaxing venue will help... a beach, a spa, a cabin on a nice quiet lake. For some people, shopping is relaxing... it wouldn't be for me.
Is there something special you want to do?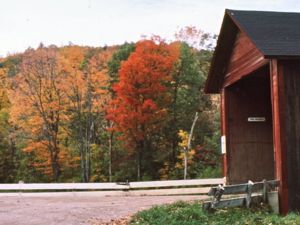 Are you planning your travels around a festival?

Do you want to take a cruise?

Always wanted to attend cooking classes?
See a special concert, museum exhibit, auto show or something like fall foliage?

How active do you want to be?
Do you want to be active... skiing or hiking?

Or do you just want to relax and regenerate at a beach or spa?

Go sightseeing, explore museums or shop?

Or do you want to have the options to go either way.
Do you have kids or other family members to consider?
If is just you… or you and your spouse, that's one thing. If it's the whole family or even a multigenerational group, it's always good to make this a family decision.
Tour Group or Independent Travel?
And speaking of others... do you want to travel on your own or join a group tour where everything is planned for you? Some destinations are best with tours... other, not so much.
Tours can make things easy.... that's why we chose one when we were crossing all those borders in Africa.
We also felt a little trapped at times on that tour... we're really used to doing things all on our own. Each trip is different, and you must choose.
The gorilla in the room…. How much will it cost?
Yes, you do need to consider what it's going to cost. If budget is not a problem… you can go to Europe and stay in castles and eat at Michelin starred restaurants every night; go to Africa and fly from one private safari camp to another; go to Asia with it's five star hotels or Australia or Antarctica!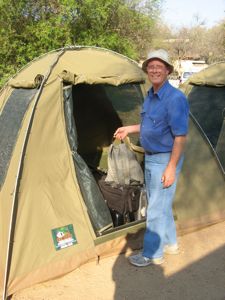 You can go to all of those places on a budget too… So look for budget alternatives that you can live with.
That's what we do...

Like that safari we just took where we REALLY camped in Kruger National Park...
...yes, I mean really camping.
You didn't think we could go to all the places we've been to any other way did you?
No… we didn't have a rich uncle… just always wanted to see the world… and found the budget way to do that.

Choosing Your Destination on a Budget?
You can travel like we do… it just takes more planning and flexibility.
Research the most economical transportation... car, train, bus or plane... or ship.

Stay in small local places instead of big glitzy resorts.

Or even (if they'll invite you) stay with friends or relatives.
Eat where the locals eat... the food can be part of the adventure.
Oh yea… we were choosing YOUR destination….
So where will it be?
I know I haven't given you any destinations to choose from.
Where would you like to go? What would you like to do?
Part of the fun of any vacation adventure is dreaming about your options, so give all these factors some thought, and get closer to choosing your destination.
This is the dreaming part of trip planning... Keep an eye on the right column for a "Navigate Our Site" box on trip planning and vacation ideas. Until that secondary navigation is there, you can search for ideas... the pages are there, and I'm working on helping you find them.
Happy travels... even if you don't travel the world... just remember that life is a journey... embrace and enjoy it! Judy and Mark
Curious about what else we've written about?  Search our site for a destination or travel tip.

But... We'd love to have you share this page or comment on it…
Thanks, Judy and Mark

Return to International Travel Tips l Europe Travel Tips
Hotel and B&B Tips l Packing Lists
Go from Choosing Your Destination to MouseToursTravels Home Page
Privacy and Legal Policy