Travel Preparation Checklist
Check Tasks Off As You Do Them
COVID slowed us down for a couple of years, and now a few health issues challenge us.  We're still traveling if not writing about it quite so much. Our goal in 2022 was get to all seven continents in one year... and we did it.

Going forward health issues may not allow us to travel.  No one can take away those memories though.  We hope all of you are well and staying safe... and that you find some inspiration here for YOUR future travels. 

So we've been encouraging you to make lists... lists like a travel preparation checklist and a packing list.
We're pretty free-form about our travels, but being prepared for the start of your trip will give you ease of mind once you're gone.

You do it for groceries and for projects around the house.
Make a list for your travel preparations too.
We thought that it would be a good idea to show you our list.
We actually have a file in the computer for each list so we can print them out before each trip... packing, planning, all of that.



In The Last Week Or Two

These are items we think you need to think about in the last week or two before departure... a travel preparation checklist.
Leaving is the exciting part... you just want to make sure you're all ready.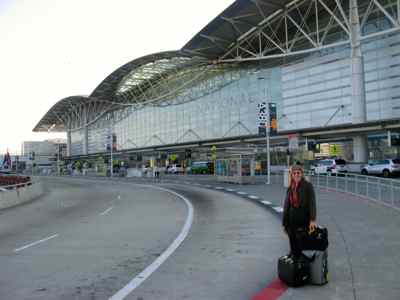 You could always start a list as soon as you begin planning your trip.
We've discussed that in the past too... the early things you need to do like research visa requirements, talk to your travel agent for complicated itineraries, make airline reservations.
If you're going to try to use frequent flier miles, you might even want to start with that... my sister made reservations for a trip to Italy 330 days ahead, so she knew she would get the dates she wanted!

This Is A List For Last Minute Details

In those last couple of weeks before you leave, you're still busy with work...
...and the kids... and social obligations...
...so a list will help you stay on track to get ready for your trip.
Use your list to check things off and get the right things ready to pack.

Here's our Travel Preparation Checklist
Copy and make it your own. Add or delete what works for you...
Call credit card companies and banks about ATMs and debit cards - tell them where you're traveling and when.
Make sure all bills are paid.

Check your available credit on cards if you think there might be a problem.
Get extra cash from the bank, tens, twenties, and hundreds.

Just in case your ATM or credit card doesn't work for some reason, cash will.
Put jewelry and valuables in a safe deposit box.
Make arrangements for pets: pet sitters or kennels and notify the veterinarian.

(We do this for long trips or when we had sick and old animals. We left permission slips for our neighbors and family to take the dogs or cats in for treatment.)
Mow lawns and water lawns and garden. You don't want the house to look unoccupied.
Get neighbors to pick up mail and newspaper (or stop the mail and the paper).
Leave keys, itinerary and photocopies of passports with trusted relatives or neighbors.
E-mail yourself important phone numbers and information - to an online account that you can access when you travel.
Make last minute reservations... rental cars

(We do this because that's how we travel.)
Pack medications and extra glasses or contacts.

Take copies of prescriptions if you have them.
Lay out the clothes from your packing list

(and pack a day or two ahead so you'll have time to get the last minute laundry done)
Get passports, visas, and all travel documents together in your travel bag...

...Double check that you have all passports, visas and travel documents in your bag!
Check electronics.... pack adaptors and converters.

Remember binoculars, camera (and batteries, memory cards or film)
Set timers for lights in the house.
Turn down the thermostat and the hot water heater.
Turn off water to the washing machine.
Power down your computer and unplug small appliances.
Make arrangements to get to the airport on time.
As much as we travel, we worry about forgetting things too.
Our list keeps us on track.
(Neither of us will ever forget the time we forgot to pack the binoculars for a bird watching trip!)

Use our list to make up a travel preparation checklist of your own.
If you're organized, getting ready to travel is less stressful.
Happy travels... even if you don't travel the world... just remember that life is a journey... embrace and enjoy it! Judy and Mark
Curious about what else we've written about?  Search our site for a destination or travel tip.

But... We'd love to have you share this page or comment on it…
Thanks, Judy and Mark

International Travel Tips l Europe Travel Tips
Hotel and B&B Tips l Packing Lists and Tips
Go from Travel Preparation Checklist to MouseToursTravels Home Page