Cuban Classic Cars For Touring Fun
COVID slowed us down for a couple of years, and now a few health issues challenge us.  We're still traveling if not writing about it quite so much. Our goal in 2022 was get to all seven continents in one year... and we did it.

Going forward health issues may not allow us to travel.  No one can take away those memories though.  We hope all of you are well and staying safe... and that you find some inspiration here for YOUR future travels. 

Cuban classic cars are just great fun.

We had hoped to go to Cuba and travel around independently, but that option is just still not available to American citizens.  

In fact, many of our friends were surprised when we told them that we had decided to go to Cuba… many of them thought you couldn't go at all now.


But you CAN go to Cuba.

American citizens still have to sign up for a "people-to-people" tour….

...and go with an authorized travel agency…

...and stay only in hotels that the US government approves of…
 

...and yes, you may have to take salsa lessons…


But that didn't seem like such a big obstacle to us once we got over the fact that that was the only way we were going to get to Cuba any time soon.


Go For The Cuban Classic Cars


There are lots of historic buildings to be seen in Havana.  And there is lots of history to be talked about… and on those people to people tours you will hear lots of Cuban history.

Since we couldn't see the country on our own, we opted just to spend 5 days in Havana.  That worked out pretty well.  Our tour was for 4 nights with 3 days of touring crammed in between. 


We Did Our Own People To People
We opted to arrive early in the morning on the first day, and leave late at night on the last day.  That gave us two full days that we COULD explore on our own… and those Cuban classic cars were part of the fun.  We took them to and from our hotel every time.
We went to Old Havana and talked to some fire fighters.  We chatted with some locals.  And our travel buddy decided to get a haircut. 
THAT caused a lot of people-to-people interaction. 
I think half the people in the neighborhood dropped by to watch!
Pick Your Ride

As we wandered around, we were amazed at just how many classic cars there were on the road. 
Near the Capitol and National Theater there were plenty…

We wandered through Old Havana to the Plaza de Armas.  At the nearby Castillo de la Real Fuerza we found a bunch more old taxis... and had our pick for our ride back to the hotel.

Even Tour Groups Take Cuban Classic Cars
Most groups will take you at least one time in the classics... Mark chose an old Buick because his dad had one...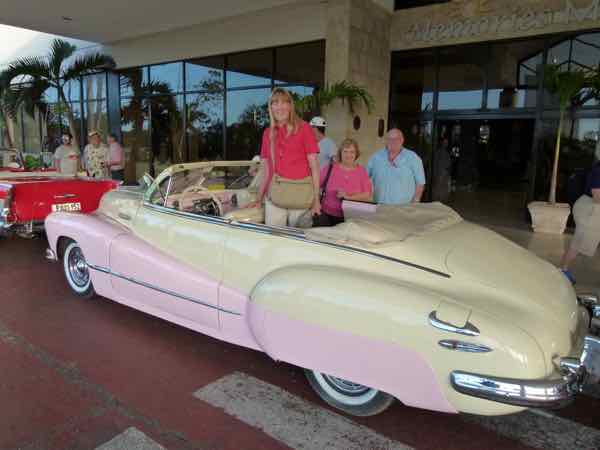 It was a hard choice because there were some pretty cool cars...

And it was great fun following and passing each other on 5th Avenue and the Malecón.

 Classic Cars Versus Regular Yellow Cabs

If you had a choice of one of these beautiful old cars or a regular cab, which would you choose?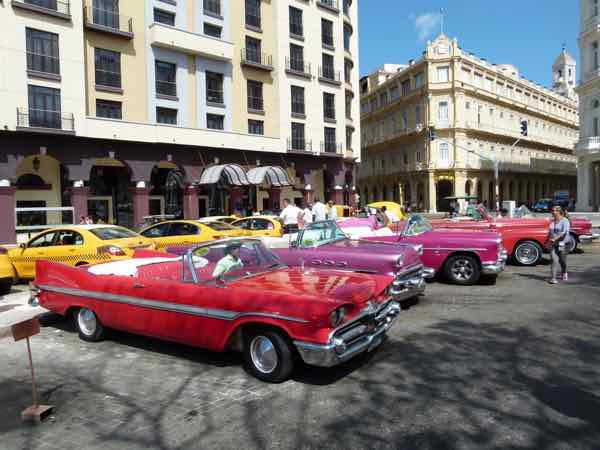 We went to dinner on our own one night.  There were six of us, so we needed two cars.  We got one classic car and one regular cab.  And you know what? 
They were the same price. 
Next time we'll make sure to get the classic! 

And no… I didn't choose that one to match my shirt… though with all the colors they are painted, you could do that!

On our return from dinner, the doorman said he couldn't get us two classic cars, but he could get us one car for six.

…BUT…

That turned out to be cool.  It was a 1964 Russian GAZ Chaika limo!  And this was the type of limo that Fidel Castro used for a while.  Not pretty, but we had fun with it.

They're Everywhere!
You don't just find the old cars in tourist areas… though of course there are more there looking for fares.

We saw old cars in the untouristy area a couple of blocks from the Capitolio where we found Joe's barber.

And not all of the cars are fixed up…. or even running.  Though they are all considered national treasures and cannot be exported.

Couldn't Get Enough Of Those Classic Cars!

We had that one full day before our late night flight out of Havana, so we found this lime green Mercury.  The lady driver had fingernails painted to match! 
And the ride back to the hotel was another Mercury just to top things off.

If you want to go to Cuba, don't let the current restrictions stop you.  They are easy enough to live with, and you do have a little freedom to do your own thing if you want to. 
And when you're doing your own thing… why not take one of those Cuban Classic Cars to get there.  Just so much fun!
We wrote a little more about those cars... especially the ones with fins that look about to take off... over on Antique Airplanes.com.

Happy travels... even if you don't travel the world... just remember that life is a journey... embrace and enjoy it! Judy and Mark
Curious about what else we've written about?  Search our site for a destination or travel tip.

But... We'd love to have you share this page or comment on it…
Thanks, Judy and Mark