African TENTED Camps?


To Sleep In?

COVID slowed us down for a couple of years, and now a few health issues challenge us.  We're still traveling if not writing about it quite so much. Our goal in 2022 was get to all seven continents in one year... and we did it.


Going forward health issues may not allow us to travel.  No one can take away those memories though.  We hope all of you are well and staying safe... and that you find some inspiration here for YOUR future travels. 

Sleep in African TENTED camps?
In the bush?
With lions and leopards...
and hyenas and hippos... and....
...and..
...elephants lurking in the night?
GO FOR IT!
Yes, I'm shouting about it...  We love African tented camps... tented camps anywhere we're looking for wildlife.  And we're pretty sure you will too.

Take a look here and see some of the camps we've stayed in...
...and remember, we don't even stay in the poshest camps!


That tent above doesn't look so bad does it?!?

Most safaris will have you staying in comfortable lodges...
...but if you're lucky
Some itineraries will include a night or two in tents. 
If you've dreamed of taking a safari, but the thought of sleeping in African tented camps has stopped you...
...Let me just tell you that this isn't your childhood camping experience.
Check out the ensuite shower and toilet facilities at the back of that tent we showed you above.  Often coffee will be delivered to your tent in the morning!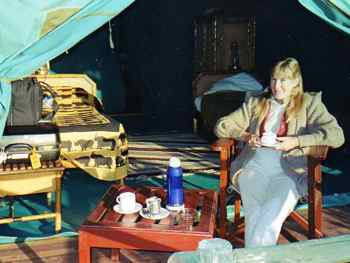 Tented camps in Africa can range from hotels that just happen to be canvas... to a few tents in a camp in a national park... to a mobile camping safari. 

What To Expect At Larger Tented Camps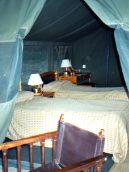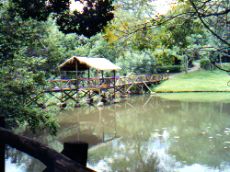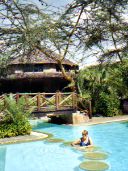 You'll share the camp with lots of other people in the larger camps.... they're like safari lodges except that the rooms are tents to give you that "old time" safari feeling.
These facilities will have all of the amenities of a hotel or lodge... There will be a reception area, a dining room, a bar and a pool. You'll probably have wooden or paved walkways from one area to another.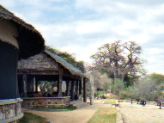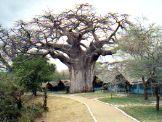 Smaller Tented Camps Are More Intimate

Smaller permanent camps may be only 4-10 tents.
There will probably be one common area that serves as the dining area, bar and maybe game viewing over a water hole.
Paths to and from your tent will most likely just be dirt paths lined with stones.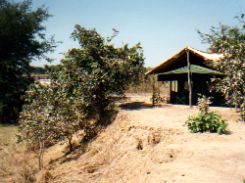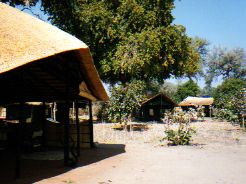 The tents are large and roomy. They have real beds in them.
The bathrooms are attached or very close to the tents and they are private... yours alone.
You will have a shower with hot water... sometimes from solar panels, so it may not be hot in the morning, but you'll be up early looking for animals and that shower will feel good at the end of a dusty morning drive.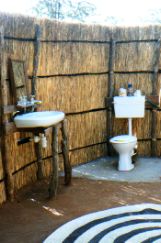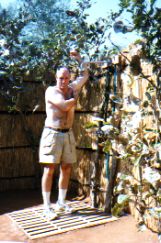 You didn't think we'd really show you the real shower experience did you? This is a family site.
You may need an escort to get from the dining area and lounge to your tent because some camps are truly in the middle of the bush and the animals. Others are fenced.... to keep you in... not to keep the animals out. Though I have to tell you monkeys and baboons don't really pay attention to fences.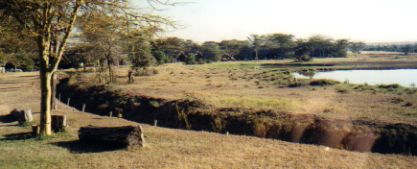 Do You Really Have Hot Water and Lights?

In larger camps, you may have electricity in your tent.  In smaller camps, you may have solar lights or kerosene lanterns.  Remember, some of those camps are very remote.

Don't expect a bath... showers use less water.  In smaller African tented camps, they may heat water right outside your tent in a metal drum over a wood fire... or they may heat it in a central location and deliver it to a "bucket shower".
One thing we will say is that you should conserve water, no matter what kind of shower facilities you have.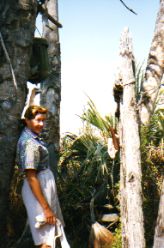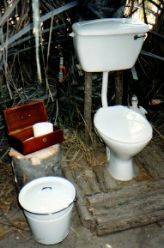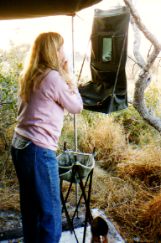 Even in really remote camps where you have to fly in, you may have tents with Persian carpets and full size beds, there will be sundowners in stunningly beautiful locations, and the dining will be great whether in a tent or al fresco.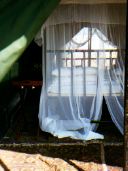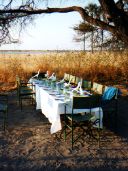 Mobile Safaris

We've only taken one mobile safari we can tell you about. Your tour operator will move the tents along with you. They will set up the tents and see to your every need.
Toilet and shower tents may be attached to your tent, or they may be separate. 

It may seem a little more adventurous, but they will make it every bit as pleasant.
For A More Basic Experience

Safaris where you participate in the cooking and setting up your own tents can be very economical.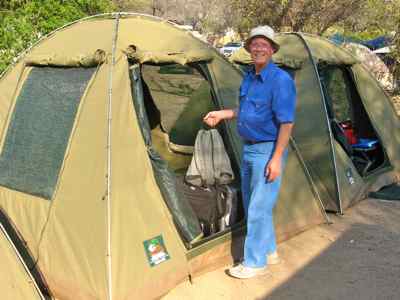 We've done safaris where we have camped in national parks like Kruger in South Africa or Etosha in Namibia. 
Camping in locations like that will entail a walk to ablution blocks... central buildings for toilets and showers.  You'll be sleeping on cots in sleeping bags.  And you should bring your own flashlights for use inside your little tent.  But you will save money!


Decide What You Want and Can Afford

Do you want a luxury tented camp or something simple that really lets you feel you're in the bush?

Do you want to visit fixed camps or go with a mobile safari?

Do you need ensuite toilets and showers or are you OK with shared facilities or ablution blocks?
African tented camps give you the feeling of being an explorer.... you will hear the lions roaring, the hyaenas "woo-upp, woo-upp" and the "ah, ah, ah" of the hippos as they come out of the water at night to feed.
If you hear something thrashing around close by in the middle of the night, get up and sneak a peak... it could be something small that just sounds big, or it could be an elephant.
We've been in camps where elephants did wander in. If that happens, the staff will be aware of it long before you are. You'll be safe in your tent, and they'll make sure you're safe if you leave your tent. A wild elephant in camp is exciting, but nothing to mess around with!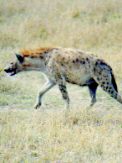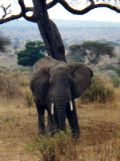 I've only shown you some of the tented camps we've stayed in. There are more added all the time, and from what we've read they are all wonderful..... so go ahead... book that safari... and celebrate if a few of your nights will be in African tented camps!
Happy travels... even if you don't travel the world... just remember that life is a journey... embrace and enjoy it! Judy and Mark
Curious about what else we've written about?  Search our site for a destination or travel tip.

But... We'd love to have you share this page or comment on it…
Thanks, Judy and Mark

Worldwide Tented Camps
Custom Tour Planning List  Custom Tour Planning
Malaria Pills?  Do I need SHOTS?  Is the Water Safe?
Go from African Tented Camps to MouseToursTravels Home Page