2011 Travels
New Countries and Old Favorites
COVID slowed us down for a couple of years, and now a few health issues challenge us.  We're still traveling if not writing about it quite so much. Our goal in 2022 was get to all seven continents in one year... and we did it.

Going forward health issues may not allow us to travel.  No one can take away those memories though.  We hope all of you are well and staying safe... and that you find some inspiration here for YOUR future travels. 

Our 2011 travels took us to many new places.
As we close in on that magic number of 100 counties visited, we try to get to one or two new counties a year.  We did pretty well this year adding six new countries to out list!
But we didn't go to see them just because they were new countries...
...well, maybe that was a little bit of it...
...but we had good reasons for visiting each one...
Panama to see the canal and birds.... especially those quetzals.

Romania and Bulgaria because we have a friend from Bulgaria who told us how great it was to travel there...

South Africa, Swaziland, Mozambique and Lesotho because there were all those new little countries to see inside and near South Africa... and well... because Africa calls.
Our 2011 travels took us to some great domestic destinations. We visited Arizona in March... Phoenix for Spring Training Baseball, Casa Grande for an air show, and Tucson for an air museum. We love domestic trips, and you can't beat the desert in winter.
There were also some great wine tasting weekends up and down California; wine making weekends too. And there was a visit to a travel buddy in Texas.
...Any travel is good travel...
...But since I was saying that we're working on new counties, it's the international 2011 travels that we're going to tell you about in more detail.
So here are our international 2011 travels...
APRIL: Panama
I keep saying we drove the Panama Canal.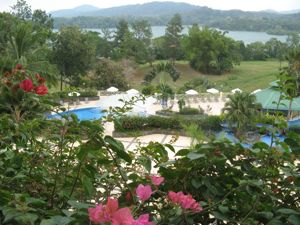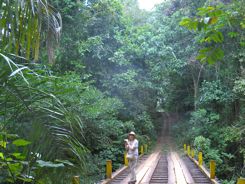 You can't really drive along the whole canal, but we did stay at a resort in Gamboa which was right on the canal, and we spent a couple of days driving back and forth to do some birdwatching on "Pipeline Road". See more on that at Panama Canal Drive.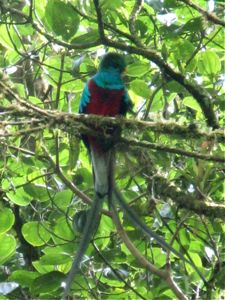 Then we drove nearly to the Costa Rican border...
...and stayed in a great lodge on the Volcan Baru to look for Resplendent Quetzals...
and found 'em.
First time we've ridden a tractor for 30 minutes to get to our room!
We felt it was very safe to drive in and prices were reasonable.

Check it out at Quetzales in Panama.
MAY: Romania and Bulgaria
We landed in Bucharest and explored the capital for a couple of days then rented a car and did a circle starting in the mountain resort town of Sinaia.
Had to visit Bran to check out the Dracula legend... there is the castle there, but Dracula rarely stayed there.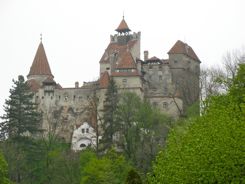 Spent a night in Sighisoara though, that's where Vlad the Impaler was born.
Then it was up to the Moldavia area (not the country of Moldova... I still can't keep the names straight, but I know where we were!)
...OK, OK... we went there to see the painted churches... painted on the outside as well as the inside... amazing.... and graphic. With all the nasty things that were depicted happening to sinners, I think we'll be good!
Spent a night in the Danube Delta... and when we found a houseboat that was playing music, who could resist dancing... a Danube Waltz?
Then it was on to the Black Sea.
We crossed into Bulgaria and stayed in a cute old walled island town in the Black Sea called Nesebur. Then it was inland to see some Thracian tombs...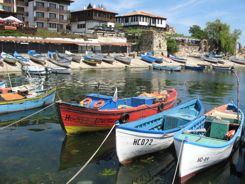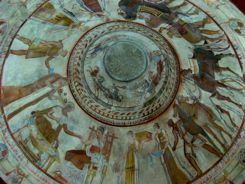 ...and a rambling old castle in Tsarevets.
Back to Bucharest to see an air museum and catch a flight home.There has been lots of development in the 20 years since the communist rulers were done away with. There is so much to see that we wished we had more time.
We were surprised with how easy it was to travel in both countries. The older folks spoke Russian as their second language, but we had no problems finding people to help us in English.
SEPTEMBER: South Africa...
and Swaziland, Mozambique and Lesotho
This was as much a cultural adventure as it was a safari. We joined a small tour for the first week. (For tours we usually make them custom tours but this one was a small enough group that it was OK… and great since we joined it at the last minute to really round out our 2011 travels.)
Our host, Adrian, was a great guide, and he did facilitate all the border crossings which was what I was worried about.
We landed in Durban and spent a couple of days recuperating. (5 hours to New York; 15.5 hours New York to Johannesburg; 1 hour to Durban... plus a few hours of connection times!)
Swaziland
The first night of the tour was in Swaziland.... at Hlane Royal National Park where we saw 12 White Rhinos all at one time around the water hole. Giraffe, Kudu, Impala, and Warthogs too. And we heard lions all night long... how cool is that!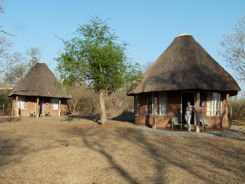 Kruger National Park, South Africa
The next day we drove on into Kruger National Park. Kruger is an adventure with all the animals you want to see. And it can be an affordable safari adventure! The fact that we camped there for three days proved that.
What's there? We saw the Big 5... Lions, Leopards, Elephants, Cape Buffalo and Rhinos.... both black and white. Also saw a good representation of all other critters... zebra, wildebeest, giraffe, impala, and little hoofed critters. Took day drives and night drives and saw good stuff on all.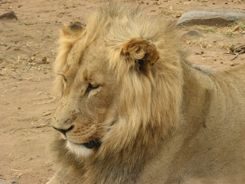 Mozambique
Then it was on to Mozambique.
Just getting across the border was an adventure there!
Spent a couple of nights in the capital of Maputo... which is still recovering from years and years of civil war... and definitely has a "funky vibe" as our tour leader and new friend Adrian describes it.
Loved the central market and all the old and new buildings jumbled together.
South Africa and Lesotho
Drakensberg Mountains and the Sani Pass
Back into South Africa and one last night at a private game reserve, then Mark and I rented a car and drove to Underberg in the Drakensberg Mountains.
Found a great little hotel, the Hatchery, where we stayed for 4 days! Unheard of for us, but the food and wine were great, the hosts were so nice, and the setting was terrific.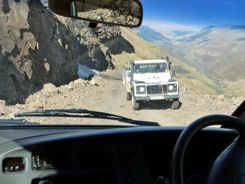 Our goal there was to join a day drive up the Sani Pass to the country of Lesotho. That was a 4x4 driving adventure on a steep, mountain road up the backside of the Drakensbergs.
Our guide, Steve, was a character that gave new meaning to adventurous spirit... but he got us there safely. Had lunch and a beer at the "Highest Pub in Africa". 10,000 feet high! It was cold, but we had beautiful clear weather.
The next day we took an all day hike to find some Bushman rock art...
Check out how many passport stamps we got... just at the end of our 2011 travels... Collecting Passport Stamps.
Finishing Up Our 2011 Travels

We went into grape picking and wine making mode as soon as we got home at the end of September, and holidays at home with friends and family...
And maybe time to get more pages up about these 2011 travels.
And time to plan next year's adventures... we have some exciting ideas for that already... maybe the Trans Siberian Railroad? Feel free to comment on these 2011 Travels below... and send travel suggestions! Like us on Facebook too if you want to keep up with us.
Happy travels... even if you don't travel the world... just remember that life is a journey... embrace and enjoy it! Judy and Mark
Curious about what else we've written about?  Search our site for a destination or travel tip.

But... We'd love to have you share this page or comment on it…
Thanks, Judy and Mark