Quetzals In Panama
Head For The Cloud Forest In The West
COVID slowed us down for a couple of years, and now a few health issues challenge us.  We're still traveling if not writing about it quite so much. Our goal in 2022 was get to all seven continents in one year... and we did it.

Going forward health issues may not allow us to travel.  No one can take away those memories though.  We hope all of you are well and staying safe... and that you find some inspiration here for YOUR future travels. 

"Quetzals in Panama?
I thought you had to go to Costa Rica to see them. --Craig"
Roger Tory Peterson Called the Resplendent Quetzal "The most spectacular bird in the New World".

Every birdwatcher I know has Resplendent Quetzal near the top of their birding wish list.
And why not?
You really won't see a more spectacular bird than the male in full breeding plumage....
All red, iridescent green/blue and white with those long tail feathers floating behind.

But... You're Not A Birdwatcher?
Keep reading.... The experience of staying in the jungle and seeing jungle critters is worth it even if you're not a birdwatcher!
Yes, Quetzals In Panama
The country that gets most of the publicity for Resplendent Quetzals is Costa Rica and the Monteverde Cloud Forest. And it's the national bird of Guatemala, but we found quetzals in Panama in Volcan Baru National Park in Chiriqui Provence. You are nearly on the Costa Rican border when you're there... as long as there is a cloud forest in their range, the quetzals do not know borders.
Just so we don't confuse or upset anyone, there are other species of quetzals in the tropical rain forests of Central and South America. We saw two species in Peru on a recent trip. It's the Resplendent Quetzal with the long tail feathers we want to help you find here. Remember, they only have those long tail feathers during breeding season, so you have to plan your trip at the right time of year.
To Hike or Not To Hike?
As we planned our trip, we read about a trail called El Sendero de los Quetzales...... The Quetzal Trail. It links the towns of Guadalupe which is near Cerro Punta on the west side of the volcano with the town of Boquete which is on its east. The trail skirts the Baru Volcano and can be hiked in either direction. Information we found indicated that hiking the 6 miles (9.6 kms) of this path may take from 4-7 hours.
Keep in mind that you will be hiking at altitude... quetzals usually inhabit forests above 5000 feet (1500 m). El Sendero de los Quetzales goes from about 6000 - 8000 feet (1800 - 2500 meters). And keep in mind that it could be wet.... you're in a cloud forest! We would have made the hike if we had to, but we found it wasn't necessary for us....
Quetzals in Panama at Los Quetzales Lodge
You could also look for quetzals in Panama the way we did it.... see it from your room.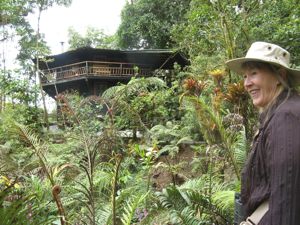 We drove to Cerro Punta and got one of the cabanas at Los Quetzales Lodge.
You could get a room at the Lodge in the little town of Cerro Punta, and they will take you up into the forest to look for birds...but...
They told us that they often see quetzals near the cabanas that are situated up in the forest....
Well, we couldn't resist that!


Don't be put off by the fact that there is no power. The cabana are very comfortable. There are plenty of gas and battery lanterns, and lots of hot water. We ordered meals from the restaurant... took dinner with us the first night, and our guide delivered dinner the second night. And it was so much fun being alone in the jungle.
The cabana we stayed in was a 30 minute tractor ride steeply uphill into the middle of the jungle... OK the cloud forest. Then a short hike up hill.
We had read that you could reach the cabanas with 4 wheel drive.... It would have to be a pretty serious 4x4 vehicle. Honestly, now that we've been there, I wouldn't try it!

A guided walk was included with our cabana stay... and our guide found us a male and female quetzal in the first half hour.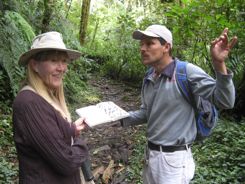 OK... so we did hike a bit...
...and the first quetzals we saw were not from our room...
but it wasn't a 4-7 hour hike!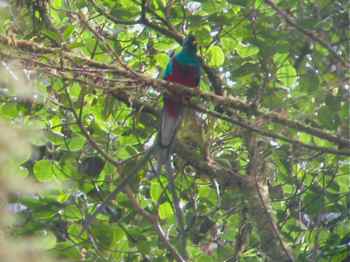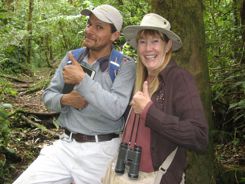 And it wasn't a fleeting glimpse.
The pair sat there for 10-15 minutes.
I only wish we had a better camera so we could have gotten better photos.


We also had a pair fly in and sit in the tree in front of our cabana at lunch time. Now this WAS from our room. Lucky? For sure.... but definitely spectacular!
There were lots of forest birds and hummingbirds around too... The hummingbird feeders are filled everyday, and there are several different species that buzz around you all day.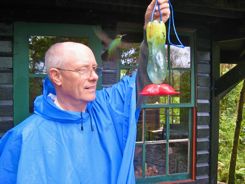 ...and little forest critters visited the cabana at night looking for bananas that are regularly put out... The lodge sent up a whole bunch that we could put out at night. The kinkajus and Cacomistle (the Central American version of a Ring-tailed cat) were not bashful.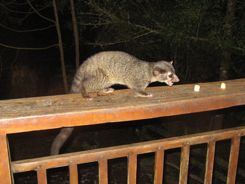 Where to Find Quetzals In Panama
You need to get to the cloud forest around Volcan Baru National Park. It's about an eight hour drive from Panama City on the Pan American Highway. The Via Panamericana is a four lane road as far as Santiago, then a two lane road the rest of the way. David is the third largest city in Panama, and that's what you're aiming for.
From David you have a couple of choices... you can go to Boquete which has several places to stay and resources for seeing quetzals, or you can do as we did and head for Cerro Punto and Los Quetzales Lodge.
It was a long drive if you go straight through, but the roads are good. The country side is pretty, and we enjoyed it. There are plenty of interesting little towns to stop at on the way if you have more time.
If you want to look for quetzals in Panama, we recommend making the effort. It's worth it just to stay in the jungle like that!
Happy travels... even if you don't travel the world... just remember that life is a journey... embrace and enjoy it! Judy and Mark
Curious about what else we've written about?  Search our site for a destination or travel tip.

But... We'd love to have you share this page or comment on it…
Thanks, Judy and Mark

Go to International Travel Tips l Europe Travel Tips
Hotel and B&B Tips l Packing Lists and Tips
Go from Quetzals in Panama to MouseToursTravels Home Page
Privacy and Legal Policy