Malaria Pills - Take Them
It's Better Than Sick!
"Thanks for the easy to read information on malaria pills
for regular travelers like me... sent me browsing all over this site!"
COVID slowed us down for a couple of years, and now a few health issues challenge us.  We're still traveling if not writing about it quite so much. Our goal in 2022 was get to all seven continents in one year... and we did it.

Going forward health issues may not allow us to travel.  No one can take away those memories though.  We hope all of you are well and staying safe... and that you find some inspiration here for YOUR future travels. 

Malaria is a disease that occurs in many areas of the world... and you don't have to be an adventure traveler to get to some of those countries.
If you're going to travel where there is the possibility of becoming infected.... take the pills!
Which pills?
We'll review those below.
There are different ones for different travel destinations.

Have you heard horror stories about some of those malaria pills?
We've heard them too, but we've taken them all and had no real problems.
Is There A Vaccine?
The short answer is... Unfortunately... Not yet.
This is a serious disease. It's worst effects are felt by the local populations because they are constantly exposed to it, but we have met travelers who have contracted this nasty disease, and it is NOT something you want to get.
What Is Malaria and How Do You Get It?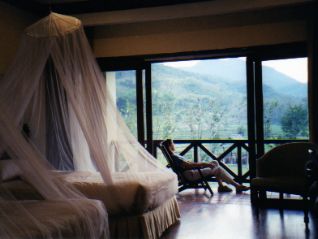 It's all about mosquito bites.
The disease is spread by mosquitos which are infected by a parasite that gets into your blood stream from the mosquito bite.... actually four different kinds of parasites which can infect humans.
The fevers and chills make you miserable, but it can also be fatal.
...So this is a travel health recommendation that you should take seriously. We've taken a variety of anti-malarial pills through the years, and we've gone through our experience with each below.
The classic symptoms that you hear about are high fevers and shaking chills. Milder cases may appear to be a flu-type illness. Either way, it should always be treated. These symptoms can occur in as little as 8 days or as long as several months after the mosquito bite.
It's ALWAYS better to try and prevent it. That's what we're trying to tell you here...
...There are precautions you can take. Check with the Center for Disease Control website on this and other mosquito borne diseases.
In all travel health issues, the CDC or your national health service is a good place to start.
If you are pregnant or you might become pregnant while you are traveling, there are some things you should know about malaria pills and pregnancy.
So What Can You Do?
Take The Pills!
If the medication is recommended don't ignore it. It's a serious problem.
There is no vaccination yet. You will have to use pills.
Some are taken daily, some weekly... be sure to take them on schedule without missing doses.
The recommended medication is different depending on where you go... and if the parasites the mosquitos carry have become resistant to one medication or another. The CDC page on preventive medications will give you the whole list along with the directions for use and side effects.  (It's along page, and it gets complicated.  Best advice is to talk to a travel medicine doctor.)

Most Commonly Prescribed Antimalarial Drugs:
We have used a variety of prescriptions through the years. Here is the list of drugs used today as listed on the CDC site. Check the link above for more details.
Atovaquone/proguanil That's a mouthful, isn't it? In the US you will see this as the brand name Malarone™. We have taken this several times and we have not noticed any side effects.
Chloroquine phosphate Available as a generic and as brand name Aralen™. This was the recommended drug the last time we went to Central America, and since it's inexpensive in its generic form, that was good.
Doxycyline This is available in generic form and many brand names. We have not used this; our travel medicine doctor has generally recommended one of the other drugs.
Mefloquine Now available as a generic and brand name Lariam™. We took this a few times years ago. Some people reported disturbing side effects with this drug. We did experience weird, vivid dreams, but that was it.
Other drugs that are sometimes prescribed are Hydroxychloroquine sulfate and Primaquine.
Avoid The Bites!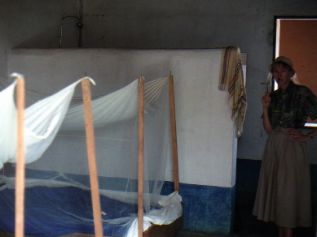 The best prevention is to avoid being bitten.
Use insect repellent. Repellents containing a high percentage of DEET seem to be the most effective at the moment.
Wear long sleeves and long pants in the evenings when mosquitos are most apt to be flying around looking for you.
You can buy clothing that has been treated to be bug resistant.  Check sporting goods stores and travel catalogs. 

Mosquito netting
... If your hotel provides a mosquito net - use it! They are not just fashion accessories.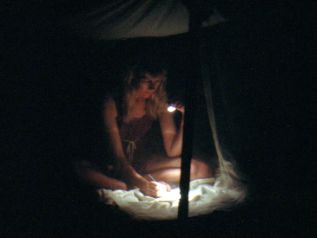 A Last Few Tips
You might want to take a flying insect spray on your trip to help clear your room of mosquitos. With today's security restrictions on liquids, a better idea might be to buy some once you've arrived; it's always fun to see stores in countries and they'll probably have what's most effective in their area.
If the hotel or lodge you are staying is has mosquito coils or spray in the room, use them... it's probably because there is a problem with those pesky... and dangerous bugs.
If you're staying in a screened or air-conditioned room, make sure the screens don't have holes in them and that no mosquitos sneak in when the door is open.
Consider treating your clothing and shoes with the insecticide permethrin. You can wash your clothes several times and they will still repel insects. You can buy permethrin at sporting goods stores. As we said above, some stores and catalogs offer clothing that has been pre-treated with permethrin.

Is There A Vaccine?
We wish we could tell you there was one. Scientists have been trying to come up with one for decades.
Late in 2011 we learned that there is a new vaccine that is in "large scale trials" in Africa... the scientists who developed it say it "shows the risk of malaria cut in half." This particular vaccine is being developed to protect children in areas where malaria is a fact of life. There is no plan to try to develop this vaccine for use in adults.
For travelers, the advice is still to take anti-malarial medication.
We're not medical experts, so if you have questions, consult your travel medicine doctor. Then, just remember what I've said before... Don't worry too much over all this.... take it seriously, take all the precautions, and you should be fine.
Just go, take your anti-malaria pills, and enjoy your trip.
Happy travels... even if you don't travel the world... just remember that life is a journey... embrace and enjoy it! Judy and Mark
Curious about what else we've written about?  Search our site for a destination or travel tip.

But... We'd love to have you share this page or comment on it…
Thanks, Judy and Mark