Visit Dental Offices.....
....Around the World
We love to travel, and 2020 was supposed to be a big travel year for us. Like the rest of you, that hasn't happened. 
We're still dreaming about travel, reading about new destinations, and making (tentative) plans for the future. We hope all of you are well and staying safe... and that you find some inspiration here for YOUR future travels.
With vaccines arriving, let's hope we can be traveling again in 2021!

Travel pictures of DENTAL OFFICES???
I'm not sure when it started....

...but somewhere in our travels we started taking pictures of the ones we stumbled across in the corners of the world we visit.
I do advocate seeing your dentist regularly...
...so you can visit these for fun and not have to rely on them when you're traveling someplace far from home!
I'm a retired dental hygienist, so I guess that gives me an excuse for taking these.


"Dental Offices" Are Not Always Like Home
It was fun to take a picture of the "specialist" in Djemaa El-Fna square in Marrakesh, Morocco.
Yes, that IS a tray of extracted teeth he is sitting in front of.
Dentist in Djemaa El-Fna Marrakesh

From there we found a real dental office down a side street...

...and we asked if we could see the office and take a couple of pictures.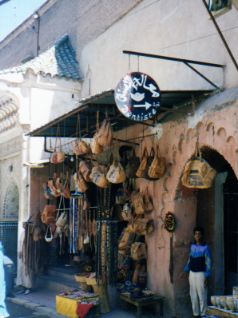 Sign to Dentist - really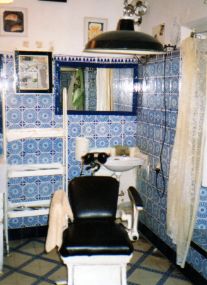 Dental Office Marakesh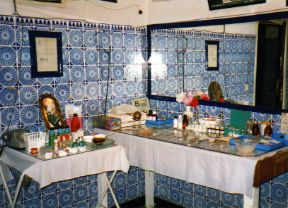 Dental Lab Marrakesh
---
On a trek in Ladakh, India, we took some temporary filling material along with our other first aid supplies.
Our guides told those nomads that we might be able to make their teeth feel better at least for a while.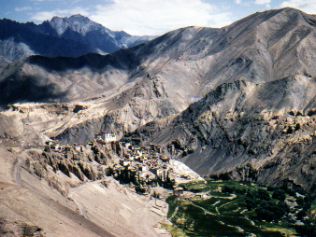 ---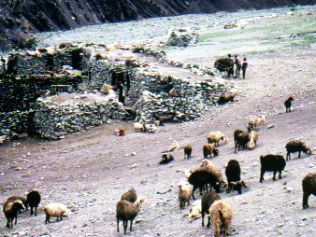 ---
---
While prowling the streets of Kathmandu, Nepal we discovered a dental sign on a side street, and our friend Brian got us an invitation to visit.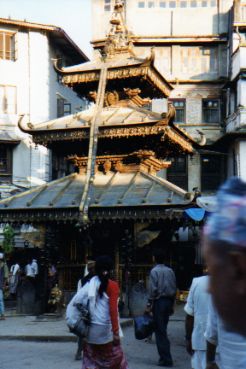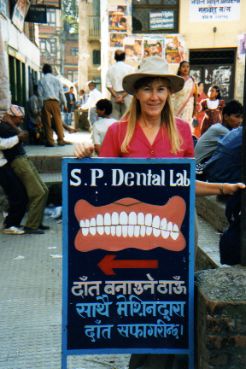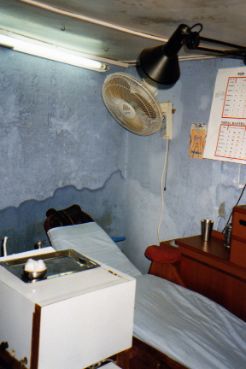 We went to a wedding in Lahore, Pakistan years ago.
While we were prowling the streets in the bazaar, we found a fellow selling sticks used as toothbrushes right next to the bird seller.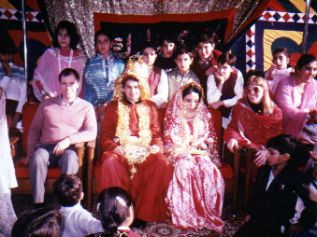 ---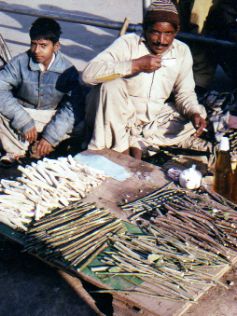 ---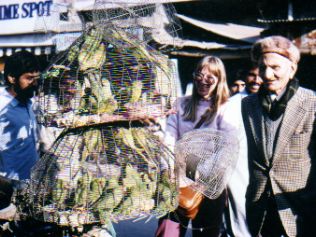 In Myanmar (Burma) we had traveled from Rangoon to Pindaya to see the Golden Caves (Shwe-umin).
We found a very friendly dentist in the bazaar who was fitting some tribal ladies with dentures. He was proud to show off his office. We actually sent some dental materials to him, though we never heard if they arrived.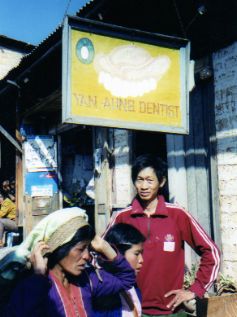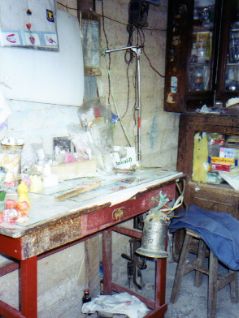 In Bangkok, Thailand, tucked in behind the tuk-tuks, within walking distance of Wat Wat Phra Kaeo (the Grand Palace), and just across the Chao Phraya River from Wat Arun...... there is a street of vendors dedicated to dentures.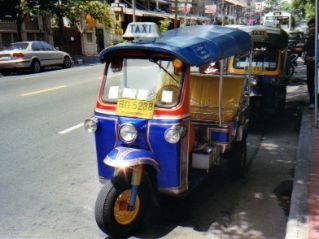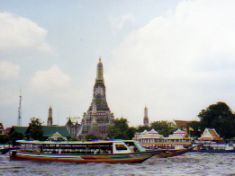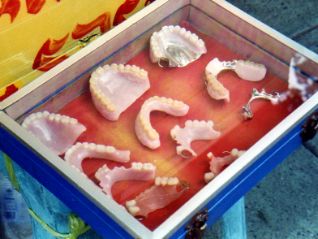 There are modern dental offices in all of these places, of course,
But where is the story there? So explore and have fun. People are friendly everywhere and willing to share if you show an interest... professional or not!
Oh, and just one more picture......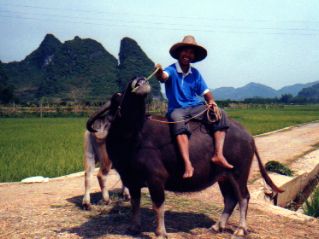 No, that's silly. Of course this farmer in China is not cleaning the water buffalo's teeth. He was clowning around and it just looked that way... and I couldn't resist. I'm a dental hygienist, remember?
Happy travels... even if you don't travel the world... just remember that life is a journey... embrace and enjoy it! Judy and Mark
Curious about what else we've written about?  Search our site for a destination or travel tip.

But... We'd love to have you share this page or comment on it…
Thanks, Judy and Mark

return to MouseToursTravels Home Page