Healthy Travel Is Smart Travel
COVID slowed us down for a couple of years, and now a few health issues challenge us.  We're still traveling if not writing about it quite so much. Our goal in 2022 was get to all seven continents in one year... and we did it.

Going forward health issues may not allow us to travel.  No one can take away those memories though.  We hope all of you are well and staying safe... and that you find some inspiration here for YOUR future travels. 

Healthy Travel... of course you want that, but aren't there strange bugs you can catch out there?
Don't you have to worry about the water?
Germs in the air on the plane?
Healthy Travel...
...Starts At Home
You need to be sure that you're healthy before you leave home. Exercise and stay in shape.
Make sure you're eating well and getting plenty of sleep just before your trip.
This isn't always easy with the stress of getting ready.

Preventive Shots and Medications
Get any recommended immunizations and medications.
This list can be long or short depending on how exotic your destination is.
The best source for up to the minute information on healthy travel is a travel medicine doctor. These specialists keep up with all of the latest recommendations for anywhere in the world.  U.S. citizens can check with the CDC.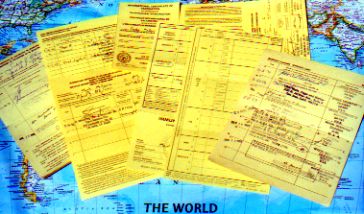 Also be up to date on all your routine vaccinations, including a seasonal influenza vaccine. It won't protect against a new flu strain, but it protects against any seasonal flu that may also be occurring...,
And not getting a "common" seasonal flu will help keep you stronger, so your body can resist that new strain.
When we went to Southeast Asia during the "Bird Flu" epidemic, our travel medicine doctor made sure we had our regular flu shots.
Healthy Travel On The Road

Once you're on your trip, play it safe for healthy travel. Don't go overboard, but follow all the usual precautions.
Drink bottled water in places where the water is considered unsafe. It never hurts to err on the side of caution... if you are unsure, grab that bottle rather than tap water.
Eat nutritiously. A bag of chips and a sandwich might be good for your budget, but eaten often, they aren't good healthy travel. Try to eat at least one good balanced meal a day with your proteins and veges.
If you have a dietary restriction...  If you have a serious dietary restriction, get it written out by someone who speaks the local language so you can use the note to order in local restaurants.
We once traveled to Africa with a friend who was gluten intolerant... and she did fine. In fact, one time when she was telling me to taste a dish and see if I thought there was gluten in it... the chef said, "Oh, You're gluten intolerant. I'll whip you up something." Would you expect this in Tanzania? Why not! Chefs everywhere are willing to work with you.
Same thing happened with the same friend just recently in the Peruvian Amazon.... Healthy travel even with dietary restrictions!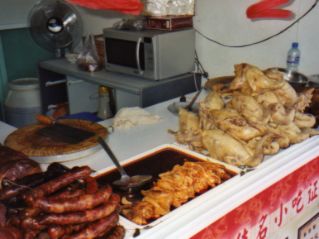 Be careful with street food.  We love eating street food, but we try to make sure it looks fresh and relatively clean.

Avoid unhealthy looking restaurants. If the food looks suspicious, you you should move on to a healthier looking place. If the diners inside are coughing and sneezing, you might want to give the restaurant a pass.
Wash your hands often with soap and water, or use an alcohol based hand sanitizer to remove germs from your skin. (Purell is one brand we've used.) Avoid touching your eyes, nose and mouth... germs are spread more quickly with that kind of contact.
Exercise to get in shape before you leave on your trip, and keep exercising on the road. You'll probably be doing enough walking so you won't have to do any gym time. Just remember, exercise keeps you healthy.
Try to get enough sleep. If you've crossed many time zones, you will arrive with jet lag. It will take you a day or two or more to get acclimated to your new time zone. We know you want to spend all the time you can seeing the sights and experiencing that new culture, but if you get over tired, you're much more susceptible to catching a cold or the flu.
Try to avoid close contact with sick people... try to stay at least 6 feet away. Influenza is thought to spread mainly through contact with sick people or through the coughing or sneezing of infected people.
Monitor the local health situations... Listen to announcements from the local government and follow their guidelines and restrictions if there is some sort of a disease outbreak like the Swine Flu, Bird Flu, SARS but don't panic. 
Well, you might want to cancel a trip if there is an outbreak of something as deadly as ebola.

If you do get sick, get medical care. Pharmacies in Europe can help with common ailments. In most areas you can check with local clinics for more severe problems. Your hotel may be able to call a doctor to make a house call.
Consider joining the non-profit IAMAT, The International Association for Medical Assistance to Travelers. They can get you a list of English speaking doctors in member countries.
With proper precautions and preparation, almost all of your travel will be healthy travel.
So go ahead, take that trip... it's good for your health.
Happy travels... even if you don't travel the world... just remember that life is a journey... embrace and enjoy it! Judy and Mark
Curious about what else we've written about?  Search our site for a destination or travel tip.

But... We'd love to have you share this page or comment on it…
Thanks, Judy and Mark

Return to International Travel Tips l Europe Travel Tips
Hotel and B&B Tips l Packing Lists
Go from Healthy Travel to MouseToursTravels Home Page