How To Deal With Jet Lag
Get Time On Your Side
Your New Side Of The World That Is!
COVID slowed us down for a couple of years, and now a few health issues challenge us.  We're still traveling if not writing about it quite so much. Our goal in 2022 was get to all seven continents in one year... and we did it.

Going forward health issues may not allow us to travel.  No one can take away those memories though.  We hope all of you are well and staying safe... and that you find some inspiration here for YOUR future travels. 

You're traveling the world! Now you need to know how to deal with jet lag.
Every traveler feels jet lag to some degree if you cross time zones...
What you have to learn is how to prepare yourself ahead of your trip...
And then how to recover once you get there. 
Simple steps...
...So you can get the most out of your vacation time.

Try To Leave Home Well Rested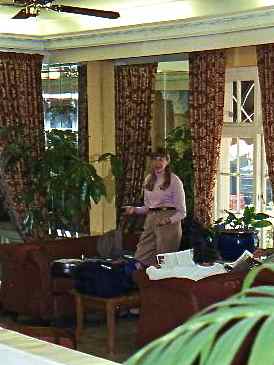 It's easy to leave packing until the last minute...
Then be running around picking up last minute things...
Doing laundry for that favorite travel shirt.
Pack a few days ahead... that will give you time to remember everything.
And try to keep the last couple of days before departure more stress free.
If you leave home more rested, jet lag will be easier to deal with once you're on your way.

What To Do On The Plane

Stay Hydrated
Or maybe we should say, don't get dehydrated...
All the experts and websites say it.... drink plenty of water and avoid caffeine and alcohol.
Airplane cabins are dry, and caffeine and alcohol only dehydrate you more. What you want to do is stay as hydrated as you can.
Drinking lots of water will give you a good excuse to get up and move around... on your way to the restroom.

Do Some Exercises
Take short walks every couple of hours even if you don't have to go (to the restroom that is.)
Do exercises while you're in your seat. Almost every airline has a page of exercises in their inflight magazine.... give them a try.
Try to sleep on the flight
Some people say they can never sleep on a plane.... that may be true, but it can't hurt to shut off the light, forgo the movies, and just try to rest.
Staying hydrated, exercising, and sleeping a little on the flight will leave you feeling better when you get off the plane and better able to deal with jet lag.
Once You Arrive

Don't keep calculating what time it is at home
Your body is going to tell anyway, so don't reinforce it!
You know... your body says it's time to sleep when your watch is telling you it's time for breakfast.
What you need to do to deal with jet lag is to try to get your body to agree with your watch... and your new time zone.
Forget about what time it is at home until you get back there.
If you arrive in the morning - Get some fresh air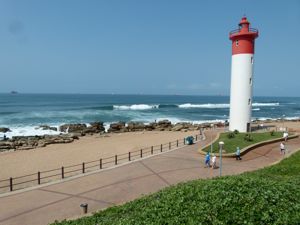 If you arrive early in the morning, try to plan outdoor activities most of the day. 
When we got to South Africa, we spent the day walking along a beach promenade and having an outdoor lunch in Umhlanga... That's a great way to deal with jet lag!

Walking, fresh air and sunshine will help reset your body clock.
A short nap might be OK, but avoid sleeping for a long time during the day.
Try to stay up until a reasonable hour... an early bedtime is OK that first day, as long as it's not 5 PM!
If you arrive on the other side of the world at night
For night time arrivals, try to get some sleep as soon as you get to your hotel.
You'll probably be tired enough that you actually will sleep through most of the night.
Just Deal With Jet Lag!

In either case, you're apt to wake up early.
No use trying to stay in bed, you'll just toss and turn. Get up and go for a walk...
See what's happening on the streets in that new location, then try to stay up and keep going all day.
There Are Drugs, But...
There are some drugs that help deal with jet lag, both over the counter and prescription.
We've never tried them, so we say, try those with caution.
We think it's only a matter of using these common sense tips for a couple of days, and you'll be over your jet lag and enjoying your holiday.
Happy travels... even if you don't travel the world... just remember that life is a journey... embrace and enjoy it! Judy and Mark
Curious about what else we've written about?  Search our site for a destination or travel tip.

But... We'd love to have you share this page or comment on it…
Thanks, Judy and Mark

International Travel Tips
Europe Travel Tips l Hotel and B&B Tips l Packing Lists
Go from How To Deal With Jet Lag to MouseToursTravels Home Page