Put Medication In Carry-on Luggage
A Good Tip For Packing AND Travel Health
COVID slowed us down for a couple of years, and now a few health issues challenge us.  We're still traveling if not writing about it quite so much. Our goal in 2022 was get to all seven continents in one year... and we did it.

Going forward health issues may not allow us to travel.  No one can take away those memories though.  We hope all of you are well and staying safe... and that you find some inspiration here for YOUR future travels. 

"Can I put medication in carry-on luggage?" --John

The short answer is Yes, John...
You can and should carry medications in your carry-on bags!

We get lots of questions about this.

Putting your medication in carry-on luggage or checked bags....
Can you take medications in your carry-on luggage?
What about TSA regulations for medications...
What are the rules for medication since you have to pack liquids you carry-on in a plastic bag?
We've written a couple of pages on this subject.... and now you may be asking, how many different ways can we say it?
Well, as many ways as it takes. We want everyone to understand this.


First let me say...

Always Put Medication In Carry-on Luggage
NEVER check your pills and other medications.
This packing tip is for you even if you're planning to check most of what you're taking. It's right up at the top of our carry-on tips.
Our basic packing list is our carry-on packing list. (I know, I know... I sent you to the same page twice. That's what I was trying to tell you!)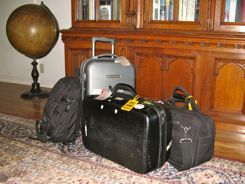 We've told you time and again that we travel with only carry-on size luggage...
...But no matter what your packing style is, you're going to carry something on to the plane... a purse, a briefcase, a backpack... 

Our travel tip here is to make sure you have at the very least a change of clothes (and underwear), your toothbrush...
...And your medications in that carry-on.


But NOT In Your Big Rollaboard
If you're trying to travel with carry-on only... as we do... make sure you put your medications in the carry-on that you KNOW will stay with you.
These days with all the fees to check luggage, more people are using carry-ons and the overhead bins in the planes often fill up.
When that happens the airlines will require you to check your larger pieces at the gate.  This is at no charge... but they're going as checked luggage.
Put your medication in carry-on luggage that you know will fit under the seat in front of you.
If for any reason, your checked luggage goes one direction and you go another, you'll be good for a couple of days until your luggage catches up with you. It's rare that you will never be reunited with your bags, but if that should happen, you can buy a few clothes....
...But with your meds in hand, at least you won't have to worry about replacing your medications.


Your Health Is Important - Keep Meds With You
Of course your health always is, but you want to stay healthy for your trip, so put your medication in carry-on luggage... always.
There, I think I've said that three times. Don't they tell you in advertising that you need to repeat your message three times?
And I think we've written three pages on this subject too, so now if you follow this advice, you should never worry about losing those medications.


Medications Don't Have To Go In That Plastic Bag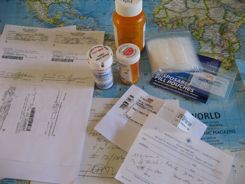 I'll say that again...
Your medications do not need to go in that plastic bag you keep hearing about.
Our page on Packing Medications should calm your fears,
and Traveling With Pills will give you tips on how to carry those medications.

If you need more help, just look around our site... we've probably got an answer for you. We have a sidebar on the right to help you navigate our travel health tips.
Use our custom search... it will lead you to the pages that will help plan your trip, pack for it, and enjoy it once you're on the road.
Once we've helped you with your research, pack your medication in carry-on luggage and have fun.

Happy travels... even if you don't travel the world... just remember that life is a journey... embrace and enjoy it! Judy and Mark
Curious about what else we've written about?  Search our site for a destination or travel tip.

But... We'd love to have you share this page or comment on it…
Thanks, Judy and Mark

Go to International Travel Tips l Europe Travel Tips
Hotel and B&B Tips l Packing Lists and Tips
Go from Medication In Carry-on Luggage to MouseToursTravels Home Page