Hotel Tips - To Reserve or Not?
Then.. Will You Choose...
Hotels, B&Bs, Castles or Tented Camps?
COVID slowed us down for a couple of years, and now a few health issues challenge us.  We're still traveling if not writing about it quite so much. Our goal in 2022 was get to all seven continents in one year... and we did it.

Going forward health issues may not allow us to travel.  No one can take away those memories though.  We hope all of you are well and staying safe... and that you find some inspiration here for YOUR future travels. 

"Do you have any hotel tips for us? We're planning our first trip to Europe, and we want to travel on our own." Fred
We've found many ways to write about hotel tips... so we're using this page as a place to direct you to our more in depth warnings, translations, descriptions and thoughts.
Don't worry about finding a place to sleep.
There are accommodations out there for you no matter what your budget is or what kind of traveler you are...
Take a look at the list below. We've gone into detail...
...on the pros and cons for making reservations...
...what to watch out for if you use internet booking engines or rating systems...

...And our favorite hotel tip: what hotels and B&Bs might be called in foreign countries... and even in the USA!
Your choices will be dictated to an extent by where you're traveling and what you're willing to spend.
And you need to decide if you want to make reservations... and how to do that. Or would you prefer to find some great little hotel, or castle or pub or B&B while you're on the road. We've got hotel tips for that too.
We think deciding on where you want to stay is part of the fun.
You can choose anything from Castle Hotels...

To African Tented Camps....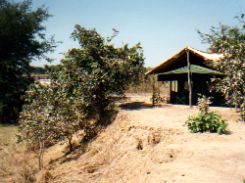 You can find castle hotels to stay in with or without reservations...
OK... for African Tented Camps, you really need to have a reservation.
Anything in between, you can go either way!


To Reserve or Not.... And Tips If You Do...
We usually don't make reservations unless we're traveling to more exotic destinations. We think looking for a place to stay is part of the fun and, even if we don't stay there, it gives us some insights into the country.
Finding accommodations on the road can add to your stress though...
We have friends who hate not knowing where they are going to sleep... they think having a reservation is the only way to go.
Should You Reserve A Hotel or Not?
We often travel without reservations... most of the time, in fact. It drives my sister crazy not to have hotel reservations. Here's a discussion on pros and cons of traveling with reservations. Where you should have them and where you can just ramble.

And if you decide to make a reservation, what should you do? Use a travel agent? The internet? Call the hotel

What hotel "stars" really mean for you. They vary from country to country and guide to guide...
Internet Hotel Ratings Inconsistencies

Internet booking services have their own set of rules for rating hotels. Watch out for inconsistencies.

Hotel, Castle, B&B or Hostel?
We've stayed in all of these at one time or another. Our hotel tip here is don't necessarily rule anything out.
A big hotel might not be your style, but it could be a bigger bargain than you think... and more convenient in some cities.
Or a hostel? Not just for backbacking students anymore.
What Types of Accommodations You Can Choose From?
Think about where you're going... what is available. Do you want a big hotel? A Spa? Maybe a B&B or a Safari camp. Plan where you want to stay as well as when you want to go! Part of the fun of travel is fitting the accommodations to the feeling you want from your trip.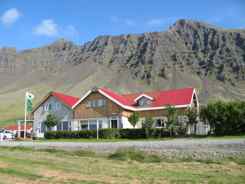 Castles and Manor Houses - Why Not Stay In One?
Did you know you really CAN stay in castles? Mark loves to find an affordable castle or manor house to stay in for an extra romantic night during a trip. You can find them all over Europe. See some of the castle we've stayed in (like the one pictured at the top)... get some ideas for special nights of your own.
Cheap Hotels For Budget Travel
Cheap hotels sound like something you might want to avoid... We prefer to call them inexpensive or bargain hotels... sounds more inviting doesn't it? We use them all the time. Love those castle splurges, but it's the more affordable hotels that let us travel so much, so we'll tell you what to look for and why we think they're great.
Bed and Breakfast - What to Expect

Well, you would expect a bed to sleep in and breakfast to get you started... right? But you want to know if you'll have your own bathroom and when to expect it to be a bargain, and when it might be a splurge.
Big Hotels - Sometimes A Travel Bargain

We prefer to stay in small local places so we can connect more with the culture we're visiting, but sometimes it's just more convenient to stay in a big hotel... and sometimes you just need it. They may not be as expensive as you think.
Hostels - A Cheap Alternative to Hotels

Hostels have come a long way... they might be a better alternative than you think.
What Are They Called Where You're Going?
I remember driving down the road one time in Italy. We were near Carrera, and we just weren't seeing anything that looked like a hotel. We were with my sister, and she was beginning to get nervous. (She does like to have reservations!)
Mark spotted a sign that said Locanda and we found a great little place. Knowing what accommodations are called can help you find a great room.
Bed-and-Breakfast Translated - What Are B&Bs Called In A foreign Language?
We give you some names for B&Bs in Europe and tips on where to look to find them
What Are Hotels Called in English if Not Hotels?
Accommodations for the night might go by any number of names in English... we'll give you some of them.
What Are Hotels Called in Different Languages?

And English speakers need to know what hotels are called in other languages. It's easier to find a bed for the night that way. As I said above... this is one of our favorite hotel tips.

Miscellaneous Hotel Tips - Security, Hotel Fees
Now here's a whole mixture of hotel tips... from how to stay safe to watching for those sneaky fees some hotels charge....
What To Expect With Enhanced Hotel Security
You'll find this most often in big hotels or hotels in areas where there is the possibility of unrest.
Hotel Security Tips for Safe Travel
Things for YOU to think about to keep yourself safe in your hotel room and around your hotel.
Avoid Hotel Fees - What You Can Do To Keep Them Off Your Bill

Some hotel tips on what you can do to avoid hotel fees that you'd rather not pay.
Hope some of these help whether you have everything booked ahead or just choose as you go... have fun!

Happy travels... even if you don't travel the world... just remember that life is a journey... embrace and enjoy it! Judy and Mark
Curious about what else we've written about?  Search our site for a destination or travel tip.

But... We'd love to have you share this page or comment on it…
Thanks, Judy and Mark

Go to International Travel Tips l Europe Travel Ideas
Packing Lists and Tips
Go from Hotel Tips to MouseToursTravels Home Page