Avoid Hotel Fees

What To Do To Keep Them Off Your Bill

COVID slowed us down for a couple of years, and now a few health issues challenge us.  We're still traveling if not writing about it quite so much. Our goal in 2022 was get to all seven continents in one year... and we did it.

Going forward health issues may not allow us to travel.  No one can take away those memories though.  We hope all of you are well and staying safe... and that you find some inspiration here for YOUR future travels. 

How do you avoid hotel fees that are tacked onto your bill?  Some hotel fees are hidden, some are right upfront.
No matter what... extra fees are always annoying, so stay alert for them...

Sometimes you can avoid hotel fees if you know about them. 
Pay attention when you check in... or read those "Welcome" booklets you find in most hotel rooms. 
They'll tell you what services are included and which ones you may have to pay for.
It just takes a little forethought and imagination.




Try To Avoid Hotel Fees For Wifi
Maybe It's Free In The Lobby

Check to see if the hotel you're booking has fees to use wi-fi.
Big hotels tend to charge for this, but smaller ones don't. We usually like those smaller hotels anyway.
If you're a business traveler, you probably need that wi-fi, but you might be able to get it without the hotel fee in the lobby or their business center.
Maybe You Can Find Free Wifi At A Cafe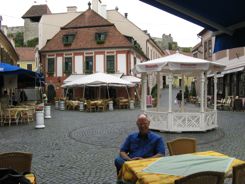 If you're a casual traveler, you may be able to find free wi-fi at a local library or city hall or coffee shop.
We've even picked up free wi-fi at a sidewalk cafe in Eger, Hungary.
Just sitting there, having a glass of "Bull's Blood" wine and checking e-mail... with no wi-fi fee.
How cool is that?!?


Be Careful About Using The Hotel Phone

Sometimes they charge a lot even for local calls.  Make sure you bring your cell-phone charger, and use it, so you aren't forced to use their phone. You don't want to pay those phone fees just because you forgot to charge your phone!
If your phone doesn't work in the country you're visiting, but you have a computer, consider using Skype or Facetime or another free internet phone service.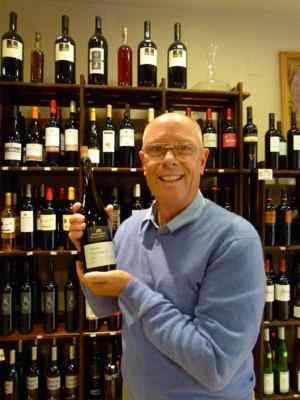 Avoid The MiniBar

It's easy to avoid hotel fees for the mini-bar. You know they're going to charge you way too much....
Why not grab a bottle of wine and some snacks from a shop on the street. You'll probably have a better selection, and you'll definitely save money.
Shop At Local Stores

We stopped at this wine shop in Olite, Spain near the Parador.  The proprietor had very strong opinions about Spanish wine... no Rioja wines for him.  The bottle of Navarra Granache we got was great... and it was fairly priced.


Is That Bottled Water Free?

Make sure that bottle of water sitting in the bathroom says it's complimentary.  If it isn't clear, ask to be sure.

In some less developed countries where the water isn't safe to drink, it probably will be,
But we've run into some hotels where it's just expensive water, and if you drink it, you buy it... and pay more than you want to.


Are There Gym Fees?

If the hotel you're in has a gym, check to see if there is a fee to use it.
No need to pay to walk on the treadmill if you can just take a nice walk and see the sights. That would be more fun anyway, wouldn't it?


Resort Fees?

That resort you're going to for a little rest and relaxation may have a hefty, per guest, resort fee.
Make sure you know about it, and find out what that resort fee covers. Is it for activities you're going to use?
Before you book, see if there a resort nearby where you could avoid those fees.

Do You Need A Newspaper If They're Charging?

That newspaper some hotels deliver to your door may not cost much, but are you going to read it.
If you tell them you don't want it, you might save a bit on your bill.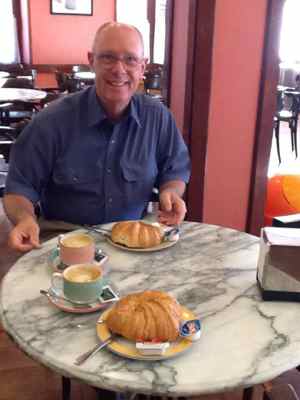 What About Breakfast?
Small hotels and B&Bs will tend to include breakfast.  So will some big hotels in Europe.
But we just don't think we get our money's worth if they're charging a lot of money for a big breakfast buffet. 
In the little wine making town of Haro, Spain, we walked to a local cafe for croissants and cafe con leche for a fraction of the price our nice hotel wanted for the buffet. 
We did that in Berlin too for about three days... and became "regulars" at the coffee shop.  Kind of fun.


Airport Shuttle Fees

You may not be able to avoid a fee for the shuttle to the airport, but you should know about it.
We've stayed in hotels that have a free shuttle pick-up from the airport, but it costs you to get back! What are you going to do? No way to avoid hotel fees like that!
You've got to take their shuttle and just pay for it... but it would be nice to know about it.


Parking Fees

Many city hotels charge a parking fee. This can be pretty high.
We've sometimes saved a bunch by parking at a city lot nearby and walking a block or two.

On the other hand, in Bilbao, Spain we stayed in a hotel with a public parking lot across the street... the hotel had a deal with the parking lot that saved us money... and we were already parked there to see the museum.  So check with your hotel to see what will be best for you.

Do You Need To Pay To Park On The Street?

And just so you're thinking about this... in some cities, you might have to park on the street.  Make sure when the spaces require you to pay and display... don't want to get an expensive ticket.


Hidden Hotel Fees

If you're booking your room on the hotel website, see if they tell you about surcharges.
You'll probably discover that those "hidden hotel fees" really ARE hidden... they may not list all of them.
Check with the big third-party booking sites before you make the reservation. Sites like Orbitz and Travelocity and others will usually tell you about the fees you may run into.

There are laws against hidden hotel fees, but it pays to be vigilant.

Check Your Bill To Avoid Hotel Fees

Always check your bill to see if there are charges on there for things you didn't use. You might be able to have those charges removed.
You can't do this if you're checking out in a hurry though, so it can really pay to check your bill the night before you're leaving.  You'll have a chance to look at it and talk to management about any fees that you don't feel are fair.
You may not win the argument about those hidden hotel fees this time, but at least you won't be surprised at the last minute... and you can plan to stay somewhere else the next holiday.

We don't mind paying for services we've used, but expensive fees add up and can really impact your travel budget. We like to think ahead and avoid hotel fees when we can.
Happy travels... even if you don't travel the world... just remember that life is a journey... embrace and enjoy it! Judy and Mark
Curious about what else we've written about?  Search our site for a destination or travel tip.

But... We'd love to have you share this page or comment on it…
Thanks, Judy and Mark

Return to International Travel Tips
Go from Avoid Hotel Fees to MouseToursTravels Home Page