Big Hotels
Sometimes They ARE A Travel Bargain
COVID slowed us down for a couple of years, and now a few health issues challenge us.  We're still traveling if not writing about it quite so much. Our goal in 2022 was get to all seven continents in one year... and we did it.

Going forward health issues may not allow us to travel.  No one can take away those memories though.  We hope all of you are well and staying safe... and that you find some inspiration here for YOUR future travels. 

I have to admit... we avoid big hotels more often than we head for them.
We travel to experience another culture... and smaller local hotels and other types of accommodations seem to bring you closer to the people but...
Let me tell you this...
We are not categorically opposed to them...
Big hotels can be a great option in many travel situations....
And we use them freely when we think they are most convenient...
...and when we think they are appropriate for our experience.
When Should You Use Big Hotels?
All types of accommodations have their place in your travels... and you should choose what you feel comfortable with.
Big hotels tend to have...
Central locations...

They're easy to find... and...

You know what to expect.
Those are some of their positive features. They have pluses and minuses.... we'll generalize with those, but keep in mind what might be a plus for you could be something that would turn another traveler off.
How Expensive Are They?
Big hotels may be be the most expensive option for accommodations. The conventional wisdom is... in big cities, business people tend to stay in big hotels... And expense account makes it a no-brainer, but they can be harder on the average travel budget....
...BUT you just never know...
if it is convenient for you to stay in one... just ask! Most that we stayed in weren't that expensive!!!!
The global downturn of the last few years has had them offering discounted rates or upgrades just like everyone else. So if you'd love to stay in a big hotel, but you think your budget just wouldn't allow it..., you might want to check for special offers before you settle for something less.
Another way to save is to head for these places on weekends or holiday periods when the business people who generally occupy them are home or on holiday themselves.
Compare hotel search engines on the internet... This works especially well for finding deals on big hotels.
You Know What To Expect
Most of the time you will find those big hotels in cities.... but not always...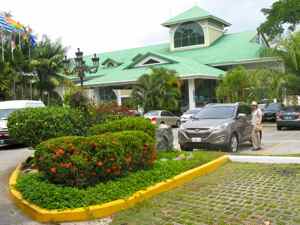 When we went to Panama for some bird watching and to see the Panama Canal... We thought we would stay at a little B and B in Gamboa... a small town right on the Panama Canal.
While there were B & B options available, we found that the big Gamboa Rainforest Resort offered more of what we needed on that trip.
Talk about location, location, location... Not centrally located in a city.... but right in the middle of a jungle and right next to the Canal... where we wanted to be!!!!
Where ever you find them, they offer a uniformity.... You know exactly what you're going to get.
They will have phones and TVs and internet connections. (Though interestingly enough, those internet connections often come at a surprisingly high price!)
You will get lots of lotions and shampoos and big fluffy towels.
There will be a restaurant in the hotel... sometimes two or three.
You'll get front desks that are staffed 24/7 with multilingual desk clerks, and you'll get a concierge and doormen.
Speaking of Location, Location, Location
Here's the kicker....
Maybe you opt for that big place because you want a convenient location. We've done that a few times when we only had a few days in a city or a major tourist draw, and we didn't want to "waste time"... we wanted the city or the site to be at our doorstep. If your travel time is short, staying right in the middle of everything can be worth it.
A few brief stories to illustrate what I mean...
Budapest... we stayed in a local hotel on our arrival. When we returned after a quick river trip to Bratislava, we stayed at that big name hotel in the top photo... it was right in the center of town. It was close to our car rental agency and convenient when we got off the hover craft... and we had a GREAT view of the Chain Bridge from our window. That all made it a bargain... and the price wasn't too bad either.
You Can Always Find Big Hotels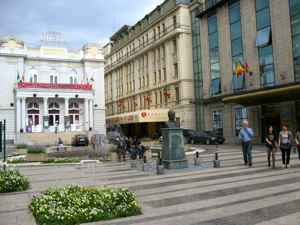 When we flew into Bucharest, Romania... there was no hotel desk at the airport to help us with accommodations... oops! You have to be prepared for that!
We had looked up hotels on the internet before we left and we had a couple of hotel names, so we took a taxi to the Ramada. It was a good price and right in the middle of historic Bucharest... just what we needed.
On our way to Easter Island after spending time in the Peruvian Amazon... we had to spend a night in Santiago. We arrived late in the evening and had an early morning flight. Rather than try to find a small local place, we opted for the Holiday Inn a walk across the street from the airport. The location was perfect.
And speaking of a perfect location.... We're so glad we didn't go looking for a small local place in Iguazu Falls, Argentina. The Sheraton Hotel overlooking the Falls was just an amazing experience for a decent price.
Big Hotels Can Be A Refuge From Chaos...
Even if you're the type of traveler who prefers small local places with lots of cultural immersion... once in a while, a bigger place can make for a nice refuge from the chaotic streets of a foreign city... and a little break from diving right into the local culture.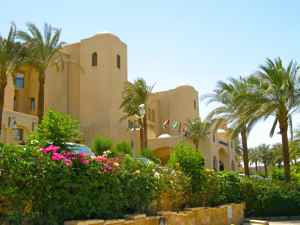 We opted for the Intercontinental Resort in Aqaba, Jordan... It came complete with air-conditioning and a great pool.
The small local places were hot and far from the Red Sea... AND we had just come from a night sleeping in tents in Wadi Rum, so we wanted a little comfort. OK... a lot of comfort!

We did have to put up with some enhanced hotel security, and we went out into the "real world" for meals and to explore and dive in the Red Sea, but we LOVED the fluffy towels and the pool after having to skip a shower when we stayed in the desert.
Our caveat here...
The uniformity and sheltered feeling are also among the downsides of staying in a big hotel. Big hotels DO cushion you from the culture that you traveled to see... sometimes, maybe too much.
That really nice room could be anywhere in the world.... That uniformity can be a little TOO much the same... so...
You can do what we've done... sometimes we compromise....
Sleep in Comfort, But Hit The Street To Eat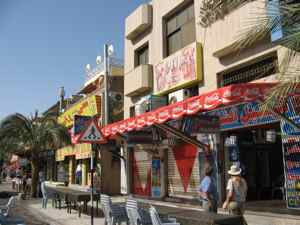 Our advice is if you find it expedient to stay in a hotel like this... at least get out on the street for lunch and dinner.
They might have a great restaurant, but you'll get something much more authentic...
...and probably more reasonably priced, in a restaurant down the street among the locals.
We did that in Jordan, and we had great food and great fun with local restaurants on the streets in Aqaba.
Most of these hotels do not include breakfast in the price of the room... always ask because some do and you don't want to miss it.
At the very least, they usually do have coffee and tea in your room.... So grab a cup as you get dressed in the morning, then skip the expensive breakfast buffet and wander out onto the street to find breakfast.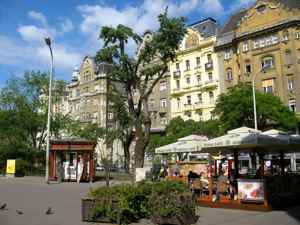 Find a little local restaurant in Budapest, grab a table outside and order Kifli (a traditional Hungarian pastry) with cheeses, cold cuts or jam and honey... or even an omelet... that's what Mark did at this little place.
Stand up at a pasticceria (a pastry shop) in Italy for cappuccino and biscotti.... Have ham and cheese on a croissant in a German coffee shop.
Anything local will cost you less and be more fun.
Big hotels serve a great purpose for all kinds of travelers at different times during their travels.... look at your itinerary and travel goals, and decide when one works for you.
Go to International Travel Tips l Europe Travel Tips
Hotel and B&B Tips l Packing Lists and Tips
Go from Big Hotels to MouseToursTravels Home Page
Happy travels... even if you don't travel the world... just remember that life is a journey... embrace and enjoy it! Judy and Mark
Curious about what else we've written about?  Search our site for a destination or travel tip.

But... We'd love to have you share this page or comment on it…
Thanks, Judy and Mark