To Reserve A Hotel or Not?
That Is The Question
COVID slowed us down for a couple of years, and now a few health issues challenge us.  We're still traveling if not writing about it quite so much. Our goal in 2022 was get to all seven continents in one year... and we did it.

Going forward health issues may not allow us to travel.  No one can take away those memories though.  We hope all of you are well and staying safe... and that you find some inspiration here for YOUR future travels. 

When you're planning your trip you need to decide... Will you reserve a hotel or not?  
It's a serious question if perhaps our page title doesn't seem like it.
Whether you make reservations ahead of time or not depends on your temperament and your style of travel.

Most of the time, we find that reservations make us nervous!
Why, you ask?  
Because then we need to be somewhere...
...we have a deadline.
There are times, though, when even for us we need to make reservations.

Freedom Or Peace Of Mind?
You need to decide if you want the freedom of spirit and sense of adventure and spontaneity that going without reservations will give you...
...or do you want the peace of mind of knowing there is a room waiting for you.

Do You Want Freedom To Move When You Want?
You may be the type of traveler who doesn't like to commit to a firm itinerary.
You want maximum spontaneity.  You probably won't want reservations for your whole trip.
Some travelers like to reserve a room for the first night or two at least. That way when you arrive, groggy with jet lag, you don't have to worry about finding a hotel. Once you've recovered and gotten into the swing of things, you can hop on a train or rent a car and find rooms as you go.

Do You Want To Know Where You'll Sleep Every Night?
If you haven't traveled too much, or your time is short...
...or if you just don't want the stress of looking for a room in an unfamiliar language in an unfamiliar country...
Then maybe you will be better off to reserve a hotel ahead of time in each of your destinations. 

If You Want Reservations
If you've decided you will be more comfortable on your holiday with hotel reservations in hand, then you're going to have some decisions to make.
Use A Travel Agent
You could use a travel agent.  If you're planning a trip to an exotic location, this might be your best bet. 
Travel agents know the hotels and lodging in the areas of their expertise, and they can give you good guidance and advice.  
Do It Yourself
If you're going to make the reservations yourself, check out recommendations in a good guidebook, and check several sites on the internet. The star rating systems in different countries can vary, and they can vary between internet services, so it pays to do your research.
The big internet booking agencies can help you get pretty good deals.  It's worthwhile to check two or three of them to see how they rate different hotels, so you'll get what you want. 
Whenever you're looking at hotels and bed-and-breakfasts on the internet, remember, any place can look good with some creative photography.
We recommend avoiding the companies that don't tell you the name of the hotel until after you make your reservation. 
Also remember that when hotels are tied to booking agencies, they lose a cut to that agency.  
You might be just as well off booking directly with the hotel.
A Couple Of Caveats If You Reserve A Hotel On Your Own
If you have used the hotel's own site to contact them, make sure it is a secure site before you send your credit card number to them that way.

Remember that in most places in the world, dates are written with the day/month/year, not with the month/day/year as it is in the U.S.  To avoid confusion on any continent, we write the month out rather than using numbers.
Be sure to read the hotel cancellation policies carefully before you make a reservation.
If you make hotel reservations with one of the big travel booking sites or with the hotel itself, beware of non-refundable reservations.
 When you make your hotel reservations, you will receive a confirmation by e-mail.  Print it, and take it with you.  Don't delete the original e-mail until you have completed your trip, and you know you have been billed correctly.

If You Really Want A Particular Hotel
The booking agencies might even tell you that the hotel has no rooms available.  That happened to us when we went to Iguazu Falls.  We wanted to stay at this hotel in Agentina so we could see the Falls from both sides.  

The internet sites told us there were no rooms... We phoned the hotel in directly, spoke to someone in English and we got a great room for a great price on the nights we want.

If You Prefer To Move When You Want
We've traveled most often with no reservations. 
We like checking out the rooms we're going to stay in before we commit. 
We like being able to decide to stay an extra day in one town because there is so much to see. 
We have the flexibility to get out of another town a day earlier than we planned if something more exciting beckons us down the road. 
A Bit Of Compromise
We have traveled with friends who just can't stand not knowing where they are going to sleep.
They think looking for a room for the night is a total waste of time.

We've come up with a compromise when we travel with them... we call ahead the day before and reserve a hotel to head for.  Or book it ahead on the internet.
We can't check out the room ahead of time, but it does give us the spontaneity of deciding where we want to be as we go along.
Our other compromise with these particular friends is that we travel to exotic places with them where you really need to have your trip planned out in advance and have reservations all along the way.  
We've had some great African safaris and Amazonian birdwatching trips with them this way... and we're all happy.
 
Reserve A Hotel As You Go
If you decide to use this method, you should find a good guide book or hotel guide that matches your needs.  
They should be a good match for the level of comfort you want in a hotel and how much you can spend.
Why A Guidebook To Reserve A Hotel?
I know we sound old-fashioned when we keep talking about guidebooks instead of just the internet... but we just like being able to thumb through them.  They work better for us much of the time.
If you like the guidebook's philosophy, you will probably like the hotels they recommend. 
You can call the hotel directly. Chances are you will be able to talk to someone who speaks English.
You can also contact almost all of them over the internet these days, either by e-mail or by contacting them through their own website.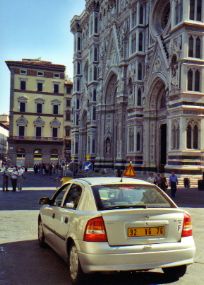 Get Local Recommendations
We've also relied on hosts in some of the small places we've stayed to recommend accommodations in the next town we're heading to.
Sometimes they can help and sometimes they can't, but you might just find a cute little place that is "off the grid".
More often than not, we've had them call ahead to get us a room in a small hotel or Bed and Breakfast.
We got a great little hotel that way in Florence... and we were right next to the Duomo.
The less developed the country is that we are visiting, the more apt we are to reserve a hotel at least for the first few days.
Having a room for a day or two in countries like that allows us to see how easy or difficult it is going to be to get around the country and find rooms. 
So to reserve a hotel or not to reserve... that is a question only you can answer, and it's all part of planning your trip.
Happy travels... even if you don't travel the world... just remember that life is a journey... embrace and enjoy it! Judy and Mark
Curious about what else we've written about?  Search our site for a destination or travel tip.

But... We'd love to have you share this page or comment on it…
Thanks, Judy and Mark

International Travel Tips l Europe Travel Tips
Hotel and B&B Tips l Packing Lists
Go from Reserve a Hotel or Not to MouseToursTravels Home Page