What are Hotels Called?
Find Hotels in Any Language
COVID slowed us down for a couple of years, and now a few health issues challenge us.  We're still traveling if not writing about it quite so much. Our goal in 2022 was get to all seven continents in one year... and we did it.

Going forward health issues may not allow us to travel.  No one can take away those memories though.  We hope all of you are well and staying safe... and that you find some inspiration here for YOUR future travels. 

What are hotels called in Spain or France of Italy? Do you

Aren't hotels are called just that around the world?
Well... Let's explore this.

Yes, they are often just called hotels... especially in the cities...
But not always even there.
And if you're looking for a place to sleep in more rural areas of a country you may not find that as often...
...so it pays to know some of the other names you should be looking for.

Hotels MAY Be Called Hotel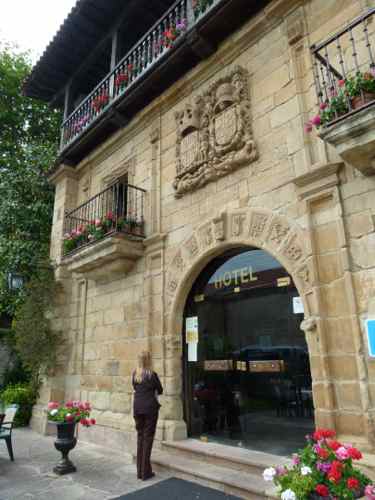 It's just like B&Bs...
The term B&B has become global, but they also have names that they are known by in their home country.
The actual word hotel does translate straight across in many languages...
And that's handy for tourists.
We found this great little hotel in Santillana del Mar in Spain.

...but...
That doesn't mean that every establishment that has rooms for rent to tourists will be signposted as such.
So how do you find hotels in any language?


In English Speaking Countries...

If you're looking for a place to sleep in the United States, you might want to look for a "lodge" or an "inn" or a "motel" or a "motor inn".
In the United Kingdom, you can look for any of those and add "pubs" to the mix.
The caveat here is... In both of these English speaking countries and others, inns, lodges, and pubs may only serve food...
...and not have rooms at all.  If you're not sure, stop and ask.  Someone is sure to be able to give you advice and help find a place to stay.
And if you're looking for a big hotel, it may just have that big brand name  on the sign, but you should be able to tell that it's got plenty of rooms.

In France and other French speaking countries
Hotel is common terminology in France, but to complicate things.... "Hotel de Ville" is the city hall in Paris and many other French cities....
You're not going to spend the night there... you hope!
There are a variety of terms you might come across in France.
Look for "l'hostellerie", "auberge", or "residence".
You might also look for big chains that just use their names... like Novotel.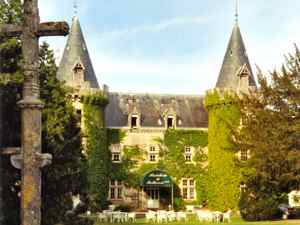 If you want to splurge and stay in high end digs...
Look for a castle or manor house that may be listed as "Relais & Chateaux" which is the name of a high end chain of castles, and manor houses.
You may see individual establishments called just a "Chateau." 
We love splurging on these once in a while.  But here's a tip... they might not be that much more expensive than a regular hotel.

"Logis" are smaller lodging places.
A "gîte" are homes or rooms available for rent.  Often for a week, but we have stopped and found places where we could stay just for a night or two.

And if you see something advertised as a "Mas", you might be looking at a farmhouse style of accommodations. Just so you are aware, a Mas can be self-catering or have full luxurious amenities.
And what are hotels called in Italy?
"Albergo" means hotel in Italian. Also look for "Locanda".
"Pensione" may sound like they would be B&Bs; they are actually small albergos that are usually family run.
For the high end, you can look for "Palazzos" or maybe "villas".
For interesting rural experiences, look for "agriturismos."
In German speaking countries....
Look for a "gasthof" or "gasthaus". They may or may not have an accompanying sign that sign "zimmers".
If you're looking for a spa resort, you might look for something with "Bad" (bath) in the name.
A small local place might be called a "pension"... or have one of those "zimmer frei" signs in the window.  And yes, every traveler has a joke about that don't they?

What are hotels called In Spain?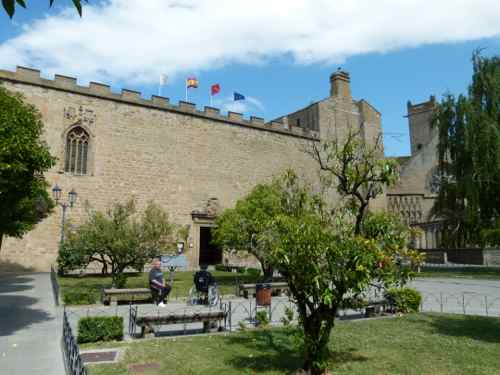 Well, as you saw above, you can find then as hotels, but...
You really should find one of their "Paradors" and stay in one.
These are historic buildings, monasteries and castles that have been restored and now function as great places for tourists to stay.
Other terms you should look for are "residencia" and "pension".
And in Portugal...
As in Spain, look for stays in historic buildings. They are called "Pousadas" in Portugal.
There are also small inexpensive local places to stay called "pensoes".
In Europe A Term To Know - Hotel Garni

In some European countries you may see "hotel garni" or just "garni".
These have limited restaurant facilities (usually breakfast only) and other services, but are otherwise like other hotels and are rated by star systems in each country where you encounter them.
So there are some answers to the question what are hotels called. We certainly haven't covered them all, but we must have got you thinking in the right way.

Think now you could find a hotel in any language?
If It Looks Like A Hotel...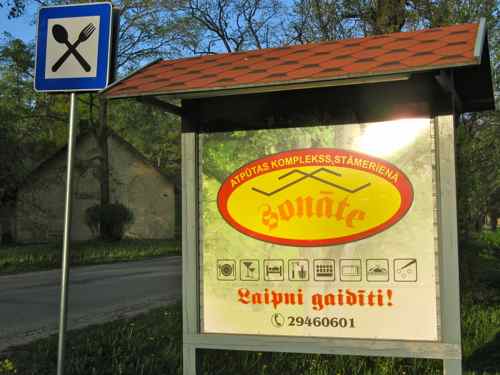 Bottom line is...
If it looks like a hotel... why not stop and ask for a room?
This one had the little bed symbol, but still... we weren't sure.  We asked, and it was, but...

If you're wrong, most people are willing to help lost tourists, and they might just find you a place with a name you've never heard of...
What are hotels called?
Who cares if it's called by some other name?
Happy travels... even if you don't travel the world... just remember that life is a journey... embrace and enjoy it! Judy and Mark
Curious about what else we've written about?  Search our site for a destination or travel tip.

But... We'd love to have you share this page or comment on it…
Thanks, Judy and Mark

Return to International Travel Tips l Europe Travel Tips
 Packing Lists
Go from What Are Hotels Called to MouseToursTravels Home Page