Bed and Breakfast
A Basic Room Or A Luxurious Suite?
COVID slowed us down for a couple of years, and now a few health issues challenge us.  We're still traveling if not writing about it quite so much. Our goal in 2022 was get to all seven continents in one year... and we did it.

Going forward health issues may not allow us to travel.  No one can take away those memories though.  We hope all of you are well and staying safe... and that you find some inspiration here for YOUR future travels. 

"Friends have suggested bed and breakfast stays in Europe for budget travel... but do we have to share a bathroom? And can we really save money? B&Bs in the U.S. seem expensive!" - Taylor

Good questions. The truth of the matter is that what you'll find varies in different parts of the world.
In general a B-and-B is most often in a private home... that's part of their charm.
And they always provide breakfast... so...
Bed and Breakfast.
Then they start to get different.... And it's not just in how you say it...
You may see it spelled out... sometimes you'll see the letters... and sometimes it's not even in English.

Bed and Breakfasts have been around for a long time. The term or B&B became popular in the U.K. That's where we encountered our first B&B years ago. Now you can find them almost anywhere... but you might need to know what Bed and Breakfasts are called in other languages.
We did share bathrooms and showers back then... but we've mostly outgrown that... and most Bed and Breakfasts have too. You can still find a few where you have to share, so it helps to know what to look for.
Is A Bed and Breakfast For Budget Travelers?

Yes and No.... love that, don't you?
They're Less Expensive In Europe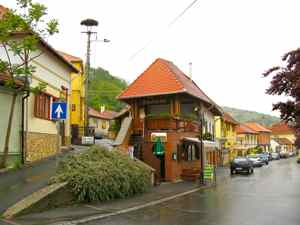 Generally in the U.K. and most of Europe, a Bed and Breakfast will be a great budget alternative to hotels...
So yes, you'll probably save money.
We stayed in a funky little Panzio in Hungary... "Panzio" roughly translates to "pension" or "B&B".
It came with it's own B-n-B dog, and a wine cellar (Pince in Hungarian) where we could taste the local Tokay wine. The room was not luxurious, but we had a private bathroom, and it was well located and fun.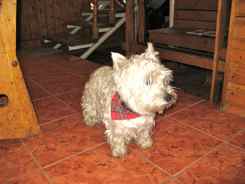 Europeans coming to the United States are surprised to find that B-and-Bs are expensive accommodations.... often costing more than small hotels and motels, not less.
B & Bs Are More Expensive in the United States
Many U.S. B-and-Bs are in renovated historic properties... sort of changing the concept. They've become luxury destinations really.
Their owner/proprietors have furnished them with antiques and luxurious bathrooms. Others tend to be in scenic locations popular with vacationers.
They may come with wine tasting in the evenings and a gourmet breakfast. They're great fun to stay in, and well worth the cost most times, but they're not generally for budget travelers.
And The Rest Of The World?
In other parts of the world, there are Bed and Breakfasts, but they vary... both in price and in quality. It's a good idea to check with the local tourist board to see what the regulations are and what you can expect.
Do You Have To Share A Bathroom?
The answer again is Yes and No...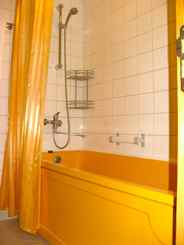 And to answer this question a little more fully, there are some terms you need to know.
Ensuite or En-suite...
Actually, more and more... if not most now have "ensuite" facilities with toilets and showers in the room... not down the hall.
Sometimes these have been shoehorned into the room... with a small bathroom build into one corner... Other times homes have been remodeled with guest's privacy in mind.
Of course... sometimes they've been remodeled in creative colors like this one!
Private Bathroom

Be careful of this term....
You may be the only one who can use it, but that bathroom may be down the hall... and you're the only one who has a key. We've run into this a few times, and it's not so bad... as long as you know what you're getting into.
Just remember, even though that bathroom is all yours, you still have to run out into the hall in your PJs at night!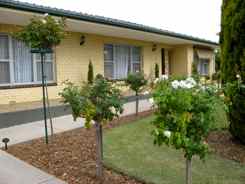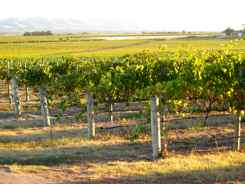 We stayed in this home in Australia where we were the only guests... We had a lovely room and a great location and view... and we had a private bathroom... down the hall.
Standard Room
Standard rooms in hotels mean one thing... but that generally means something else for B&Bs.
If you see a Bed and Breakfast that says it has standard rooms, it probably means they have just the sink in the room, and you'll take a trip down the hall for toilets and showers and everything else.
If you're not speaking your native language, make sure you are talking about the same thing.
Ask To See The Room
We often look for those "Vacancy" or "Zimmer Frei" signs as we're driving around. If you are inquiring in person, ask to see the room. We've never found a proprietor who will object to that.
You can make sure if you will share the bathroom or not... and you can also check out other things like...
...does the bed sag or...
...do you have a view or...
...does it only have a tub or a shower or...
...whatever you're concerned with.
How Big Are They?
Bed and Breakfasts are usually small... sometimes only a room or two in a home... and you may be the only guests.
Some have several rooms to let. They have grown in size in recent years as people have turned historic buildings onto B&Bs all over the world.
Whatever the size, the ones you want to look for are those which have friendly hosts and a good location. Part of the charm of a B&B is that friendly host who will give you directions and tell you about their favorite restaurant.
Here's a story we love from our early travel days...
We remember fondly a B&B we had in Edinburgh, Scotland... This is such an old story that we were still traveling in Europe on $5 and $10 a day!
We had the bathroom down the hall, we even had to play for heat in the room... so why do we remember it so fondly?
Because it was cheap... it fit our early travel budget.... And because our host and hostess were very friendly.
And then there's this... They had a great collie dog, and there was a bagpipe teacher downstairs....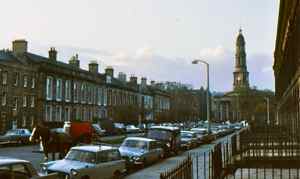 But the best memory was that breakfast was delayed 20 minutes because the horse-drawn milk cart was late one morning!
You can't get that in a big hotel!!!!
(OK... this is an old photo and not all that good, but you CAN see the horse cart, can't you?)

You Will Get Breakfast, But What's for Breakfast?
Another plus to B-and-Bs is that you WILL get that breakfast... take advantage of it.
What's for breakfast?
Full English Breakfast

In England and Ireland it will be a substantial one.
That "Full English Breakfast" can almost be too much to eat it all.... cereal, juice, toast, eggs, bacon, sausage, grilled mushrooms, grilled tomato and baked beans.
Tell them if you only want a little... they're happy to serve only what you want.
Continental Breakfast

In France you may just get croissants, butter and jam...
In the Nordic and Germanic countries, they'll add cheese and meats...
And in southern Europe look for more yogurt and olives... but that's part of the fun too.
When Is Breakfast Served?

Be sure to ask when breakfast is served... this isn't a hotel.
Your host and hostess are probably making breakfast for you, though some of the larger places may have cooking staff to help.
Breakfast is usually only served for an hour or two, and you don't want to sleep through it and miss out.
B&Bs Are Like A Home Away From Home

And that's nice when you're traveling. 
Your host or hostess gives you a friend in that new country you're visiting.  They can give you suggestions on what to see and where to eat. 
I know a concierge at a big hotel can do that, but you'll get more chatting with your host and hostess.  We've even had them offer museum passes and rides to places!

We use them all the time...
And we love the bed and breakfasts we've stayed in whether they were luxurious or just basic.
Just make sure you know what you're getting.
Happy travels... even if you don't travel the world... just remember that life is a journey... embrace and enjoy it! Judy and Mark
Curious about what else we've written about?  Search our site for a destination or travel tip.

But... We'd love to have you share this page or comment on it…
Thanks, Judy and Mark

Return to International Travel Tips l Europe Travel Ideas
Packing Lists
Go from Bed and Breakfast to MouseToursTravels Home Page