Bed and Breakfast Translated
So You'll Know What To Look For...
In A Foreign Language
COVID slowed us down for a couple of years, and now a few health issues challenge us.  We're still traveling if not writing about it quite so much. Our goal in 2022 was get to all seven continents in one year... and we did it.

Going forward health issues may not allow us to travel.  No one can take away those memories though.  We hope all of you are well and staying safe... and that you find some inspiration here for YOUR future travels. 

"We want to stay in B&Bs in France, but what is Bed and Breakfast translated into French?" Carol
That's a great travel question!
Bed and Breakfast translated into another language...
What are B-and-Bs called?
In different countries around the world, the words might look familiar...
...or...
...accommodations you think of as B&Bs might be called something that looks completely different in a foreign language.
We've got some of the foreign names for you, but...

...Bed and Breakfast, B-and-B, B&B...
Actually, you might find them called by one of those names almost everywhere in the world, especially if you're looking on the internet.
If you're looking while you're traveling, look for some of the words we've listed below.

You can also go into a tourist office almost anywhere and ask for a B&B, and they will know what you're talking about...
So don't freak out about this, but....

Knowing Bed and Breakfast translated into foreign languages will help you find them when you need them.
But what if you're walking around in a non-English speaking country... or if you're in a car searching for a room? What should you look for? What are B&Bs called? The travel tips here...
Find out what they are called in different languages... what do the words look like? (Keep reading. We've got some below.)
Learn where to look.... a sign hanging out front, or a small sign in a window might be your only clue.

and
Learn that they can look like almost anything!
     And that the looks and name might "cross over" with what you think of as hostels and cheap hotels.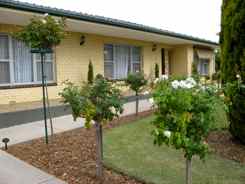 They may be in private homes in the suburbs
...or in the middle of a vineyard where you might have a cottage to yourself....
...or they might be on the edge of a city in row houses. They might be on a farm.
In Easter Island, there are a few hotels, but the locals meet the arriving plane with signs for their rooms....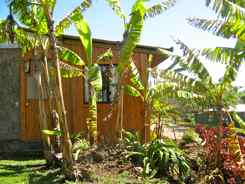 We stayed in this great place on the edge of the only town on Easter Island.
We would never have found it if we hadn't talked to the owner on our plane!
His wife met us at the airport....
...with a lei greeting!

BnBs may look like a funny little restaurant from the outside... but there are rooms above.
And speaking of rooms above.... some pubs in England have accommodations... look for a sign somewhere or just ask. We stayed in one where there were only three rooms, and they weren't advertised... but it was in Avebury... right in the middle of a stone circle.
So Let's Look At Those Translations

Here are some common ones to start with...
German Speaking Countries...
If you're driving down the autobahn in Germany you should be looking for a sign that says "Zimmer" or "Zimmer Frei".
OK... you'll be off the autobahns and poking on backroads or villages when you're looking for zimmers, but this is the term you should be looking for in Germany, ...and Austria and Switzerland as well.
And don't be fooled by geography. In some parts of northern Italy, where there is a heavy Tyrollean influence, you may also be looking for zimmers.
OK... I have to tell it, don't I since we're talking about translations? You know what I'm talking about... the old joke about those "Zimmer Frei" signs... I think every traveler has a story about someone who thought that "Zimmer Frei" meant a free room.

You know it mean is that there's no one staying in the room... it's free... or ...available. And if you see a sign that says "besetzt", it means no vacancies. Sorry, really... I couldn't resist.
Just remember Bed and Breakfast translated into German is Zimmer Frei.
In France...
In France if you want a Bed and Breakfast, you will most often be looking for a "Chambre d'hôte". Though you could also be looking for a "pension" or a "gîte".
A gîte is generally a rural place; it could even be a whole farmhouse. The owners like to rent gîtes by the week, but you can always stop and ask if you can rent a room for a night or two.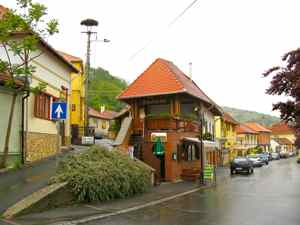 How about in Hungary...
Or How About Hungarian? "Panzio" roughly translates to pension or B&B in Hungarian.
We stayed in a great little room over this funky corner restaurant. We weren't sure what Panzio meant until we asked. We're STILL learning what bed and breakfast translated is!
Italy
In Italy look for "camere" or "affittacamere", (that last especially in the Cinque Terre).
Portugal
In Portugal Bed and Breakfasts are "pensao". You can also look for "dormidas"... It is more common to see them called that near the seaside.
Or you might just see "quarto" which means room.
And speaking of that....
Bed and Breakfast translated may just be the word for room!
Looking for the word "room" in the local language is a good idea.
As we said, it's "quarto" in Portugal.
In Spain it's "cuarto" or "habitacion".
In Italy it's "camere".
In Croatia and Slovenia it's "soba".
Scandinavia has wonderful Bed and Breakfasts. They're cheap considering prices in Scandinavia, but they can't advertise. At tourist information offices in Sweden and Norway, ask for a "rom" or "hus rum". In Denmark the term is "vaerelse".
Bed and Breakfast translated into farm stays or rural retreats...
In Spain, B&Bs are known as "casa rural". They are generally situated in the countryside and smaller towns more than in cities. They may also be called "casa particular", though that term seems to be more used in Cuba.
Out in the countryside of England, you might find "farmhouse B&Bs".
In Italy the same type of places are called "agriturismos".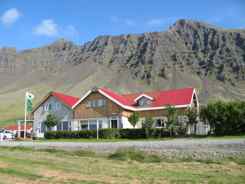 Iceland has a whole chain of Farmhouse stays... just look for the green flag.
Mercifully they are called Iceland Farm Holidays because most of us still can't wrap our tongues around Icelandic words.... though I did learn to pronounce Eyjafjallajökull. (Remember the volcano that stopped air traffic for days?)
Well, I can fool most people but Icelanders still laugh at my efforts!
Bed and Breakfast translated - Find the Words in Guidebooks
You should check the language dictionary or lodging section of a good guidebook and see what they tell you about what Bed and Breakfasts are called in the country you're visiting.
Other names for Bed and Breakfast translated that you can be looking for are (are you ready?):
In French speaking countries ...gites du passant or ...gites d'hote or ...hebergement chez l'habitant
In German speaking countries ...Gastzimmer or ...Gastezimmer
In Dutch speaking countries ...gastenkamer or ...kamers met ontbijt or ...logies met ontbijt
In Spanish speaking countries ...camera presso l'abitante or ...camere in case private
The list really does go on and on... but if you have an idea what that Bed and Breakfast translated into the local language might look like on that sign in the window, you will have no problems finding a bed and breakfast.
If all else fails... just say you're looking for a B&B...
Almost anywhere in the world, people will understand what you're looking for... even if you don't speak the language.
You can wander into a tourist office and ask for a Bed and Breakfast, and you will probably find just what you're looking for.
Happy travels... even if you don't travel the world... just remember that life is a journey... embrace and enjoy it! Judy and Mark
Curious about what else we've written about?  Search our site for a destination or travel tip.

But... We'd love to have you share this page or comment on it…
Thanks, Judy and Mark