Hostels Cheap Alternatives to Hotels

COVID slowed us down for a couple of years, and now a few health issues challenge us.  We're still traveling if not writing about it quite so much. Our goal in 2022 was get to all seven continents in one year... and we did it.

Going forward health issues may not allow us to travel.  No one can take away those memories though.  We hope all of you are well and staying safe... and that you find some inspiration here for YOUR future travels. 

Hostels are probably among the very cheapest place you can stay during your travels outside of staying with friends or family for free.
(And trust me… we do this. We also host travel friends when they come to our part of the world… it's all part of the fun.)
Hostels may be different from what you remember... or from what you've heard about.

Cheap options also include organizations like The Affordable Travel Club where you can pay to become a member and stay in spare rooms for a pittance.
(We have travel buddies from Australia who swear by this club when they don't have friends to stay with.)
There are also other options....



But back to hostels. You may think... whoa, dormitory style bunk beds, backpacks...
...bathrooms down the hall...
…and young people and lots of noise…
Well, you still can run into all of that, but its not necessarily true for every facility anymore.
Hostels May Be Different Now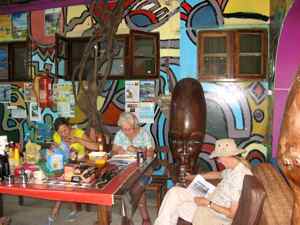 It is true that the average age for guests is 18 to 26...
And you'll run into some places that do enforce an age limit...
But people of all ages and budgets stay in them these days.
Our safari group ranged in age from 18 to 80 when we stayed in this one in Mozambique.

In the spirit of full disclosure… We've always traveled as a couple, so we have only stayed in hostels that had couples rooms.
We generally look for B & Bs or cheap hotels when our budget needs that, but we'll try any types of accommodation if it makes a trip work!
Where To Find Them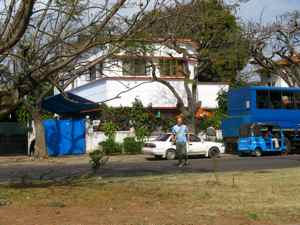 Their buildings are often in good locations in towns.
They're easily accessible by public transportation…
It's sort of what their clientele expects…
Though there are some in rural areas too.
Our most recent stay in one was in Maputo, Mozambique.

Fatima's was about a 10-15 minute walk to town. Parking was easy. It was popular with those overland adventures that tour Africa too.
You'll find there are several websites that can help you find a hostel. Some are membership organizations... If you choose one of these, you may stay with them even if you are not a member... it will just cost you a little more per night. We recommend using the ones that require their members to meet strict standards in cleanliness and security.

What Kind Of Rooms?
You'll still find that many have just those dormitory style rooms.
Some provide private rooms for couples or families as well as the dormitory style rooms. Some have both.
On that trip to Mozambique, it was a "Backpackers" we stayed in. Our room was a basic room, but colorful… and it was ensuite… with a full bathroom… toilet and shower attached to our room.
There were others with two to a room, but shared bathrooms…
And there were dormitory style rooms with bunk beds for 10… and there was even room on the roof for backpackers who wanted to throw their bedrolls down and pay even less.
Hostels Are Not Hotels
Still you have to decide if this kind of traveling is for you.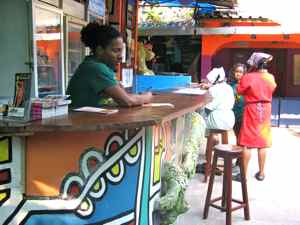 They are NOT hotels... they are budget accommodations, and they are basic. If you choose with care though, you may find that they are a destination into themselves.
Fatima's was. All the taxi and tuk-tuk drivers recommended it, our tour leader was big on it as a great accommodation for the price, and like we said, it was in a good location in Maputo.
Check around and you will find some in castles or manor houses, on old ships, in alpine chalets, and lakefront villas. They may be in interesting or historic building that are worth the visit.
In the more traditional facilities -- those ones you were probably remembering -- there will be single sex dormitory rooms that accommodate four to 10 people. They will provide lockers for your luggage and valuables, but if you aren't traveling with a group, you will be sleeping with people you don't know.
Even if you are a couple staying in a "couples room" you may share shower and toilet facilities and food preparation areas. Remember what I said... on our last adventure in a hostel… we did not share showers or toilets, but we did share the kitchen.
Some travelers love this... getting to know fellow travelers from all over the world, sharing travel tips and stories of home.
If you decide this type of travel may be for you, be sure to check opening hours for the facility you've chosen. Some are open 24 hours, but smaller and more rural ones close during the day and may have a curfew at night.
I don't know about you, but we're in bed early enough that this is never a problem. And I'll guarantee… in Mozambique, we weren't out by ourselves at night. It seemed perfectly safe during the day, but I'm just thinking that it would have been different after dark.
Be aware that these are definitely no frills accommodations.

What May Not Be Included
You may have to rent your sheets. We've never had to do this, but we've heard of it.
You might have to pay for water. Water?
Yes, some of the most basic places have coin operated shower facilities. We have run into this.
Years and years ago, we also stayed in a place in Scotland where we had to pay for heat. It was COLD and we had a coin operated heater in our room. This was a technically a B&B, but still….
You might need to bring your own towel and soap. We always carry soap with us "just in case". If we suspect there will be a need, we also sometimes pack a small towel.


There May Be Food and Drink Available

They may provide inexpensive meals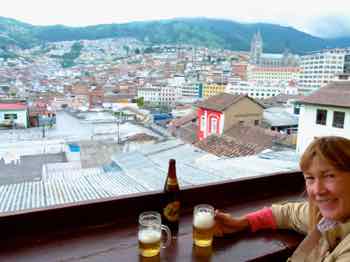 Some may have a cafeteria or little restaurant, and there is generally a food preparation area where you can cook your own meals.
We like eating out, but cooking your own meals can definitely save money and help your travel budget.
Sometimes there's a funky little bar where you can share travel stories with others... and some even have a great view.

Not All Facilities Belong To Hostel Organizations

These "independent" places may not have the strict rules the "official" ones do so check what you're getting into....
They may be a little more... ummm... colorful. Just always exercise caution.
If you find your travel budget a little tight, consider this option.
If you don't need lots of privacy when you travel, a few hostel nights might let you stay a few more travel days.
Happy travels... even if you don't travel the world... just remember that life is a journey... embrace and enjoy it! Judy and Mark
Curious about what else we've written about?  Search our site for a destination or travel tip.

But... We'd love to have you share this page or comment on it…
Thanks, Judy and Mark

International Travel Tips l Europe Travel Tips
 Packing Lists
Go to MouseToursTravels Home Page